Corporation Counsel Krystal Crittendon, City Council members in stand-off with State Treasurer Andy Dillon
Protesters pack Cadillac Place May 17, rally in lobby as appeals hearing on PA4 referendum takes place  
By Diane Bukowski 
May 22, 2012 
DETROIT – City of Detroit Corporation Counsel Krystal Crittendon is expected to seek a judge's decision this week on whether the "Financial Stability Agreement" (FSA)  with the state, approved by City Council April 4,  is "void and unenforceable as a matter of law," as she told State Treasurer Andy Dillon in a letter May 11.  
Crittendon said state debts to Detroit including a $4.75 million water bill and $224 million in revenue sharing prevent the city from entering into any contract with state government until the debts are paid, under terms of state law and the City Charter. She also said her office is "in the process of gathering information relative to other outstanding debts." (Click on Crittendon letter 5 11 12  to read entire letter.) 
Officials told the City Council of the likely lawsuit today. As a result, the Council voted to postpone further action under the FSA, including Council's two appointments to the nine member Financial Advisory Board established by the consent deal, until the matter is resolved. 
Councilwoman JoAnn Watson said Crittendon "has provided an opinion that the consent deal is null and void and it doesn't exist. There's nothing to vote on." Watson, along with Council members Kwame Kenyatta, Brenda Jones, and Andre Spivey, voted against the FSA after dozens of Detroiters vehemently opposed it at Council meetings. 
The Council tabled a motion by Council President Pro-Tem Gary Brown, an adamant supporter of the FSA,  to vote on the 2012-13 city budget under terms of the FSA until Thursday. Earlier, the city and state missed a deadline for appointing a Program Management Director required under the FSA because Bing would not agree to Snyder's choice. 
Crittendon may be taking swift action because Dillon in his May 16 response to her letter threatened to withhold Detroit's revenue sharing funds, disapprove credit requests, call in city debts to the state, go to court, and/or appoint an emergency financial manager, if city officials fail to comply with the FSA. Those actions are cited as possible "default cures" in the FSA.
"It naturally remains our intent to move forward in resolving the City's severe financial problems under the terms of the FSA. To be clear, the State is not in default to the City," Dillon said. (Click on Dillon response to Crittendon letter 5 16 12 to read entire letter.) 
Dillon disputed the water debt, claiming there are ongoing "administrative proceedings on the debt, in  Deborah Gillis v. Detroit Water and Sewerage Department. He also denied the state's $224 million revenue sharing debt to the city, claims of which arose from an agreement between then Governor John Engler and then Mayor Dennis Archer in 1998.  
Crittendon noted in her letter that Dillon had admitted the revenue-sharing debt on the Mildred Gaddis show on WCHB. 
Dillon said the Mayor of Detroit and the City Council voluntarily agreed to the FSA. But but now that Bing is back to work after several months of illness, he has expressed at least partial agreement with Crittendon's letter. 
His stance raises questions regarding the authority of "Deputy Mayor" Kirk Lewis and Chief Operating Officer Chris Brown to negotiate the FSA in his stead. Councilwoman JoAnn Watson had asked the Council to wait until the elected Mayor was back to work before voting on the consent agreement. 
Instead of using Crittendon for advice, who represents both the Mayor and Council under provisions of the new City Charter, Lewis brought Attorney Michael McGee, a co-author of Public Act 4, to the Council table to tout the FSA. His actions may constitute at the very least a conflict of interest and ethics violations. (Click on VOD article with quotes from McGee at http://voiceofdetroit.net/2012/04/10/bing-lewis-advisor-mcgee-helped-draft-pa4/.)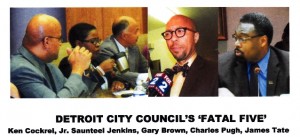 Additionally, Council members Charles Pugh, James Tate and Kenneth Cockrel, Jr. met in Lansing with Dillon and other state officials on the FSA, although they were admittedly not designated by the Council to do so, opening them up to charges of ethics violations as well. 
Crittendon's letter created a storm of controversy in the daily media, which campaigned relentlessly for the FSA.  The Detroit News' Nolan Finley wrote that Snyder should go ahead and appoint an EM for Detroit. (Click on http://www.detroitnews.com/article/20120520/OPINION03/205200307#ixzz1vdAqQD2N) 
"Snyder must be thinking that he should have ignored the howling and wailing from City Hall and a few community malcontents and just appointed an emergency manager," Finley, noted for his thinly-veiled hatred of Black Detroit, said. "Had he done so, the process of saving Detroit would be well under way."
On another front, Detroiters are awaiting an Appeals Court ruling on whether a referendum repealing Public Act 4, also known as "The Dictator Act," can appear on Michigan's November ballot.   
Crittendon warned Council prior to its vote April 4 that most of the Financial Stability [consent] Agreement derives from language in Public Act 4, not other Acts the state cited, including Public Act 7. She said any action under the FSA would be frozen once PA 4 goes on the ballot, and that the Council could be subjecting itself to legal action for violating numerous provisions of the City Charter if PA 4 is overturned. But the "Fatal Five" on Council ignored her advice and listened instead to McGee.
Crittendon also said there is no statutory authority under PA 4 or any other law to allow for the appointment of a "Financial Advisory Board" with dictatorial controls over city officials. 
"Malcontent" opponents of Public Act 4 showed up en masse at Cadillac Place Thurs. May 19 for a State Court of Appeals hearing on an emergency request by Stand Up for Democracy to put the referendum to repeal the Act on the November ballot, in the wake of the State Board of Canvassers' failure to do so. Despite the fact that they validated over 203,000 petition signatures, far more than the 161,000 required, the Republican canvassers said the font size on the petition was too small. 
They refused to let an expert who said the text complied with legal requirements testify, and the Court of Appeals panel refused to allow his testimony in at their hearing since it was not part of the original proceedings. The panel is composed of Judges Kurtis Wilder (an Engler appointee in 1998), Michael J. Riordan (a Snyder appointee in 2012), and Kirsten Frank Kelly, was elected to the bench in 2000.
Protesters  packed the court and overflowed into the street level lobby, where they conducted an angry march for over an hour, chanting loudly. 
"The PA4 Detroit consent agreement isn't going to fix one streetlight in the city, prevent one crime, get any trash picked up, provide any health or human services, house one family, or provide lower water bills," said one protester, challenging Finley's assertion that the FSA will solve the city's crisis. "The only people who will benefit are the rich criminals at the top." 
Edith Payne, who marched with Dr. Martin Luther King, Jr. and is a litigant in a statewide lawsuit against Public Act 4, said, "We're going to have to do the same things we did in the 1960's. We'll have to march and engage in civil disobedience. We didn't have the right to vote then, and now they're taking it away again, disenfranchising us and robbing us of all our civil rights and human rights. In this lobby, you see people of all races, colors and religions. We are all under the same assault and we are all uniting together. 
Pat Driscoll, a member of United Steelworkers Local 1299, and of Occupy Detroit, said, "I'm here to put the people before the banks. They are denying people in Michigan the right to vote so they can pay the cities' debt to the banks, while they blame the unions and refuse to provide services." 
Many autoworkers from Local 600 participated in the protest. 
One, who identified himself as Kirk, said, "Get rid of the Governor and all his cronies. I'm tired of big business trying to rule over us. The middle class built this country, not the politicians. We expect them to act in our best interests, but there is clearly corruption in Lansing." 
Rev. Edward Pinkney, of the Black Autonomy Network of Community Organizations   (BANCO), in Benton Harbor, said, "Victory belongs to the people. I'm looking forward to a positive decision from the Appeals Court. Democracy will come back not only to Benton Harbor but to the City of Detroit. If the people would have stood up everywhere when they attacked Benton Harbor, we would not be here today. But this is an opportunity for us to start over."
Meanwhile, the State Court of Appeals today overturned lower court rulings that State Financial Review Teams in Detroit and Flint are "public bodies" subject to the Open Meetings Act, in  lawsuits filed by Robert Davis and AFSCME Council  25's Ed McNeil.
(Click on COA Davis McNeil 5 21 12 to read decision.)
Below is Free Press video of demo inside Cadillac Place May 17, 2012