Detroiters to attend Council session Tues. June 5, 10 am in support;     Council also expected to vote re: de-certification of Human Services Dept. 
By Diane Bukowski 
(Note: VOD now publishes links to documents referenced in the story at its conclusion.)
 June 4, 2012 
DETROIT – City of Detroit Corporation Counsel Krystal Crittendon filed suit in the Michigan Court of Claims June 1 demanding that the state make good on its debts to the city before enforcing the "Fiscal Stability Agreement" reached between Mayor Dave Bing, the City Council, and the state of Michigan April 4.
The Michigan Court of Claims is part of Ingham County Circuit Court. It has exclusive jurisdiction over cases involving claims of over $1,000 in money damages against the state. It is part of Ingham County Circuit Court, whose judges also carry out its duties.
Ia a May 1 legal opinion requested by the Detroit City Council through Council member JoAnn Watson, Crittendon said it is illegal under state and city law for Detroit to contract with any entity which has defaulted on its debt(s) to the city. 
"The Law Department is aware of three areas where the State of Michigan is in default to the City," Crittendon wrote."These include: 1) The outstanding bill for water and sewerage service at the State Fairgounds amounting to $4.75 million . . . 2) The failure of the State to fulfill its obligations regarding statutory revenue sharing resulting from the Agreement entered into between the City and the State in 1998.  . .3)  Accumulated unremitted claims against the State. Nearly six hundred accumulated City of Detroit claims are pending against the State totaling approximately $300,000 in value." 
She attached documentation for each debt, including $224 million resulting from the 1998 agreement executed by then Mayor Dennis Archer and then Governor John Engler.  She also attached and refuted an opinion from former Corporation Counsel John Johnson, Jr. that that debt was not enforceable. 
Johnson was found guilty of one count of "professional misconduct" in 2010 by the state's attorney grievance board in 2010, involving the infamous Kwame Kilpatrick text message scandal. The board said he told the Detroit Free Press that no settlement agreement existed in a lawsuit against then Mayor Kwame Kilpatrick when in fact it did.
Crittendon said in an April 1 opinion attached to the May 1 document that the Fiscal Stability Agreement constitutes a consent agreement under Public Act 4, noting numerous sections of the agreement which cite language from PA 4. She said PA 4 does not void city and state laws barring contracts with parties in default. 
"The Emergency Manager Act does not mention or refer to MCL 117.5(l)(f) [state default law], or provide that the Home Rule City Act prohibition against a city contracting with one in default to the city does not apply to a consent agreement entered into under the Emergency Manager Act," Crittendon wrote.   
The distinction is key because a state appeals court has not yet ruled on whether a referendum to repeal PA 4 can go on the state's November ballot. 
Crittendon informed State Treasurer Andy Dillon of her position that the agreement is "void" in a letter May 11. Dillon disputed the validity of the debts she cited, but not the validity of laws barring contracts with entities in default. 
The Court of Claims would rule on the monetary dispute.   
At Gov. Snyder's request, the Michigan Supreme Court took control of a previous lawsuit against PA4 filed in theIngham County Circuit Court, and has since interminably delayed a hearing. Since the Court of Claims has exclusive jurisdiction over monetary claims, that scenario is unlikely 
Sara Wurfel, spokesperson for Gov. Snyder, said regarding Crittendon's lawsuit, "Our reaction is that we're focused on moving forward with the agreement that was signed voluntarily by all parties. The city and citizens of Detroit can't and shouldn't have to wait any longer. More litigation and delays only continue the problems of the past and make the recovery more difficult."
Mayor Dave Bing concurred in published remarks.
"The Law Department has exercised its right to challenge the consent agreement," he said. "Whatever the legal outcome, we will abide by it. But I'm not interested in getting into any legal battle that will distract us from executing my fiscal stability plan."
But Sharon McPhail, former General Counsel for the City of Detroit, who supervised the office of the Corporation Counsel, disagreed. 
"That is a courageous action for Ms. Crittendon to take," McPhail said. "It also shows the value of powers the new city charter accords to the Corporation Counsel, giving her broader latitude, particularly in dealing with this City Council."                         
Under the revised Charter, the Corporation Counsel represents both branches of city government, and has the duty to enforce the Charter, including taking judicial action.  The Corporation Counsel can be removed only for cause, with a supermajority vote from the City Council. 
Several Council members who voted for the Consent Agreement have said they support Crittendon's pursuit of a legal judgment. They have held off a vote on appointing two members to the nine-member Financial Advisory Board the agreement provides for.
McPhail said Crittendon, who has practiced law since 1973 and was appointed Corporation Counsel by then Mayor Kenneth Cockrel, Jr. during his short term in 2009, is an extremely competent attorney. 

"The Corporation Counsel's office reported to me during my tenure," McPhail said. "I reviewed all cases individually where there was a constitutional issue involved, or where a proposed settlement exceeded $1 million. From the work that I saw done by Ms. Crittendon, she was one of the best lawyers we had.  Earlier, when I was on City Council, I would ask for documentation from proposed lawsuit settlements, and she always had it ready in the cases she handled, unlike some other attorneys." 
McPhail said she also believes the consent agreement is illegal. 
"I think it is illegal for more than one reason," McPhail said. "I never have understood why the state thinks it can say 'we don't like what you're doing,' citing as evidence financial problems. The state itself is in trouble financially, and so are most other cities in the state. The fact that Public Act 4 proceedings have been brought chiefly against majority-Black cities indicates that the state believes a person's color means they will do a better job. There is no question that in every city things could be better, but there is also no question that when you put a business person in charge, things don't get better. " 
Michigan Governor Rick Snyder, State Treasurer Andy Dillon, and Mayor Dave Bing are all former corporate executives of corporations which eventually failed. (See sidebar.) 
Valerie Glenn, a co-founder of "Free Detroit," a coalition of Detroiters opposed to the consent agreement, said they will present a letter to Corporation Counsel Crittendon commending her action, and copies to the City Council, during its formal session Tues. June 5 at 10 a.m. 
"We want Corporation Counsel Crittendon to know that we completely support her following through based on the letter of the law," Glenn said. "Free Detroit is a conglomerate of many individuals and groups, and there are many other Detroiters as well that oppose this consent agreement. She has acted in good faith with the people to try to scuttle the agreement. We feel a legal judgment must be rendered before the consent agreement can take effect. We are in this to win it." 
The letter also challenges the budget recently passed by City Council and signed by Bing, which includes a whopping $171 million in cuts, the elimination of many city departments, and the lay-offs of 2566 city workers.
"Mayor Dave Bing and said Council Members have further violated the law by approving a 2013 City budget which was based on an illegally authorized financial stability agreement; thusly, the 2013 budget was passed without the necessary authority," the group says.
Glenn encouraged Detroiters to come to the Council meeting.  (The Council is also expected to vote on whether to rescind its previous decision against voluntary de-certification of the Detroit Human Services Department.) 
Glenn and four others have filed ethics complaints against the City Council "Fatal Five" who voted for the consent agreement, Bing, and Deputy Mayor Kirk Lewis, charging them with violations of the City Charter. Glenn said the group is also planning to file ethics complaints against Governor Snyder and State Treasurer Andy Dillon.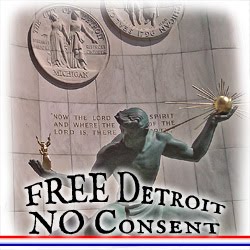 "Taxation without representation is horrifically unconstitutional," Free Detroit said in their founding statement. "Presently 'we the people' do not have a voice regarding the management and future of Detroit. We view Public Act 4 as a Racist Test Case. The Consent Agreement and the Emergency Manager strategies are racist and white supremacist in effect. Public Act 4 takes away the power to govern from the duly elected Black officials, and places it in the hands of Whites and cooperative Blacks who will do the bidding of the corporate community." 
Meanwhile, the corporate media has reacted to Crittendon's action with outrage. 
"This is about power, and who wields it — one of the favorite dickering tactics of the city's elected officials," stormed Stephen Henderson of the Detroit Free Press June 3. "It has nothing to do with getting the tens of thousands of nonworking streetlights back on, or getting more patrols on streets that are running deep red in blood this year, or providing parks or recreation centers for kids who will spill out of schools and wander city streets this summer."
Absolutely nothing in the consent agreement provides solutions for those matters. There is no state funding attached to the agreement, nor does it ask for an infusion of cash from the federal government, which U.S. State Representatives John Conyers, Jr. and Hansen Clarke have advocated in legislation introduced in Congress. 
The consent agreement also neglects to focus on the chief financial problem facing the city, other than to blame city officials for borrowing money. 
Hundreds demanded a moratorium on Detroit's monstrous debt to the banks May 9, during a protest outside the Bank of America offices on Griswold, which marched to the Coleman A. Young Center. 
"The Financial Advisory Board is all about robbery by the banks," Jerry Goldberg of the Moratorium NOW! Coalition told the marchers. "The city itself has been victimized by predatory lending. This year, it paid $597 million out of a budget of $1.2 billion on its debt. The consent agreement is a grab by the banks for our tax dollars, even if it means destroying every city service."
Detroit owes a total of $12.6 billion to the banks, much of which the banks and Wall Street foisted on the city, as they did in 2005 when city officials approved a $1.5 billion pension obligation certificate loan after represenatives from Standard and Poor's and Fitch Ratings came to the table.
Attorney Bob Day noted that the struggle against the banks is world-wide. 
"This battle is going on in Montreal, Greece, Spain, France and everywhere," Day said. "People are saying to hell with the banks and their austerity programs. The banks set our communities up for disaster, and when it all fell down, they didn't get hurt. They got bailed out by our tax dollars. Meanwhile, hundreds of thousands of people are out of their homes, and the loss of tax revenues to our cities has brought in Public Act 4 and emergency managers, which guarantee that the banks will get paid first, This is nothing but a dictatorship of the banks."
Click on Crittendon May 1 letter to read Corporation Counsel's advice to City Council.    Click on , State water bill to city, Property claims dispute with state, CA John Johnson letter re revenue sharing debt, and AG opinion on default for attachments to Crittendon's May 1 opinion.
Click on Letter to K Crittendon From Free Detroit NC to read Free Detroit's letter supporting Krystal Crittendon, signed by former Charter Commissioner and attorney Rosemary Robinson and other activists.
Click on Free Detroit sample attachment for ethics complaint for sample ethics complaint. Free Detroit is encouraging all to file similar complaints with city Ethics Board. See    http://voiceofdetroit.net/2012/05/28/detroiters-begin-ethics-complaint-campaign-against-bing-councils-fatal-five-lewis-and-brown-over-consent-agreement/.
"Free Detroit" blogspot is at http://www.freedetroit.org/.                                                  Contact information:  Phone  313-444-0061  Email  info@freedetroit.org.