Stockton city worker leaves city hall in Feb. 2013. His pension and those of thousands of public retirees is under attack by banking and corporate creditors during Stockton bankruptcy battle.
Bankruptcy Court Signals That Public Pension Obligations Could Be Impaired in Chapter 9 Bankruptcy Along With Other Creditors 
Client Alert by Latham & Watkins Finance Department
April 5, 2013
STOCKTON, CALIFORNIA
 On April 1, 2013, Judge Christopher Klein, Chief Judge of the United States Bankruptcy Court for the Eastern District of California, ruled that the City of Stockton, California, could proceed with its chapter 9 bankruptcy filing. Judge Klein's decision affirmed Stockton's status as the largest US city (population 300,000) to have successfully sought bankruptcy protection and proceed with bankruptcy.
Judge Klein's comments on the record may also signal that the resolution of Stockton's chapter 9 will require the impairment of the city's pension obligations. Such a result would mark new territory in chapter 9 cases — although Congress provided the right to impair such pension  obligations under chapter 9 of the Bankruptcy Code, no municipality to date has successfully taken this approach in a bankruptcy case.
Stockton must now develop a plan of adjustment to restructure its obligations. If Judge Klein's comments empower Stockton to successfully compel a restructuring of pension obligations over the objection of the powerful California Public Employees Retirement System (CalPERS), that precedent could open the floodgates for other cities across  California and the United States to file bankruptcy and seek similar concessions.
The City of Stockton, 80 miles east of San Francisco, filed for chapter 9 bankruptcy protection in June, 2012.3 At the time of filing, Stockton reported that its financial crisis left it with no other options available. The city had $800 million in unfunded liabilities, a $26 million budget shortfall and a 22 percent unemployment rate, and more than half of its residents' homes were worth less than their mortgages. Stockton's initial plan to emerge from bankruptcy included cuts of $197.5 million in bond debt, as well as other concessions from creditors.
CalPERS, the largest creditor, held claims of $147.5 million against Stockton, but Stockton's initial plan provided for payment in full of CalPERS' claims. The release of Stockton's Restructuring Proposal in July, 2012 triggered a legal battle from bondholders and other creditors, who challenged the favorable treatment provided to CalPERS and argued that CalPERS should be treated on a pari passu basis with other creditors. The bondholders and other senior creditors (the Capital Markets Creditors) argued that Stockton was targeting the Capital Markets Creditors for unfair discriminatory treatment and had not filed its bankruptcy petition in good faith because the city sought concessions from Capital Markets Creditors without also seeking comparable concessions from CalPERS.

Judge Klein rejected the Capital Markets Creditors' claims, including the claim that Stockton was required to negotiate for concessions with CalPERS. Judge Klein found sufficient evidence that Stockton had negotiated in good faith, including documentation of over 90 days of meetings and negotiations with creditors. He also ruled that the city had no requirement under the law to attempt to negotiate with CalPERS as a precondition to be eligible for chapter 9. Despite that ruling, Judge Klein's comments on the record portend a potentially different outcome for CalPERS later in the process to confirm a plan of adjustment necessary for Stockton's exit from chapter 9.
According to Judge Klein, "[i]t's no secret [creditors] have CalPERS in the crosshairs of the dispute."6 and that, absent impairment of CalPERS claims, "the City is going to have a difficult time confirming a plan over an objection and claim of unfair discrimination" by other creditors. Judge Klein's remarks are significant because they suggest that CalPERS  may no longer hold a privileged position as a relatively untouchable creditor. While retirees have recently had their rights impaired under bankruptcy, other municipal debtors — such as in the high-profile case involving the City of Vallejo — have been reluctant to impair pension obligations, often believing that such pension plans are necessary to incentivize and retain the remaining downsized workforce.  
CITY OF VALLEJO, CA.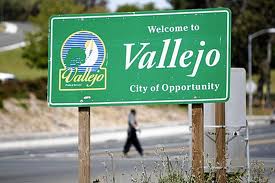 When the City of Vallejo, 70 miles west of Stockton, filed for bankruptcy in 2008, the issues of retiree benefits and pension obligations were also contested by unions and interest groups. Certain public sector unions challenged Vallejo's authority to cancel retirees' health coverage and collective bargaining agreements as being in violation of California's labor laws. Bankruptcy Judge Michael S. McManus found that under bankruptcy law, the city could impair such rights, and US District Judge John A. Mendez affirmed. On appeal, Judge Mendez determined if a state permits its  municipalities to opt into chapter 9 federal law in the first place the state cannot impose other state provisions that later conflict with the federal law.
According to Judge Mendez, "[i]f California had desired to restrict the ability of its municipalities to reject public employee contracts in light of state labor law, it could have done so as a pre-condition to seeking relief under Chapter 9."  In August, 2011, Vallejo confirmed its plan of adjustment, which paid unsecured creditors, including retirees, between 5 and 20 cents on the dollar. However, the City of Vallejo classified the pension obligations to CalPERS separately as unimpaired obligations unaffected by the Chapter 9 Plan of Adjustment.10
CITY OF SAN BERNADINO
The city of San Bernardino, east of Los Angeles, filed for chapter 9 bankruptcy in August, 2012, claiming a "fiscal emergency" and citing a $45 million deficit and more than $1 billion of debts.11 While previous bankrupt cities in California (e.g. Vallejo and Stockton) continued to pay their CalPERS pension obligations while in bankruptcy, San Bernardino suspended all payments to creditors at the outset of its chapter 9 case, including CalPERS, while it crafted its restructuring plan.
CalPERS objected, challenging San Bernardino's eligibility for bankruptcy and seeking permission from the Bankruptcy Court to authorize CalPERS to collect a $7 million bill in state court. CalPERS argued that an exemption in bankruptcy law permits states to enforce their police power and that under California law, pension obligations to CalPERS are senior to other unsecured debts and must be paid first.Bondholders objected.The issue is still pending before the bankruptcy court and like Stockton, will bring a battle between CalPERS (the world's sixth largest pension fund) and the major bondholders and creditors.
STATE PENSIONS V. FEDERAL BANKRUPTCY LAW
Judge Klein's comments on the record signal that bankruptcy courts may push municipalities to level the playing field and not give preferential treatment to state pension institutions over bondholders and other senior creditors. As Judge Klein wrote in the previous Stockton proceedings, "even if the plaintiffs' benefits are vested property interests, the shield of the Contracts Clause crumbles in the bankruptcy arena."14
The willingness and ability for municipalities to restructure pension obligations would make the powerful set of rights under chapter 9 — including the ability to restructure collective bargaining agreements and retiree medical benefits —even more attractive. Currently, approximately 27 states permit some or all of their municipalities to file for bankruptcy, although some of these states impose certain restrictions. Yet despite the benefits available to municipalities, cities have been reluctant to seek chapter 9 protection, citing the cost of filing and political unwillingness as key factors.
However, if the bankruptcy judges deciding Stockton  and San Bernardino's fate decide that pension institutions like CalPERS must sit at the negotiating table with other general unsecured creditors, the precedent would be significant. Other cities across the country, desperate for solutions to their financial problems, may follow Stockton and San Bernardino into bankruptcy court.