Bing conducts secret negotiations to lease island to state, cede city control
Feds, state give private RiverFront Conservancy $44 million, no strings attached; Bing, Pugh sit on Conservancy board
Rally against takeover Wed. Aug. 1, 2012 at 1 pm at the bandshell
By Diane Bukowski 
July 30, 2012 
DETROIT – Belle Isle is the largest public island park in the country, a gorgeous haven predominantly used by Detroiters except when events including the Grand Prix, the Gold Cup races, and the fireworks attract hordes of suburbanites like the fish flies that pester the riverfront this time of year.
Grosse Pointe and St. Clair Shores residents have exclusive access to this part of the beautiful shoreline of Lake St. Clair.
After all, residents of the Grosse Pointes and St. Clair Shores have their own river and lakefront parks, where admission is restricted only to them and their guests. There, they don't have to be bothered mingling with the likes of Detroiters seen in the photo essay below.
But Mayor Dave Bing and Michigan Governor Rick Snyder are busy in secret negotiations to lease the island to the state. Such a lease would transfer control of its operations and workers from the city, and revenues from an annual park fee or other activities in the works, to the state.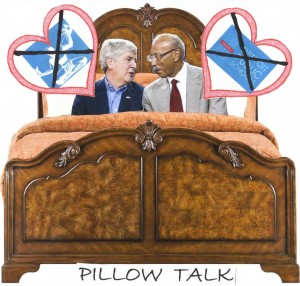 Bing says his only objection is the state's proposed term of the lease—99 years. He says the city needs state funding to upgrade the island.
Bing also sits (or sat) on the board of the private Riverfront Conservancy, which just raked in $44 million in state and federal funds, no strings attached, to re-develop the east riverfront, including Mt. Elliott Park, Gabriel Richard Park, the Detroit RiverWalk, and the Uniroyal site by the Belle Isle Bridge.
Council President Charles Pugh, along with 40 plus prominent corporate executives, also sits on the Riverfront Conservancy board. (See sidebar.) The Conservancy has assets of $94 million, and investments worth over $20 million. It raked in revenue in 2010 totaling over $14 million, most of it from "contributions and grants." Two of its directors, David Page and Ann Lang, belong represent entities which have lucrative contracts with the Conservancy.
Couldn't Bing and Pugh have used their influence there to get $44 million for the people of the City of Detroit as well?
"Belle Isle is not a "tattered" gem; it is a city park which Detroiters enjoy immensely on warm days," Tom Barrow, Bing's opponent in the last mayoral election, said on-line. "It is supposed to look used after a day of activity but it is cleaned the next morning as it should be. My view is the island is owned and controlled by Detroit and should remain so. If the state wants to fix something up, tell us what it is and then provide a specific grant narrowly defined for that purpose. That is a partnership—not giving it to you under some clever guise.'
He added, "It is painfully obvious that many in Lansing condescend when it comes to Detroit and see themselves as superior to the city and its leadership. Why is it not obvious that the busting of our city's unions, making teachers and organized labor into bad people and seeking the transfer of the city's pension funds is not part of an obvious plan to effectively subjugate Detroit and make it politically toothless?" . . . We are deeply offended in having a master lord over us condescending with vague offers all of which ultimately result in them gaining control over another of our city's gems . . ."
Mayoral candidate Tom Barrow in 2010. He has appealed his case charging vote-tampering to the U.S. Supreme Court.
The City Council approved a non-binding resolution against ceding control of Belle Isle to the state, voting 5-4. Councilwoman JoAnn Watson called for court action including a temporary restraining order.
"It's outrageous to even have a discussion about someone taking away Belle Isle," Watson said. She and Council members Brenda Jones and Kwame Kenyatta are sponsoring a rally to save Belle Isle this Wed. Aug. 1 at 1 p.m. at the bandshell.
Unfortunately, the "Fatal Five" Council members, Charles Pugh, Gary Brown, Saunteel Jenkins, James Tate, and Kenneth Cockrel, Jr. earlier approved a "Fiscal Stability Agreement" which includes as part of its "reform program" the following language:
"Belle Isle—create park funding for Belle Isle while ensuring continued City ownership by designating Belle Isle as part of a cooperative relationship with Milliken State Park. This would include a long-term lease that would accrue the cost of the park's maintenance and improvements out of the Park Endowment Fund. We will partner with Belle Isle Conservancy and the City to implement a master plan for the island."
Considering recent state court rulings on various aspects of the fall-out of the consent agreement and Public Act 4, it is likely legal action against the takeover will involve an uphill battle.
The City of Detroit bought Belle Isle in 1879 for $100,000, and has financed what likely amounts to hundreds of millions of dollars in improvements on the island since then. (See Recreation Department history of Belle Isle and improvements by clicking on BELLE ISLE HISTORY.)
Detroit Free Press columnist Stephen Henderson trumpeted recently, "Way back in 1879, it was the state that made it possible for the City of Detroit to buy the nearly 1,000-acre island. House Bill 584 of 133 years ago authorized — yes, authorized — the Detroit Common Council to purchase Belle Isle for up to $200,000, and to sell bonds both to pay for it and to erect a bridge connecting the island to the city's shoreline. The council then forked over $180,000 to members of the Campau family, who owned the island."
Henderson, in his haste to celebrate state and city "co-operation," and ignore Detroiters' right to self-determination,  neglects to admit that any municipal bonds have always had to go through a perfunctory state approval process.
The bottom line is: Detroiters paid OUR money to:
Buy Belle Isle
Expand it with infill
Construct a park designed by Frederick Law Olmsted, the designer of New York City's Central Park
Build its canals (yes, they are man-made)
Construct the Belle Isle Bridge twice (it burned the first time)
Put bridges and ponds on the island
Clear the way for a gorgeous beach
Construct the conservatory, casino, skating pavilion, Scott Fountain, picnic shelters, comfort stations, and maintenance buildings to cite a few.
Hire CITY WORKERS to maintain the island at decent union wages and benefits.
As water department workers mobilize for a city-wide strike, direct action is also needed to save Belle Isle. Detroiters have occupied the island for 140 years—occupy Belle Isle now!