Judge Rhodes denies Retirees Committee motion for move to higher court
Arguments held on NAACP motion Oct. 2; no ruling yet
Unions, local officials, pastors  filed Sept. 23, hearing not yet scheduled
Next protest against bankruptcy: Tues. Oct 15, 10 a.m. 321 W. Lafayette, downtown Detroit federal court 
By Diane Bukowski 
October 9, 2013 
DETROIT – Three major coalitions representing Detroit and Michigan residents want U.S. Bankruptcy Judge Steven W. Rhodes to allow questions including the constitutionality of Public 436, the state's "Emergency Manager" law, the right to vote, and civil rights issues to be heard in U.S. District Court, prior to resolution of the Detroit bankruptcy case.  
They are the Official Retirees Committee (joined by the Detroit Retired City Employees and Retired Detroit Police and Fire Fighters Association), the NAACP et al, and Phillips et al.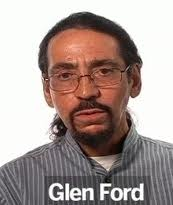 "Rhodes will decide whether the imposition of an unelected dictatorship in Detroit represents a 'Constitutional crisis' that should be addressed before the process of cutting pensions and selling off assets should begin," Black Agenda Report executive editor Glen Ford said in a recent commentary. "Certainly, the cancellation of white people's voting rights, to be followed by confiscation of their personal and collective property, would merit Constitutional scrutiny on a priority basis. But, for African Americans, it is an open question." 
Under PA 436, over 51 percent of Michigan's African-Americans now have no right to vote for elected officials with real power to represent them. Nine majority-Black cities and school districts have emergency managers appointed by Gov. Rick Snyder, with tiny Royal Oak Township outside Detroit about to face the same fate. Snyder and State Treasurer Andy Dillon recently granted a reprieve to the East Detroit Public School district, based in Eastpointe, which has a 75 percent white population. 
The last two groups have cases challenging the constitutionality of PA 436 pending in U.S. District Court Judge George Caram Steeh's courtroom, instituted well before Detroit Emergency Manager Kevyn Orr/Jones Day filed for bankruptcy. Their cases are currently administratively stayed pending further notice, based on Rhodes' order barring legal action against state as well as city officials. Known as the "extended stay," it is taken virtually verbatim from Orr/Jones Day's original motion. 
Rhodes rules against his own Retirees' Committee
On Sept. 26, Judge Rhodes ruled against the Retirees Committee strongly worded motion to "withdraw the reference." The Committee said, ". . . if Chapter 9 is as broad as the Emergency Manager [Kevyn Orr] contends, then Chapter 9 is unconstitutional and the City cannot be a debtor in Chapter 9." 
Ironically, the Committee was set up by Rhodes' order at Orr's request. Orr boasted he would do so to limit the role of the city's elected pension fund trustees in defending their members. 
Rhodes said in his ruling, "Specifically, the Court finds that: 1. The Committee is not likely to succeed on the merits of its motion to withdraw the reference. 2. The Committee will not suffer any harm, let alone irreparable harm, if the stay is denied. 3. The City will suffer substantial harm if the stay is granted. 4. The public interest would not be served by granting the stay." 
In his commentary, Ford noted, "Bankruptcy Judge Rhodes' agenda has so far been in sync with bankruptcy lawyer Orr's strategy: to keep the battle for Detroit in the realm of corporate law rather than the arena of civil, human and Constitutional rights." 
Attorneys for the Retirees Committee have not yet responded to an Oct. 4 email regarding whether they plan to appeal Rhodes' order  to the District Court or other avenue. 
(See link below for VOD story on Official Retirees Committee filings.) 
NAACP motion to allow case challenging PA 436 to go forward heard Oct. 2
On Oct. 2, attorneys Melvin Butch Hollowell and Nabih Ayad argued that the separate NAACP lawsuit in Steeh's court must be allowed to proceed.  Plaintiffs in that case, filed in May, 2013, are the Detroit Branch of the NAACP, the Michigan State Conference of the NAACP, Donnell R. White, Thomas Stallworth III,  Rashida Tlaib, and Maureen Taylor. Defendants are Snyder, State Treasurer Andy Dillon, and Secretary of State Ruth Johnson. 
Rhodes' demeanor during the attorneys' arguments was not friendly. 
"The substance of our case is not about debtor-creditor issues, but about voter law," Hollowell, the Michigan NAACP's in-house counsel, said. "PA 436 creates two classes of voters, a superior class of voters with elected officials with full power and duties, and an inferior class of voters. It violates the 7th and 14th Amendments and therefore does fundamental and irreparable harm. Now, since the law took effect, 50.4 percent of all Michigan's African-Americans are under emergency managers vs. 1.3 percent of whites."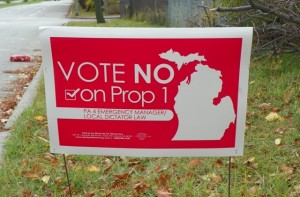 Hollowell noted further that Public Act 4, the predecessor to PA 436, was rejected by 53 percent of voters across the state in a referendum, but then replaced during a lame duck session of the Michigan legislature. He argued that Rhodes does not have the authority to prevent a case which involves the entire NAACP membership across the state from going forward. 
Rhodes told Ayad during his presentation that people in EM-controlled constituencies still have the right to vote. 
"That is an insult to our intelligence," Ayad replied. "I can vote for a bird, but that doesn't mean that the bird can do anything. Inherent in every vote is that I want you to represent me as a constituent of this region of the state. If your power is no good, that is no real vote." 
Rhodes countered,  "What about the state's argument that the people who made the decision to substitute the emergency manager for the Mayor and the City Council were elected? . . . Is there a constitutional right to have legislators only enact laws that people agree with? . . . . The fact that people supported or didn't support PA 436 is irrelevant."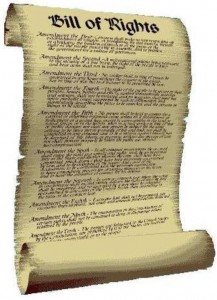 Ayad replied, "They shoved this thing down our throat. The state Supreme Court ruled to put it on the ballot. The people, the majority of whom were not African-Americans, voted that they don't want PA 436. The people do have the Constitution, the Bill of Rights, and the fundamental right to vote. That trumps everything else. . . .What is a democratic society without the ability to vote—what is more fundamental?" 
Hollowell and Ayad said they have not filed an objection to bankruptcy eligibility because their case in Steeh's court is solely about voting rights. They said they would stipulate that they would not file an eligibility objection if Rhodes grants their request for relief, noting that the bankruptcy case could still proceed under Detroit's elected officials if PA 436 is ruled unconstitutional. 
Rhodes has not yet ruled on their motion and arguments. 
Phillips et. al. motion still awaiting hearing
Still awaiting a hearing is a motion for relief from the extended stay by parties in the Phillips et al case, filed in U.S. District Court March 27, 2013. Lead plaintiffs are Michigan AFSCME Council 25 staff representative Catherine Phillips and Joseph Valenti of the Teamsters, who are co-chief negotiators with the Coalition of Unions of the City of Detroit. 
Also included are Russ Bellant, President of the Detroit Library Commission; Tawanna Simpson, Lamar Lemmons, and Elena Herrada, Detroit Public Schools Board Members; Donald Watkins and Kermit Williams, Pontiac City Council Members, Duane Seats, Dennis Knowles, Juanita Henry, and Mary Alice Adams, Benton Harbor Commissioners, William "Scott" Kincaid, Flint City Council President, and pastors representing Rainbow PUSH, the National Action Network, and the Council of Baptist Pastors. 
Their motion and brief was filed in Rhodes' court Sept. 23, 2013 by local attorneys William Goodman, Julie Hurwitz, Herbert Sanders, John Philo, Richard Mack, Cynthia Heenan, and Hugh Davis. Darius Chaney and Gita Schwartz from the Center for Constitutional Rights in New York City are also included. 
The brief says that even Orr/Jones Day did not ask for such a broad stay extension in the debtor's motion. 
"In its current form and breadth, the Extended Stay Order provides that 'the Chapter 9 stay hereby is extended to apply in all respects (to the extent not otherwise applicable) to the State Entities. . . .' the Extended Stay Order therefore not only fails to limit its application in the way requested by Debtor, but instead encourages the broadest possible reading, as evidenced by the words of United States District Court, Honorable George Steeh in his Order Regarding Notice of Pendency of Bankruptcy Case and Application of the Automatic Stay . . .staying Petitioners' declaratory/injunctive relief civil rights actionthat is the subject of this Motion:
"Although it is not apparent that any interests of the City of Detroit bankruptcy proceedings are implicated in the case, the plain language of the stay order would apply to this lawsuit. In accordance with the broadly worded Extension Order issued by the bankruptcy court, this court will abide by the stay unless and until such time as an order issues lifting or modifying the stay to permit the captioned matter to proceed." (Emphasis added in Phillips brief).
The Phillips attorneys argue that Rhodes "extended stay" order violates numerous provisions of the U.S. Bankruptcy Code.
"But there is nothing in the Code that provides for staying actions against non-debtor third parties such as the State defendants in the Phillips case," they say. "Indeed . . . the Sixth Circuit has noted that 'said provision facially stays proceedings 'against the debtor' and fails to intimate, even tangentially, that the stay could be interpreted as including any defendant other than the debtor.'"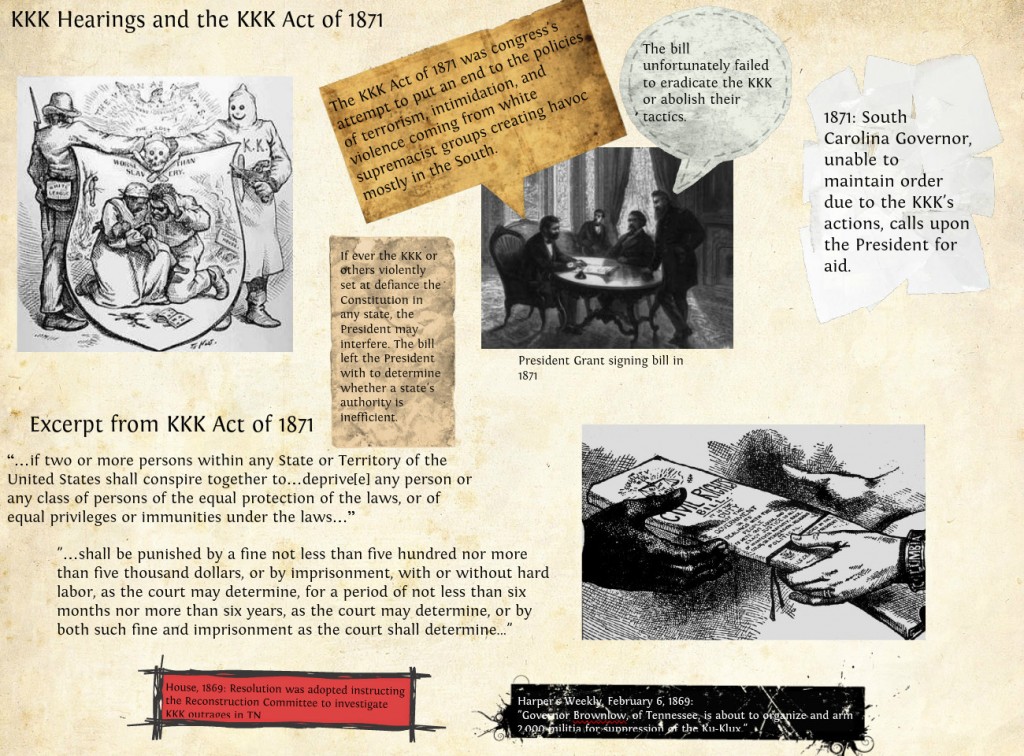 They cite profound violations of the U.S. Constitution with regard to due process and equal protection guaranteed in the Fourteenth Amendment, implicit in Rhodes' extended stay.  They go back to the Ku Klux Klan Act of 1871, codified in 1874, intended to cement provisions of the Fourteenth Amendment, then cite the Civil Rights Act of 1983.
"The Supreme Court has broadly described the primary purpose of § 1983 as follows:
'As a result of the new structure of law that emerged in the post-Civil War era—and especially of the Fourteenth Amendment, which was its centerpiece—the role of the Federal Government as the guarantor of basic federal rights against state power was clearly established. Section 1983 opened the federal courts to private citizens, offering a uniquely federal remedy against incursions under the claimed authority of state law upon rights secured by the Constitution and laws of the Nation . . .
"The very purpose of section 1983 was to interpose the federal courts between the States and the people, as guardians of the people's federal rights—to protect the people from unconstitutional action under color of state law . . . Throughout our nation's history, therefore, the right of our citizens to enforce their rights under the U.S. Constitution in a United States District Court has been a bulwark of democratic principles. Taking away that right should not be taken lightly."
Further protests planned, beginning Oct 15
The Michigan chapter of the National Action Network has announced a broad protest outside the U.S. Federal Court building at 321 W. Lafayette, where the bankruptcy case is being heard, for Tues. Oct. 15, 2013. Further actions, including during the bankruptcy eligibility trial set to begin Wed. Oct. 23, were planned during the International People's Assembly against the Banks and Against Austerity, held in downtown Detroit on Oct. 5-6. Story is forthcoming on that.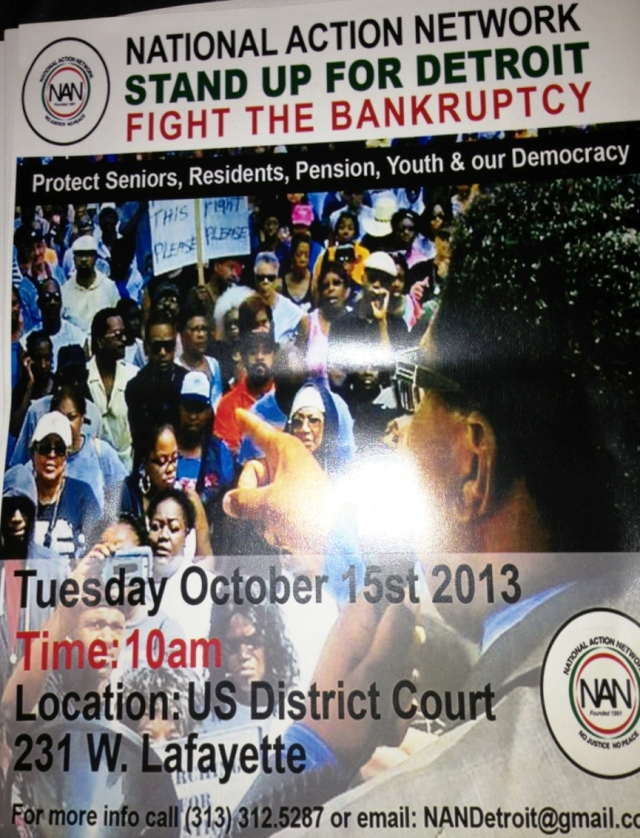 Related Documents:
DB Phillips et al motion for relief from order extension
Related articles: 
http://voiceofdetroit.net/2013/10/09/detroit-as-bantustan-wall-streets-black-goons/
http://voiceofdetroit.net/2013/10/09/detroit-as-bantustan-wall-streets-black-goons/
http://voiceofdetroit.net/2013/09/23/detroit-retirees-residents-committee-blast-bankruptcy-filing-at-court-hearings/
http://voiceofdetroit.net/2013/09/17/official-retirees-committee-in-detroit-bankruptcy-blasts-em-orr-gov-snyder-asks-for-stay-pending-higher-court-ruling-what-will-judge-rhodes-do-sept-19/
http://voiceofdetroit.net/2013/09/11/dennis-archer-former-consultant-to-detroit-lender-ubs-ag-meets-with-top-obama-aides-execs/
http://voiceofdetroit.net/2013/09/11/detroit-billionaires-get-arena-help-as-bankrupt-city-suffers/
http://voiceofdetroit.net/2013/09/09/illitch-plans-881-million-red-wings-stadium-project-with-public-funds-despite-detroit-bankruptcy-filing/
http://voiceofdetroit.net/2013/09/09/detroit-bankruptcy-filing-slows-michigan-bond-sales-84-high-interest-rates-cited/
http://voiceofdetroit.net/2013/08/27/secrecy-of-detroit-bankruptcy-docs-release-of-casino-taxes-swaps-retirees-committee-at-issue/
http://voiceofdetroit.net/2013/08/20/detroit-bankruptcy-objections-raise-possible-bank-crimes-related-to-poc-debt-and-casino-tax-deal-hundreds-protest-banks-in-downtown-detroit/
http://voiceofdetroit.net/2013/08/20/detroit-schools-set-to-pay-hefty-rates-on-92-million-bond-due-to-city-bankruptcy-filing/
http://voiceofdetroit.net/2013/08/16/state-stays-lawsuits-vs-em-law-pa-436-citing-detroit-chapter-9-bankruptcy-filing/
http://voiceofdetroit.net/2013/08/16/no-banker-left-behind-in-detroit-bankruptcy-case/
http://voiceofdetroit.net/2013/08/14/swaps-probe-finds-banks-including-detroit-creditors-rigged-rate-at-expense-of-retirees/
http://voiceofdetroit.net/2013/08/12/rush-to-detroit-bankruptcy-judge-sides-with-em-orr-aug-2-approves-retirees-committee-prematurely-sets-breakneck-deadlines/
http://voiceofdetroit.net/2013/08/12/detroits-pension-funds-within-accepted-standards-experts-say-contradicting-em-orr/
http://voiceofdetroit.net/2013/08/07/detroits-woes-solutions-dont-stop-at-city-limits/
http://voiceofdetroit.net/2013/07/31/orr-wants-detroit-bankruptcy-judge-to-replace-elected-pension-boards-with-appointed-retirees-committee-hearing-aug-2-10-a-m-protest-9-am/
http://voiceofdetroit.net/2013/07/29/war-retirees-workers-residents-v-wall-street-in-detroit-bankruptcy-judge-throws-out-state-claims/
AND MORE—Just put "bankruptcy" in VOD search engine.