DPD Chief James Craig was with the LAPD for 28 years; he sat on internal panel that whitewashed murder,  frame-ups by notorious Ramparts police
Top cops have alleged history of murder, brutality, frame-ups, perjury
Craig extols LAPD, Cincinnati, known for police crimes, federal oversight 
March Oct. 21 on eve of 18th Anniversary national marches by October 22nd Coalition to End Police Brutality, Repression and the Criminalization of a Generation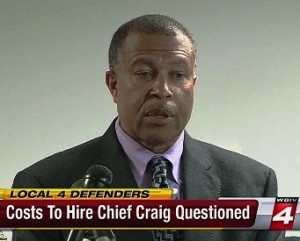 By Diane Bukowski
October 14, 2013
DETROIT – Despite Detroit Police Chief James Craig's assurances that 43 officers he hand-picked for promotions into his "All-Star Team" had been thoroughly vetted, many including Craig appear deeply embedded in a long-standing culture of murder, brutality and corruption.
Craig announced his "All-Star Team" Oct. 8 during a press conference at the Detroit Police Department's new headquarters.
"We used a competitive process, including an exhaustive review of the officers' work history, education, and other factors," Craig said. ". . . The Detroit Police Department will be one of the top police agencies in this country. I have had the good fortune to work in great departments, including Los Angeles and Cincinnati, and I will put any of these folks side by side with anyone there. They are the absolute best."
The promotions were not approved by the Detroit Board of Police Commissioners as is standard practice, and were not done according to union contract provisions. Detroit Emergency Manager Kevyn Orr, who directly appointed Craig, gave him free reign independent of City Charter and other provisions.
In a statement responding to this article, Chief Craig reiterated his support for the officers, saying, "Each of the newly promoted Executives and Command Officers promotions were based on merit, prior performance, work history, education and specialized training among many other factors. Each candidate was fully vetted and interviewed prior to being selected."
Craig's comments about each of the top staff members will be included with VOD's summary of our research of their records.
ASSISTANT CHIEF ERIC JONES
Among them are Assistant Chief Eric Jones, sued at least seven times in federal court since 1995 by Detroiters alleging assault and other charges, according to documents on the federal court website. (VOD has not yet researched state files on Jones and other officers included in this story.)
The first suit involved the killing of Michael Landon Hill, 21, on July 11, 1994 on Detroit's southwest side.
"He shot my son five times but he got away with it and got promoted later," Hill's mother Edith Namyslowski alleged. "He shot him in the leg, in the arm, and the palm of his hand while he had his hands up, then he shot him in the chest. He didn't have to kill him like a dog. My son was target practicing in a friend's backyard. When the cops got called, he ran away, but Eric Jones pinned him in between two garages with a seven-foot wall behind him. His partner said he saw my son's gun lying next door in the yard when he was shot. Eric Jones testified at the trial that my son's last words to him were, 'Why did you do it? I didn't even have a gun."
She said Hill "wasn't a bad kid. He had been on probation for being in a stolen car, and he went to boot camp. He had just got started in a new job where his dad worked. He was my baby, the last of two boys, and I loved him dearly."
The federal jury, however, ruled against Namyslowski, who said none of its members were from Detroit.
Several of the suits against Jones cite as co-defendants notorious cops William "Robocop" Melendez, Matthew "Spike" Zani and others among 18 Third and Fourth Precinct cops. They were indicted by the U.S. Department of Justice in 2003 for numerous crime, an indictment that did not include Jones.
Attorney Mark Ernst brought a separate lawsuit against Jones, Melendez, Zani, Jeffrey Weiss, Troy Bradley, Jeffrey Weiss, Timothy Gilbert, Mark Diaz, Jerrod Willis, Chris Guinn, Ricardo Villaruel, John McLeod, John Watkins and Oscar Garza, in the case of Clifton White, a chief witness against the officers in the federal indictment. All the officers except Jones were indicted by the Feds in the earlier case.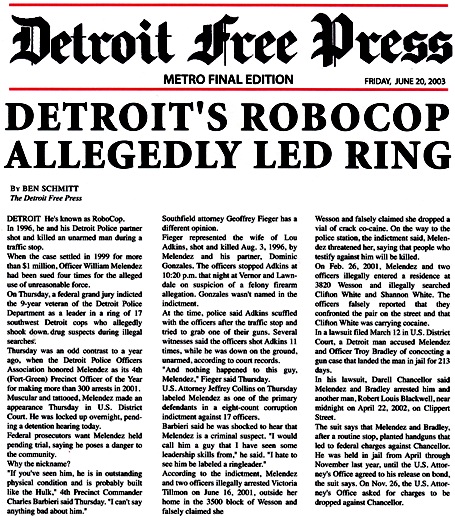 The lawsuit alleges Jones played a key role in years of harassment and frame-ups targeted at White.
"The Defendant officers acting in concert, have, for at least the past 10 years, targeted young African-American men living in or around the 4th Precinct and conspired to assault them, plant drugs and/or guns on them, steal from them, file false police reports against them, and, if necessary, perjure themselves in court proceedings in efforts to cover-up the conspiracy," says the suit.
Former Wayne County Prosecutor Mike Duggan's top lieutenant Kevin Simowski and others interfered in the case, claiming the feds were "conned by a network of career criminals," according to a Detroit Free Press article. U.S. Attorney Jeffrey Collins responded, "I will tell you this: In general, when we indict any case, we do so because the evidence indicates guilt beyond a reasonable doubt."
Three frame-up cases against White were dropped along with cases against other victims in the federal indictment.
In what Ernst called a "nullification verdict," a jury acquitted eight officers in that case in 2004, despite testimony against them by 17 other police officers, a historic break in "the blue wall of silence."
Settlements of various amounts were reached against Jones in cases including the White case (see links below story).
Notorious "Booty Boy" cop Michael Parish praised Jones in a 2011 article in the Legal News.
"Sgt. Michael Parish has worked with Jones for 10 years, and was there when Judge Gerald Rosen swore him in to federal practice as a lawyer last week," said the article.
"Parish called Jones 'the most enthusiastic, energetic and honorable cop I know.'
Dozens of Black men on Detroit's southwest side testified at City Council and in court that Michael Parish and Michael Osman became known as the "Booty Boys" literally raping many, under the guise of illegal anal cavity searches in broad daylight, on the public streets. They were sued multiple times, with several suits eliciting settlements.
Chief Craig said regarding Jones, "A.C. Eric Jones has received a Juris Doctorate degree from Wayne State University and while commanding the most problematic district in the city was able to significantly reduce crime in that area. A.C. Jones has a vast experience and knowledge base in pro-active policing strategies."
DEPUTY CHIEF VICKI YOST
Stepping down to the next level of command, two Deputy Chiefs have had questionable "work histories" as well.
Deputy Chief Vicki Yost partnered with notorious three-time killer cop Eugene Brown in what forensic pathologist Werner Spitz called the "execution" of Lamar Grable, 20, in 1996.
During a civil trial, the two claimed Grable was armed and shot at Brown, who returned fire, shooting Grable eight times, including three times in the chest. Attorney David Robinson, who saw an internal police review of the case known as the "Shoulders Report," said it showed that the last shots took place as Grable lay on the ground.
Yost stood over Grable as he lay dying, and admitted to taking home the gun that allegedly belonged to him before turning it in to the crime lab. She then backed up Brown's testimony at trial. Grable's family and other witnesses who testified said he had no gun.
The jury awarded Grable's family $4 million in the case on Aug. 6, 2003.
"We're very grateful that the jury did their job and listened to the evidence," said the plaintiff's attorney David Robinson after the verdict. "The bullet holes in Brown's shirt and the bullet holes in Lamar's body contradicted the sworn testimony of Brown and his partner, Vicki Yost."
"I'm glad the conspiracy of silence, between Brown, Yost and the other officers who winked at their behavior, has been broken by the community in the form of the jury," said Robinson's co-counsel, Melissa El. "Given time, the truth will always prevail."
Brown's own testimony that he "could have" shot Grable as he lay on the ground led an Appeals Court and the Michigan Supreme court to uphold the verdict.
Grable's father Herman Vallery, a co-founder with Grable's mother Arnetta Grable of the Original Detroit Coalition Against Police Brutality, commented on Yost's promotion.
"I don't think she should be promoted because of her involvement in my only child's death," Vallery said. "To this day, I still question whether she herself fired some of the bullets, because Lamar was shot first in the back, and she drove her car up on him from the back."
Yost has been sued several times, chiefly in relation to complaints involving nightclubs while she was with the vice squad.
One lawsuit, filed by the prominent law firm of Posner, Posner and Posner in the case of Lewis Hall III and Bangone Thengkham, alleged that Inspector Yost and three other officers, Sheron Johnson, Tryone Gray, and Charles Turner, assaulted and beat the plaintiffs inside the Plan B nightclub in 2009. The lawsuit was later settled out of court for an unknown amount. It says that Yost and other vice squad officers were eventually suspended for their actions in that and other cases.
"The Vice Squad and the individual defendant police officers . . . have engaged in a pattern and practice of excessive and unwarranted raids upon nightclubs and other retail establishments, harassment and intimidation of club owners and customers of the establishments, assaults upon and intimidation of those customers, false arrests and ticketing of customers of the establishments, as well as of the establishments themselves, and filing false police reports and committing perjury, as well as other unconstitutional conduct in reckless disregard of constitutional rights. . . .The Vice Squad and its officers were corrupt, and the pattern and practice of the misconduct of the Vice Squad officers, including the defendant officers, was widespread and well known in the community and to the defendant City of Detroit, but the City failed to stop the practice."
The suit alleges the Vice Squad's purpose was to shut down the establishments without cause, and "to facilitate graft, shakedowns and bribes."
Yost also led a raid on the Contemporary Art Institute of Detroit (CAID) in 2008, which a federal judge later ruled unconstitutional after the ACLU sued.
In a release, the ACLU said, "A federal judge yesterday ruled unconstitutional the 2008 Detroit police raid of the Contemporary Art Institute of Detroit in which 130 innocent CAID patrons were detained and their cars impounded. Police had no evidence that the patrons had broken the law and no illegal drugs or weapons were uncovered during the raid. . . .
"In a free country, the police may not conduct commando-style raids on innocent people and seize their property without justification," said Dan Korobkin, ACLU of Michigan staff attorney. "We hope this case will put a stop to the Motor City shakedowns we've seen across the city – the practice of arresting innocent people, seizing their cars, and refusing to return them unless they pay a $900 ransom."
Chief Craig said regarding Yost, "D.C. Vicki Yost is a highly decorated 19 year DPD veteran who has been responsible for overseeing many successful operations within the DPD, including Vice Enforcement, Tactical Support, Major Crimes, and the 8th Precinct. D.C. Yost was instrumental in establishing effective community relations efforts particularly in SW with the Hispanic community, as well as overseeing a Home Invasion reduction strategy in the Grandmont Rosedale Neighborhood. D.C. Yost was also responsible for conducting investigations that ultimately lead to the closure of problematic nightclubs were violence and underage dancing was prevalent."
DEPUTY CHIEF DAVID LEVALLEY
Deputy Chief David LeValley also has a past. He was involved with notorious William "Robocop" Melendez in the frame-up of anti-police brutality activist Cornell Squires' son in 2000. Squires' son, 18, was arrested by the two, who worked undercover on the narcotics squad with Robert Feld. Feld beat Squires, Sr. the previous year, calling him a "n—–," throwing him through a door, and threatening to kill him.
Squires, Sr.'s father, saw the beating and experienced a heart attack that eventually killed him. Feld was finally forced to retire from the force after numerous other brutality lawsuits and a videotaped beating of a driver.
LeValley and Melendez claimed Squires' son pulled a gun on them and tried to carjack them. No gun was ever found. A jury acquitted the son of carjacking but convicted him of "assault with intent to rob armed." Judge Kym Worthy would not allow the defense to present evidence that Melendez was convicted earlier of falsifying a police report.
LeValley and other officers were sued in federal court in several cases, including the beating and denial of medical care to a young man in Hart Plaza, and the set-up of a young man for soliciting an undercover cop as a prostitute and the seizure of his car. That took place during a rash of such set-ups from which both the prosecutor's office and the police department profited.
Another lawsuit said LeValley and other officers illegally arrested Joseph Gray, and did "beat, strike, kick and assault plaintiff about his body . . .including beating him in the head, beating him until he was unconscious, beating him so badly that hospitalization was required . . .causing serious and permanent injuries ." Several complaints were settled with monetary agreements.
Chief Craig's comment on LeValley: "D.C. David LeValley is also a highly decorated 19 year DPD veteran who has been the commanding officer of the department's Training Section and Task Force Administration Section. D.C. LeValley most recently served as the adjutant Lieutenant to Chief Craig and was directly responsible for developing a comprehensive plan to equally deploy manpower citywide, ensuring the proper staffing levels based on population, calls for service and overall crime."
A rung further down on the promotional ladder is Second Deputy Chief James Fleming.
He has at least one federal lawsuit, on record alleging that he and other officers refused to provide medical assistance to a man shot four times by Officer Barry Howard and permanently paralyzed from the waist down.
Craig said of Fleming, "Director James Fleming is a 30 year DPD police officer who retired honorably as a lieutenant. Following his retirement he worked in Dispatch. With both experiences he brought a unique blending of experiences. Prior to being hired he was loaned over from the State with purpose of comparing the State and DPD dispatch and service delivery protocol. Also to make assessments on call prioritization and lack (or refusal) of providing service."
VOD is further investigating the federal and state lawsuit records of all 43 officers promoted.
Craig's choice of the LA and Cincinnati Police Departments as examples of "great departments" raised eyebrows among many anti-police brutality activists.
Craig was with the Cincinnati Police Department only a short time, but prior to his tenure, that department was under federal oversight for eight years beginning in 2001, after the police murder of Timothy Thomas and subsequent rebellion.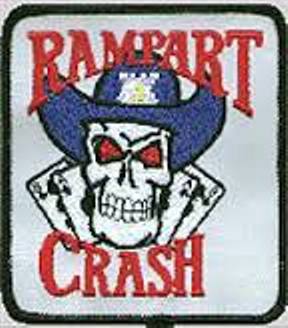 Craig spent 28 years with the LAPD, from 1981 to 2009, in command positions beginning in 1983. In June, 2013, the LAPD emerged from 13 years of federal oversight sparked by the 1996-99 Ramparts scandal, which exposed the division's anti-gang unit C.R.A.S.H. (Community Resources against Street Hoodlums). (Click on James Craig resume with LAPD details for resume.)
C.R.A.S.H. cops were found to have murdered, maimed and framed individuals with abandon, while selling drugs and robbing banks themselves.
Craig served on the internal "Board of Inquiry" into Ramparts which essentially whitewashed and minimalized the incidents, before the U.S. Department of Justice intervened. Craig himself served in a C.R.A.S.H. unit in the Central District in 1983.
The Ramparts scandal followed the notorious Rodney King beating and subsequent rebellion of 1992, and was succeeded by vicious police attacks on protesters during the Democratic Convention of 2000. Prior to the King beating, and since the Los Angeles Coalition against Police Abuse, founded by a member of the Black Panthers, has fought rampant police brutality in the city, which continues unabated despite federal intervention.
In recent announcements, Craig appears to be repeating LAPD's patterns and practices.
"I'm looking to bring back a gang suppression unit really quickly," Craig told the Detroit News Aug. 8, despite the vicious experiences the LAPD had with its gang squad unit. "I'm not sure what form it'll take right now, but we will have a unit in place soon."
Craig said he does not intend to call the unit the "Gang Squad," which was disbanded by Interim Police Chief Chester Logan in March after numerous complaints of brutality raised by citizens at Police Commission meetings and elsewhere.
Craig is working with the private Detroit Crime Commission, headed by Andrew Arena, who led the Detroit FBI office until recently on the gang issue.
During Arena's tenure, the FBI, in concert with Dearborn and Detroit police, assassinated Imam Luqman Abdullah in a set-up at a Dearborn warehouse. Federal complaints filed earlier against Abdullah and members of his mosque, located in one of Detroit's poorest Black neighborhoods, were based largely on hearsay evidence provided by "confidential informants."
News reports say Arena claims there are at least 2500 "gang members" in Detroit.
"That's not counting all the girlfriends, little brothers and hangers-on," Arena told the Detroit Free Press. "When I was with the FBI, I used to work organized crime, and you'd have 150 Gambino family soldiers; but for every main guy, you'd have 10 wannabes, which compounds the problem. It's the same thing with gangs."
The Detroit Crime Commission (DCC) represents the consolidation and privatization of police forces in Detroit. They are able to get and give grants from the federal government and elsewhere, and administer their programs without governmental checks and balances. They are similar to Kroll International, which oversees the U.S. Department of Justice consent decree in Detroit, and also participates in U.S. wars across the world as a mercenary arm of the government. At least one of the DCC's top officers has experience in the war on Iraq.
"The mission of the Detroit Crime Commission is to lessen the burdens of government and the citizens of the southeast Michigan area by facilitating the prevention, investigation and prosecution of crime," the group says on its website.
"A special emphasis will be placed on criminal enterprises that prey upon the citizens of the metropolitan Detroit area. The Detroit Crime Commission will conduct research, assist in investigations, disseminate information to the public, and help coordinate crime reduction activities between business, the public, government and law enforcement. The Commission will also assist in law enforcement training, and make grants to governmental entities to fund law enforcement activities. The Detroit Crime Commission is a 501(c)3 nonprofit organization as defined by the Internal Revenue Code.
Craig has other plans up his sleeve, including the introduction of tasers, which according to the website Electronic Village have caused the deaths of over 500 people in the U.S. since 2001.
The Detroit Free Press reported July 28, "In what emergency manager Kevyn Orr called just one significant example of improvements headed for the city's basic public services, the Detroit Police Department will soon get 50 new squad cars, replacement bulletproof vests and two new devices Motor City cops have never had: electric stun guns and on-body video cameras."
There are currently repeated protests happening in Miami Beach, Florida against the taser death of 18-year-old renowned local artist Israel Hernandez-Llach. (See link to stories below.)
LIST OF DETROIT POLICE PERSONNEL PROMOTED BY CHIEF JAMES CRAIG
Assistant Chief Eric Jones lawsuits:
EJones Clifton White complaint Melendez et al
EJones Rayfield Ferrell complaint
EJones Reginald Durham complaint
Deputy Chief Vicki Yost info and lawsuits
Serial Killer Kop and other stories MC
Yost Plan B settlement yost suspension
Yost McPhee Platinum complaint
Yost Andrew Huston All Stars bar complaint
Deputy Chief David LeValley info and complaints
Police Prosecution threatens to jail witnesses in Squires trial
LeValley complaint Preston 1999
LeValley complaint 2002 Bates sting
SECOND DEPUTY CHIEF FLEMING
JFleming Bradford Erving complaint
JFleming Chenault consolidation
(List of  related stories coming)_________________________________________________________________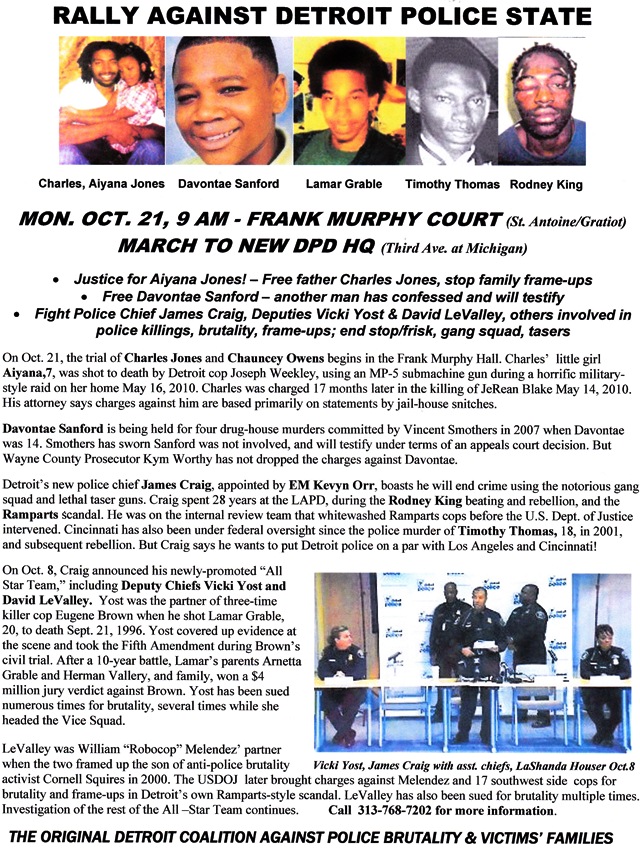 To print copy of flier, click on RALLY AGAINST DETROIT POLICE STATE.
Arnetta Grable and Herman Vallery, the parents of Lamar Grable, and others with the Original Detroit Coalition Against Police Brutality passed out 600 of the fliers above at the J. Cole concert Oct. 10, 2013, since his video "Crooked Smile" is dedicated to Aiyana. There will be a VOD story forthcoming shortly regarding the killer cop allies Craig appointed.