Hearing Dec. 20 on Illitch stadium DDA approval; project 61% public $$
Tax abatement for developers in Griswold evictions, separately tied to Gilbert
Hearings on closures of historic Oakman, Davis Aerospace schools not set 
By Diane Bukowski 
December 15, 2013 
Editor's note Dec. 16: Paula Silver, spokesman for Dan Gilbert of Quicken Loans, once again called to complain about the original version of this story, which said the 1214 Griswold developers are Dan Gilbert's. The story has been revised to exclude that reference, although the story still maintains that Gilbert is partners with James Ketai in Bedrock Real Estate, which Silver denied is connected to the Griswold Apartments. She was asked to provide a list of the actual partners in 1214 Griswold, LLC, but has not yet done so.
Editor's note Dec. 17: Now Rebecca Amboy of Sachse and Broder, a real estate firm whose principals are also officers in Sachse Construction, doing a major part of the renovation on Gilbert's newly acquired buildings downtown, has called. She says the owners are 1214 Griswold Apartments LLC, whose agent is Richard Broder. A check of state records for 1214 Griswold, LLC suddenly shows that THAT entity TODAY filed an amendment to its Articles stating that as of today, that company no longer exists. Ms. Amboy has been requested to provide an actual deed or purchase document showing who the OWNER, not the agent of 1214 Griswold is. Also, who the individual who signed his name as W on the MOU for 1214 Griswold is (see 1214 Griswold MOU 2.)
An article in Curbed Detroit at http://detroit.curbed.com/archives/2013/11/gilbert.php#more says Gilbert's Bedrock Real Estate is definitely connected to 1215 Griswold, opining "Ketai is likely Gilbert's straw buyer, a strategy previously used to buy buildings near the Bates Garage without attracting too much attention."
DETROIT – Despite their winter recess, the Detroit City Council has set two perfunctory "public" hearings on the expansion of the Downtown Development Authority (DDA) area to include a large area north of I-75. Mogul Mike Illitch plans to build his new Red Wings stadium and an upscale residential/retail development there. The total cost is $881 million, of which 61 percent is set to come from state and federal tax funds.
The hearings are scheduled for Friday, Dec. 20 at 9 a.m. and 9:05 a.m.
Detroit City Council President Saunteel Jenkins acceded to DDA/Detroit Economic Growth Corporation (DEGC) leader Art Papapanos' demands at a Council hearing Nov. 19 that the approval take place by the end of the year to ensure new tax dividends for 2014. The hearings had been "inadvertently" omitted from earlier Council discussion. (See previous VOD story at http://voiceofdetroit.net/2013/09/09/illitch-plans-881-million-red-wings-stadium-project-with-public-funds-despite-detroit-bankruptcy-filing/.)
The Nov. 19 council session was a triumph for Illitch, his downtown co-czar Dan Gilbert, and Detroit Public Schools emergency manager Jack Martin and his boss, Michigan Gov. Rick Snyder. Not one Council member dissented from the corporate agenda set forth at the meeting.
No hearing was set as requested by many in the audience, including Elder Helen MoorE of the Keep the Vote No Takeover Coalition, on the closures of the historic Oakman Elementary School for special needs students and Davis Aerospace High School.
GRISWOLD APARTMENTS 
Representatives of 1214 Griswold, LLC, whose agent has ties to Illitch's co-czar Dan Gilbert, left the meeting with a hefty tax abatement for their re-development of the Griswold Apartments, and eviction of up to 127 low-income senior and disabled tenants, many of whom have lived there for decades. It was unanimously approved by the Council with the apparent blessing of Attorney Ted Phillips, Executive Director of the non-profit United Community Housing Coalition. The Council had no authority to vote on the sale itself, only on a "Commercial Rehabilitation Act" tax exemption for up to ten years.
UCHC is working with the Neighborhood Service Organization (NSO), the actual signatory to the new owners' tenant agreement, which did not show up at either Council session. UCHC's task under a $480,000 HUD "Tenant Resource Network" grant is to find and inspect other housing for the low-income Section 8 Griswold residents, as well as residents of 17 other developments across southeastern Michigan that are opting out of federal Section 8 contracts. Such affordable housing is becoming increasingly scarce, but it does not appear that non-profits are fighting to keep it instead of scattering its residents.
Although Gilbert denied involvement in the purchase of the Griswold Apartments, state records show that the agent for the newly-formed 1214 Griswold, LLC is James Ketai, a partner in Bedrock Real Estate.
"Created by Dan Gilbert, Quicken Loans' visionary founder and Chairman, and veteran real estate entrepreneur, Jim Ketai, Bedrock is on a mission," says that company's brochure, posted on its website. "The company's sole focus is to revitalize Detroit and other promising urban centers to create jobs, excitement and opportunity."
Regarding the new owners' planned evictions of up to 127 senior and disabled long-term residents, most of them African-American, to make way for an upscale white-dominated Capitol Park region, Councilman James Tate said, "The new developers have done a tremendous job in working with the residents who live there."
He and Councilwoman JoAnn Watson praised the new owners' agreement to allow 10 instead of five residents to remain on one-year "extended" HUD vouchers, which means HUD will pay almost all their new base rent of $1213. There is no guarantee they will remain after that first year.
Phillips sat at the Council table across from the developers, who smiled as he spoke.
"We reached a Memorandum of Understanding which was brought to the group last week," Phillips said. "It was signed to attach to the abatement request. There are lots of good benefits. They have moved from five to 10 tenants allowed to stay there, for the oldest residents. Their security deposits remain. The owners have met with the residents, UCHC and NSO a number of times. We have met with all who wish to stay."
Phillips added later, "We are thankful that this is not a situation where low-income tenants are bringing down profits for businesses."
Residents who attended the hearing largely were silent. One thanked Councilwoman Watson and another, Esther Harding, said she wanted all the residents to remain.
Afterwards, Harding, who is 92 and has lived in the building for 30 years, told VOD, "I'm not happy with it but there's nothing I can do about it. I want as many residents as possible to remain. We are like family here."
Her friend and co-resident James McNeal said he has lived in the building for 20 years and is retaining his own attorney due to his dissatisfaction with the agreement.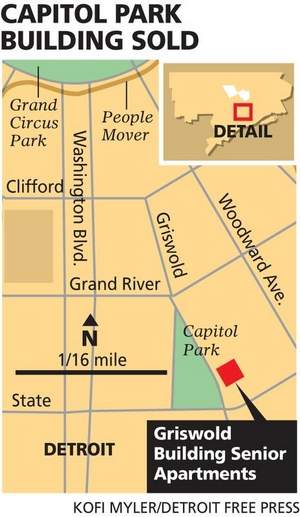 "We [the residents] have been through thick and thin," McNeal said. "We've had three different managements and different security agencies. Some of the people don't know what's going on. There are some in convalescent homes who don't know if they'll be able to come back. This is nothing but discrimination. The people have been in this city and have served this city for years. But now that they want to re-do the area, they are booting the residents out. This is unfair to all of us."
OAKMAN SCHOOL FOR SPECIAL NEEDS STUDENTS AND DAVIS AEROSPACE
Despite an audience packed with advocates for Oakman Elementary and Davis Aerospace schools, no special hearing was set to save those schools, as was done for Illitch's project.
Elder Helen Moore took the mike first and demanded more time to speak on behalf of all the people she has represented for years. Councilman Andre Spivey, who chaired for an hour because Jenkins was late, adamantly denied her request. She was almost removed by Council police.
Moore then asked the Council to set a special session to deal with the schools, a request which Spivey put off for Jenkins to decide.
"Oakman Elementary was built in 1929 to serve special needs students," Russ Bellant, president of the Detroit Library Commission," testified. "These children are being greatly harmed by what the EM [formerly Roy Roberts, currently Jack Martin] is doing. Many of the students are blind or in wheelchairs or must use walkers. It's clear that the city of Detroit is in the hands of the bankers."
Aliya Moore, president of the Oakman Parents Group, told the Council, "Our children are being blatantly disrespected. We took a bus to Lansing to protest the closing at the State Board of Education. Your voice on our behalf means a lot."
Others testified that the school is in the process of being demolished, while many of its former students are no longer attending school because school officials cannot find appropriate buildings. Architect Bill Dickens called the demolition an "outrage."
"That school is absolutely beautiful," Dickens testified. "It is a school that worked. It was named in honor of Dr. Charles Oakman, a visionary who championed the cause of public health in Detroit."
Rev. Bill Wylie-Kellerman said, "The systematic destruction of Oakman is like the hundreds of other schools destroyed, while we are still paying the bonds on those schools for years to come."
City Councilman Kenneth Cockrel, Jr. contended that the Council has no jurisdiction over DPS. But Denise Chatman of the Council's Historic Designation Advisory Board said, "Oakman is on the National Register of Historic Places and is eligible for local designation. It is the only school remaining for children with special needs."
Lt. Colonel Lawrence Milburn of the Tuskegee Airmen, in uniform, testified on behalf of keeping Davis Aerospace High School open to provide opportunities for Detroit youth to learn to become proficient in that lucrative area of employment. School officials said the Airmen, a contingent of Black pilots including the late Mayor Coleman Young who fought in World War II, give freely of their time to assist the students.
Jenkins did not set a special Council session to save the two schools, despite setting the Dec. 20 hearing for Illitch's Red Wings project.
Related article:
http://voiceofdetroit.net/2013/11/18/developers-hud-non-profits-collude-to-move-detroit-seniors-disabled-out-of-downtown-griswold-apts/