Dozens from across the U.S. turn out for May 24 Benton Harbor rally
Pinkney pre-trial set for Fri. May 30, 8: 30 a.m. in St. Joseph, MI on false election recall charges
By Diane Bukowski
May 24, 2014
BENTON HARBOR, MI – Supporters of renowned activist Rev. Edward Pinkney turned out from California to Indiana to Detroit to New York City for a rally and march denouncing Whirlpool's corporate takeover of this poor, majority-Black city and ongoing state control on May 24.
They also called for five felony and six misdemeanor charges brought against Pinkney to be dropped, related to a recall campaign against Benton Harbor Mayor James Hightower, a Whirlpool ally. Pinkney faces a preliminary exam on these charges before Judge Sterling R. Shrock, Fri. May 30 at 8:30 a.m. in the Berrien County Courthouse, located at 811 Port Street, St. Joseph, MI 49085.
The charges, which his supporters and court files indicate are patently groundless and violate Pinkney's First and 14th Amendment rights, are to be heard in one of the most racist court systems in the country. Each felony count carries a maximum penalty of five years in prison. 
"This is the death of democracy," Pinkney's wife Dorothy Pinkney said during the rally on the Benton Harbor City Hall steps. "Whirlpool, which has its headquarters here, believes it owns our resources and cloaks itself behind numerous private entities with public funding, such as the Cornerstone Alliance. The Harbor Shores development is the next stage of the dispossession of our impoverished post-industrial city, where Whirlpool closed its plants in the 1980's after getting huge tax incentives to stay. This is neocolonialism, stealing our natural resources and making the Black population disposable." 
By electronic hook-up, Pinkney himself addressed the rally. 
"We must get rid of this corrupt system and prove I am innocent of all charges," Pinkney said. "The Mayor hooked up these charges; we must tear James Hightower down and show what we are capable of doing. LET'S FIGHT BACK! LET'S FIGHT BACK!
The Harbor Shores Development, sponsored largely by Whirlpool, includes the Jack Nicklaus Golf Course, where a national PGA tournament was taking place May 24, a luxury housing development, and other development of land adjacent to the beautiful Lake Michigan beach that is part of the public Jean Klock Park.
The Black Autonomy Network (BANCO), the Green Party, and numerous other organizations are calling for a boycott of Whirlpool products, marketed under the brand names of Whirlpool, Maytag, KitchenAid, Jenn-Air, Amana, Brastemp, Consul, Bauknechtand others.
The petition to recall Mayor Hightower was initiated after he refused to authorize a city income tax that would have garnered substantial income from Whirlpool, which pays no city taxes despite the fact that it raked in $19 billion in sales in 2013.
According to a Court Complaint, Juan Mata of the Sheriff's Department brought felony charges against Pinkney of "election law forgery" and misdemeanor charges of "Election Law False Cert Circulatory," prior to a massive inter-agency SWAT raid on Pinkney's home April 25. Pinkney and his wife had left to celebrate her birthday, but Pinkney with his lawyer Tat Parish turned himself in the following day.
Judge Shrock placed Pinkney under house arrest after his arraignment, even though he posted a $30,000 10 percent bond. He forbade Pinkney from using his computer and forced him to wear a tether to track his movements within his house.
"They have never put anyone under house arrest for anything to do with ballots before," Ralph Poynter of New York City pointed out during the rally. "We cannot allow them to silence Rev. Pinkney. This must not stand. The National Lawyers Guild, unions, socialist and democratic organizations, if they are for freedom, must join the fight."
In a letter asking for a criminal complaint against Mayor Hightower and one Ron Johnson, dated May 6, 2015, Pinkney told the U.S. Justice Department that the Sheriffs went to the homes of petition signers and circulators to intimidate and interrogate them at length and in great detail on a massive level. Such activity against petition signers has not seen since the McCarthy era of the 1940's and '50's.
"This complaint against the two above-named parties is based upon action to obstruct justice and the Democratic process by 1) thwarting, circumventing and blocking the previously scheduled May 6, 2014 Benton Harbor voting mayoral recall election; 2) conspiring, manufactur[ing], and present[ing] false information in order to impede . . . the recall process and 3) to have directly or indirectly utilized the auspices and/or Office of the Mayor of Benton Harbor, Michigan and the Berrien County Sheriff Department to harass, intimidate and or otherwise impede Benton Harbor voters . . ." Pinkney said in his complaint.
Four voters submitted identically-worded affidavits asking for their signatures to be removed but several later recanted. Bethany Johnson and Ronita Johnson signed affidavits as below (their addresses and signatures, which were below addresses, have been cut out).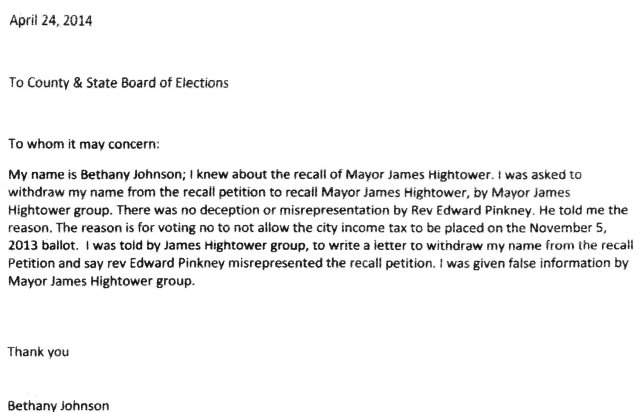 Non-expert Sheriff's Department deputies, who claimed they found date changes and duplicate signatures on the petitions, selected only 10 of 62 petitions submitted to Berrien County Clerk Sharon Tyler to send to the Michigan State Police Crime Lab's Questioned Documents Unit. Tyler earlier certified the majority of the petitions and ordered the recall vote.
Only five of the 10 petitions were circulated by Pinkney, although he circulated a total of 34 petitions; the others were not questioned.
The Sheriff's case report shows absolutely no proof of Pinkney's involvement in any alterations of dates (allegedly proved by the use of "different ink formulations,") or clearly accidental duplicate signings by several voters.
Pinkney never had sole possession of the petitions. His co-defendant, James Cornelius, who has been charged with one misdemeanor count, turned them in to the Clerk's office because the office would not accept them from Pinkney, since he lives in Benton Harbor Township. Pinkney said another woman was in charge of the petition gathering process.
In fact, the only admission of alteration of dates on the petitions came from the Sheriff's Department itself, which caused the Michigan State Police Crime Lab to alter dates on five of the petitions. See Page 13 below.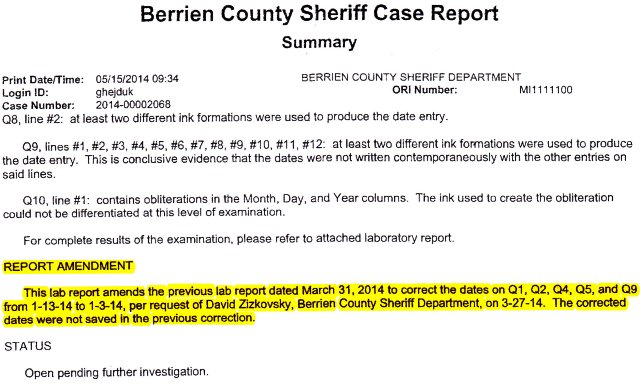 A recent study by the National Academy of Sciences (NAS) showed that most crime labs rely on outdated, unscientific assumptions and methodology, and called for all crime labs to be separated from law enforcement.
"Forensic scientists who sit administratively in law enforcement agencies or prosecutor's offices, or who are hired by these units, are subject to a general risk of bias," the Feb. 18, 2009 NAS report said.
"The potential for conflicts of interest between the needs of law enforcement and the broader needs of forensic science are too great." The report called for the creation of an independent National Institute of Forensics Sciences, which would conduct scientific research, set national standards, and certify, regulate, enforce and standardize forensic testing and testimony.
Hightower earlier threatened former Berrien County Commissioner Dennis Knowles about the recall campaign. He told him during a phone conversation that he "got a call from Lansing from two people" regarding a resolution passed by the Commission, which has been upset about the Berrien County Sheriff's Department's massive intimidation and interrogation of petition signers at their homes, reminiscent of the McCarthy era.  
"I'm going to commit every resource and everything that I have to ensure that my name goes on the ballot, your name won't be on the ballot, and I guarantee that you will not be in office, you will not be holding any office," Hightower told Knowles. "If that's how you're going to come at me, than I don't have any choice. . . .You ain't going to like it. I'm pulling out all the stops. You know I'm not pulling no punches."
Hightower may have been spying on the demonstration, since his car was driving directly in front of protesters from the Detroit delegation on the way to visit Pinkney at his home. It turned off into the Mayor's palatial digs, however.
Other speakers at the rally decried the ongoing assault on Benton Harbor, the first city in Michigan to fall victim to Public Act 4, the Emergency Manager law, before its repeal in Nov. 2o13, and on its chief advocate, Rev. Pinkney.
Benton Harbor no longer has an EM, but is still under state control under provisions of Public Act 436, the illegitimate successor to PA 4, passed in the dead of night by less than a two-thirds quorum of the Michigan legislature.
Rev. Charles Taylor, of People United for Better Government in South Bend, Indiana said they planned to rally the following day in their community against rampant police brutality.
"God is getting ready to send a whirlwind to Whirlpool," Taylor said. "This is the day they can repent of their sins before it happens. Instead of Rev. Pinkney, they should have had a lot of people in prison in Florida for hanging chads. There is voter fraud everywhere, from the top beginning with Gov. Snyder all the way to the bottom."
Renowned Detroit activist Monica Patrick, who helps host Pinkney's 5 p.m. Sunday internet radio show since his house arrest, cried out, "Somebody needs to go to jail, and if not, somebody needs to go to hell."
"This is not Rev. Pinkney's first go-round," Patrick told the crowd. "In 2007 after he waged a courageous fight for the youth, because he quoted scripture to a judge, they jailed him. Rev. Pinkney already told us long ago they're going to steal your homes, your children, your land, and that is what's happening now in Detroit."
Pinkney was also falsely charged with several counts of election fraud on that occasion, for which he spent time in the Michigan Department of Corrections before his sentence was reduced to probation. A massive campaign on his behalf was conducted across the country.
Cornell Squires of We the People for the People said, "The civil rights movement means nothing to our current politicians, courts and judges. People across the U.S. are going to see the wickedness, and stand on justice and truth. There is strength in numbers. It doesn't take but a few people to start a movement, people that aren't scared. All great leaders suffer. Dr. Martin Luther King was assassinated, we may be incarcerated, beaten up, and lied on, but America is not going to escape judgment."
The charges against Pinkney are being pursued on the heels of two recent U.S. District and Michigan Supreme Court decisions which held that elections laws must be interpreted in the manner that is in the best interest of the public and its First and Fourteenth Amendment rights.Regarding challenges to U.S. Rep. John Conyers' placement on the ballot because several petition circulators were alleged not to be registered voters in the district, U.S. District Court Judge Hon. Matthew F. Leitman ordered him placed on the ballot May 23.
Leitman held the Registration Statute to be unconstitutional based on U.S. Supreme Court rulings and also on the Michigan legislature's own amendment of state law allowing out-of-state residents to circulate petitions.
He said that the challenges by Wayne County Clerk Cathy Garrett and Michigan Secretary of State Ruth Johnson amounted "to a severe burden on Mr. Conyers' First Amendment rights and . . .  also  compels the conclusion that application of the Registration Statute severely burdened the First Amendment rights of the Plaintiffs who gathered the signatures that were disqualified."
Leitman further said, "As to irreparable injury, "it is well-settled that loss of First Amendment freedoms, even for minimal periods of time, unquestionably constitutes irreparable injury," and "Amici argue that Plaintiffs' claims are barred by the equitable doctrine of unclean hands. There is insufficient evidence in the record that any Plaintiff knowingly and intentionally engaged in improper conduct that would warrant application of this doctrine."
In an Aug. 3, 2012 decision, the Michigan Supreme Court held that petitions containing the signatures of over 240,000 Michigan voters calling for a referendum vote on Public Act 4, the Emergency Manager act of 2011, were acceptable despite clearly picayune contentions by opponents relating to the type font and size on the petitions. The MSC ordered the PA 4 referendum on the ballot. Over 53 percent of Michigan voters, a total of 79 out of 83 counties, voted to repeal Public Act 4.
One of the key contentions by Public Act 4 opponents was that it violated the U.S. Voting Rights Act and the 14th Amendment by barring voters in predominantly Black Michigan cities from voting for municipal and school district officials who would have the power to carry out their duties without the interference of a state-appointed Emergency Manager. Benton Harbor was the first Michigan city to fall victim to PA 4.
Contact Rev. Pinkney at 269-925-0001; BANCO website is at www.bhbanco.org. Call in to his internet radio talk show, which is being hosted by others for the time being, on Sundays at 5 p.m. at 347-994-3644.
Recent related stories:
http://voiceofdetroit.net/2014/05/10/rev-edward-pinkney-marcus-muhammad-battle-whirlpool-for-benton-harbor-pinkney-court-hearing-may-30/ 
http://voiceofdetroit.net/2014/04/26/free-rev-edward-pinkney-recall-whirlpool-stooge-benton-harbor-mayor-james-hightower/