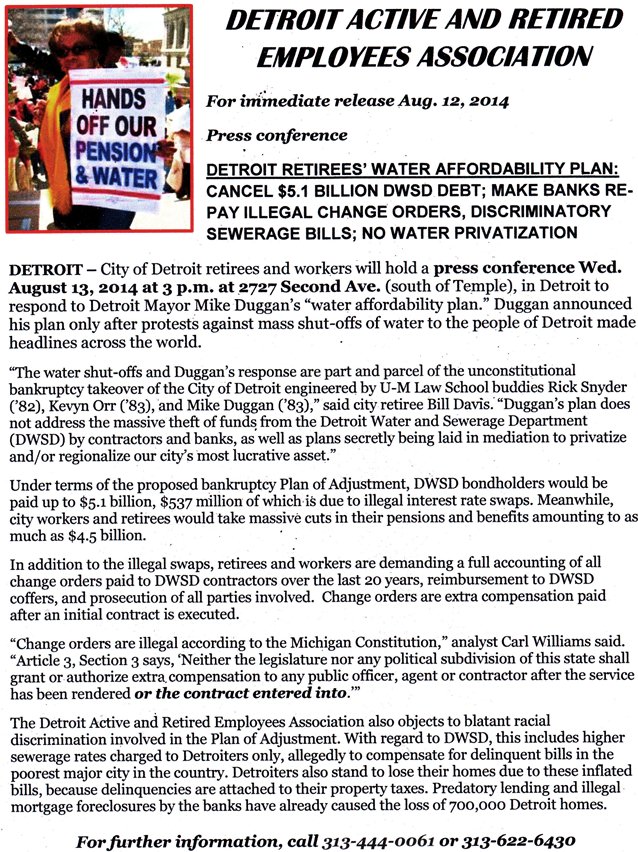 Download Bankruptcy Claims Chart for figures on DWSD and retiree payments under proposed Detroit Bankruptcy Plan of Adjustment at Voting claims chart
FROM MIKE MULHOLLAND, AFSCME DWSD OFFICIAL, WWTP RETIREE:
News media should look into the mismanagement of Detroit's sewage plant by the consultant corporation EMA. They have under-maintained and under-staffed this vital facility in order to rationalize the $48 million they are ripping off from the rate payers to bust the unions and cut staff by 81%. EMA took control of Toronto's water & sewerage system some years ago, and when heavy rains hit the subway tunnels were flooded. Workers blamed lack of maintenance on pumps. Pumps at the Detroit facility are also in bad shape. Coincidence? Or are we being robbed? DWSD's slogan for workers is "Embrace the Chaos." Really? Really!