Fraud, conspiracy to commit fraud, fictitious sheriff auctions and bidders, falsified legal documents, public corruption alleged against:
Ex-felon Charles Aliahmed of Eastern Market LLC; CRIMINAL RECORD OF INSURANCE FRAUD (CONSPIRACY), a felony with a 10-yr. max sentence
Ciena Capital, subsidiary of Ares Capital Corp., assets $9.1 billion
Emre Uralli of Luke Investments and Citi Investment Group, possible front for Dan Gilbert in purchase of Stott, Free Press Buildings
Fiaz 'Victor' Simon of 2727 Russell, LLC, Soaring Pine Real Estate, Atlas Oil, others 
Lawsuit forestalls seizure of Bert's Marketplace under "lis pendens"
Telephone status conference set for Fri. Oct. 2 in USDC Judge David Lawson's courtroom; defendants have filed motion to dismiss
#SaveBerts, #BlackBusinessesMatter, #BertsMarketPlace, #StopDetroitBlackOut, #SaveDetroit, #BeatBacktheBullies,  #StandUpNow, #StopWaronBlackAmerica,  #WhereJazzLives
September 30, 2015
Detroit, MI —  Renowned Detroit Black business owner Bert Dearing, Jr. forestalled the seizure of Bert's Market Place at auction by filing a federal lawsuit Aug. 19.  It alleges that prominent white-owned businesses and individuals committed  numerous counts of egregious fraud in their attempt to seize the venue.
One, Charles Aliahmed, is an ex-felon. He was convicted of Insurance-Fraudulent Acts (Conspiracy) in Wayne County Circuit Court in 2002 after pleading no contest.
He served a two-year adult criminal probation sentence, according to court records, although the offense, MCL 500.54111, carries up to 10 years in prison. (Click on Charles Aliahmed criminal cases Register of Actions and mcl-500-4511.) Several other cases were eventually dismissed.
Bert's is  a well-known restaurant and entertainment venue  in Eastern Market that has operated since 2003. It features soul food, jazz musicians, and special events and is especially popular with the Black community.
"I've done business in Detroit for over 47 years," Dearing, Jr. said during a downtown rally against the "Black-Out" of Detroit July 15. "My club was at 150 W. Jefferson beginning in 1957, but I was displaced from there and forced to move to Eastern Market. What programs is our government putting together for people of color to survive in Detroit?"
Joining him were other Black Detroit business-owners, cab drivers, homeowners, city retirees, and residents campaigning for streetlights in the city's darkened neighborhoods.
Dearing's lawsuit, B & D Property Mgt., Dearing Development, and Bert Dearing vs. Ciena Capital et al, (2:15-cv-12960), is being heard in the courtroom of U.S. District Judge David Lawson. A telephone status conference with Magistrate Judge Elizabeth Stafford is set for Friday, Oct. 2 at 10 a.m. between the parties. The defendants have filed a motion to dismiss.
Meanwhile, the lawsuit has halted the foreclosure and sale of the Bert's Eastern Market site on Russell St. The Wayne County Register of Deeds currently lists its standing as "lis pendens," meaning the lawsuit's outcome will determine whether a foreclosure sale can proceed.
"The scam has ultimately resulted in the perpetrators gaining over $70,000 in commissions and security deposits, rent payments ($50,500 to date), deeds to multiple properties and land and potential profits from the auction where the closing bid was $2,084,250.00," Dearing said in a release Sept. 20. "Those involved used manipulation and undue influence to steal money . . .and to secure their bad faith contracts and bogus property deeds. The perpetrators intended to defraud [me] of the Market Place property as well as six . . .other Detroit properties through misrepresentation and concealment of intertwined personal and business relationships."
Defendants in the suit include Ciena Capital, which first serviced Dearing's mortgage of his Eastern Market site from Business Loan Center, a wholly-owned subsidiary of Ciena, in 2003. Ciena is now a subsidiary of $9.1 billion giant Ares Capital, according to disclosure statements it filed during lawsuit proceedings.
Dearing paid regular installments on the mortgage through 2013, until he became seriously ill and executed payment arrangements with Ciena. He then made six payments, only one of which was cashed by Ciena, says the lawsuit.
The suit alleges that Ciena, unbeknownst to Dearing, then executed assignments of the mortgage to several trusts it created, which in turn assigned the mortgage to banks including HSBC in Feb. 2014. HSBC then assigned its interest to the newly-created Eastern Market, LLC, run by one Charles Aliahmed of Grosse Pointe.
"Eastern Market 1, LLC, is a new company, formed on May 14, 2014, which was only two weeks prior to receiving the assignment of the mortgage from HSBC Bank, USA," Dearing said in his release. "Typically, a well established bank would not/could not assign the mortgage note to a newly formed company that's outside the securitization chain. To investigators it would appear that there is a connection between the parties."
A "well-established bank" should also have checked the criminal background of Aliahmed.  According to court records, he was convicted in 2002 of "Insurance-Fraudulent Acts (Conspiracy)," MCL 500.4511, a felony which carries a maximum penalty of ten years in prison. Somehow, by pleading no contest, he obtained a two-year adult criminal probation sentence. (See links in third paragraph of story.)
Aliahmed formerly owned Quest Financial Solutions, now defunct, the subject of a stinging expose on "Ripped-Off Online" which accused him of running Ponzi schemes and various other scurrilous activities.
"He runs many scams from his office, ranging from investing in low income housing projects in Detroit, to False Credit repair and high risk refinancing scams, which cost his customers more in the long run than they imagine they save in the beginning," says the poster. "Charles eludes his customers after taking substantial monies from them, and never following through on his claims. His investments are frauds and ponzi schemes. He has one employee left working for him."
The document, including Aliahmed's rebuttal and 47 negative comments from other Quest customers, is linked below story and can be read by clicking on Quest Financial Charles Aliahmed.
Aliahmed demanded immediate payment of $471,000 from Dearing, who disputed that amount since the principal left on the mortgage was far less. Aliahmed's attorney posted a notice of foreclosure in the Detroit Legal News July 11. Dearing followed with a lawsuit in Wayne County Circuit Court which was never resolved. The Wayne County Sheriff held an auction on the property in Aug. 2014, with a redemption date of Feb. 21, 2015, says Dearing's suit.
Dearing was the only party to appear at that auction, but the Sheriff's Office nonetheless assigned the property to Eastern Market 1, LLC which recorded a document saying they had received payment from the unknown "Simon Holdings Group–2727 Russell, LLC" of $496,994.18.
Emre Uralli of Luke Investments, address 712 Cass (currently a parking lot which Uralli claimed he would turn into Detroit's tallest building), had earlier contacted Dearing to offer him a deal to pay off his debt, which Dearing declined. Without Dearing's knowledge, Uralli created the "2727-2739 Russell Street Trust," and registered it.
Later, in Dec. 2014, after dealing with other lenders including Victor Simon (a/k/a Faiz 'Victor' Simon) of Soaring Pine Real Estate Investments, the Simon Holdings Group, and Atlas Oil, Dearing accepted Uralli's offer verbally. He then called him to decline in favor of Simon's offer, but Uralli refused to accept his decision.
Uralli, a realtor from Florida who moved to Detroit, purchased the David Stott and Detroit Free Press Buildings in 2013, then sold them to the shadowy DDI Group, based in Shanghai, China at a profit. Multi-billionaire Dan Gilbert, known for using front groups to snatch up downtown properties, purchased both buildings in 2014 at much inflated rates.
Unknown to Dearing, Uralli and Simon then joined forces in a joint venture called "Simon Group Holdings–2727 Russell," later amended to delete the Simon name. Dearing signed a two-year lease with 2727 Russell, LLC, but finally revoked all deeds and leases he had signed under false pretenses in four notices in the Detroit Legal News, with copies sent to Uralli, Simon, and Aliahmed.
Uralli nonetheless got the Sheriff's office to proceed with an auction of Dearing's property July 21-2013. The final bid was over $2 million. Dearing received notice of the bid, but no notice of who the successful bidder was.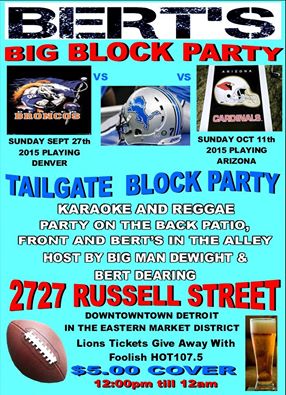 "Bert was not aware of the complexity of the foreclosure fraud and the defective sheriff's deed until after the expiration of the presumed 6 month redemption period," says his release. "However, by that time the perpetrators had already recorded their bogus documents in the Wayne County Register of Deeds office; they were collecting monthly rent payments and despite the fact that Bert was only four months into an alleged 2-year lease, scheduled the property for the July 21-23, 2015 auction. This shows obvious bad faith because not only did they demand a $50k security deposit; a 2-year buy-back lease with exorbitant rent payments ($10,100/mo) and deeds to multiple properties, after only four months into the alleged lease agreement they scheduled the Market Place property for auction."
Nicole Small, sister of Darnell Small, former owner of the Tangerine Club which was run of business by the white-owned Atwater Brewery, spoke during the July 15 rally.
"We're the majority in the city," Small said. "How dare you say we can be anywhere except downtown Detroit and 'midtown'? We want prime real estate for $1 just like Gilbert and the rest. Gilbert just got a $1 million grant for Capitol Park through the City Council and the Mayor."
Dearing and his allies say the battle for Bert's Market Place is still going, and are calling on all Detroiters for their support.
CONTACT:  
Bert's Market Place
2727 Russell Street – Eastern Market District, Detroit, Michigan 48207
(313) 567-2030
Web: www.bertsentertainmentcomplex.com
Email: bertsmarketplace@gmail.com
"The Place Where Jazz Lives."
Related document:
BERT'S MARKET PLACE Press Release_09.21.15
Related stories:
http://voiceofdetroit.net/2015/07/25/downtown-rally-protests-great-black-out-of-detroit-by-white-profiteers-politicians/
On Charles Aliahmed:
http://www.rippedoffonline.com/art/pub/articles/allcategories/quest-financial-charles-aliahmed-521.htm.
On Emre Uralli:
http://detroit.curbed.com/tags/emre-uralli
http://www.crainsdetroit.com/article/20130915/NEWS/309159961/cashing-in-onbuilding-market-pending-deals-show-investor-demand
http://www.crainsdetroit.com/article/20131016/NEWS/131019845/group-from-china-revealed-as-buyer-of-stott-free-press-buildings
http://www.crainsdetroit.com/article/20150722/BLOG016/150729976
http://archive.freep.com/article/20140627/BUSINESS06/306270125/Gilbert-buys-media-partnership-bulding