Clifford Stafford sentenced to 18 months probation, $1300, community service 
Hathaway to hold "Ginther" evidentiary hearing for Mary Ann Stafford Friday, Feb. 5, 2016 
VOD makes further inquiries to Wells Fargo, which officially denied being "complainant" in case 
"Place crime scene tape around Frank Murphy building"—Professor O
 By Diane Bukowski
 Jan. 15, 2016
DETROIT – Wayne County Circuit Court Judge Michael Hathaway, late of "MO'-WATER-SHUTOFFS" notoriety,** laid the blame for the global subprime mortgage meltdown of 2008  on the shoulders of Detroit residents Clifford and Mary Stafford, giving passing mention to the nation's banks and mortgage lenders, during the couple's  sentencing hearing Jan. 13.
Mr. Stafford is a retired autoworker and Marine Corps veteran, while Mrs. Stafford is a homemaker who does credit counseling and other community services.
Hathaway sentenced Mr. Stafford to 18 months probation, $1300 in fees, and 200 hours of community service for "obstruction of justice," in allegedly defrauding Wells Fargo Bank, the largest home mortgage lender in the country. Mary Stafford, who was also found guilty of "False Pretenses," a 15-year felony, will have a "Ginther" evidentiary hearing Friday, Feb. 5, 2016 at 9 a.m. based on several motions filed pro se including ineffective assistance of counsel. 
The last row of the courtroom was packed with members of the Staffords' family and friends. They are asking to community as a whole to turn out for the Feb. 5 hearing.
"How can they say Detroit is coming back when the Detroit criminal justice system is sitting on a cesspool?" Omar Mimrah, known as "Professor O," told VOD. "Yellow crime scene tape needs to be put all around this building [the Frank Murphy Hall of Justice], an investigation must be held, and it must be shut down."
Several supporters noted that if the the Deed Fraud Task Force can target community anti-foreclosure advocates like the Staffords without cause, using fabricated and fraudulent evidence, no one is safe. Valerie Kauth, of Reliant Title, testified during the Staffords' preliminary exam that it was NOT HER SIGNATURE AS NOTARY on a 2007 warranty deed repeatedly displayed to the jury. Yet the only person Douglas targeted was Mrs. Stafford, who said her signature on the same deed was forged.
Wells Fargo representative James E. Hines has already officially informed VOD that although the prosecutor listed the bank as the "Complainant" in the case, it "had no role in initiating the complaint." VOD has now asked Mr. Hines if Wells Fargo plans to take any action regarding the misuse of their name and address by the office of the Wayne County Prosecutor. Mr. Hines said he will respond next week.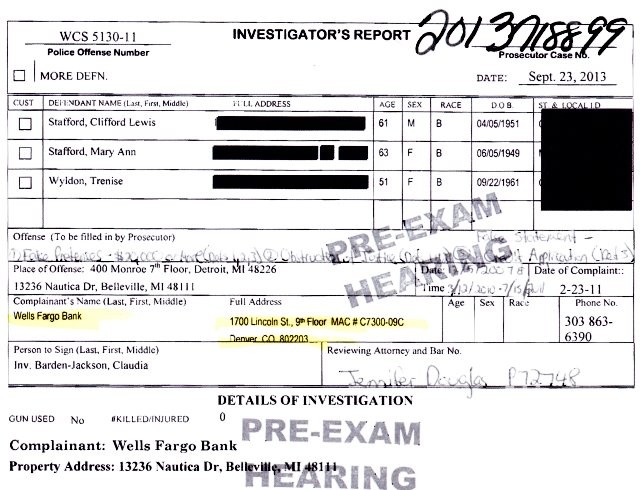 VOD earlier provided the Wayne County Prosecutor's office with a copy of the email from Hines, but has not responded to a request for comment on why it prosecuted the Staffords citing Wells Fargo as the complainant.
"It is clear that you and your wife engaged in some part of a much much larger set of circumstances nationally, which almost brought this country to its knees," opined Judge Hathaway during Mr. Stafford's sentencing.
"I concede that the mortgage lenders were largely culpable by being as reckless as they were in writing mortgage loans based on dubious circumstances, and that questionably ethical title companies and brokers participated in the process" he said. "But the other players were those who borrowed money, ultimately from the U.S. Treasury, with no intention or ability to pay off those loans."
Hathaway evidently referred to the fact that the U.S. government, using taxpayer dollars, spent at least $7 TRILLION dollars bailing out the banks involved in the meltdown. Hardly any of that trickled down; only six percent of homeowners facing foreclosure got loan modifications required by the government.
The Staffords themselves were never accused of borrowing ANY MONEY at all from either the government or Wells Fargo, and certainly not $7 trillion.  Hathaway broadly inserted a vague definition of "aiding and abetting" unspecified parties into jury instructions. His words Jan. 13 implied that they "aided and abetted" a $7 trillion theft.
"I guess you think you can just blow smoke in everybody's face," Hathaway continued. "It doesn't really matter that you spent the first 64 years of your life as a hardworking veteran [without any criminal history].  It appears that you got yourself in over your head in a bogus deal that cost the government a lot of money."
Before Hathaway's remarks, Wayne County Assistant Prosecutor Jennifer Douglas demanded jail time for Mr. Stafford on his misdemeanor conviction, claiming he had wasted "an incredible amount of resources of the court, Wells Fargo and Fannie Mae." She blamed him for exercising his constitutional right to file a "quiet title" lawsuit regarding the property involved, at 13236 Nautica in Belleville.
She said Mr. Stafford also should be charged over $96,000 in restitution to Wells Fargo, a fee which has been assessed in Mrs. Stafford's sentencing report. Judge Hathaway denied that request.
Douglas unsuccessfully prosecuted two Wayne County officials accused of causing a $41 million overrun on the failed Wayne County Jail project. Wayne County Circuit Court Judge Vonda Evans found the indictment insufficient.
Wayne County Deed Fraud Task Force Investigator Mary Williams Jones said in her recommendation for a warrant that, "on July 7, 2015, writer received the closing package from Wells Fargo Bank for the sale of 13236 Nautica Drive from Private Consumer Consulting Services [PCCS] to Trenise Wyldon. The package revealed the following: Borrower Trenise Wyldon, Seller PCCS Mary Staffird, Settlement Agent Reliant Title. Cash from borrower, $23,140.93, cash to seller $379,273.00."
VOD has also asked Wells Fargo whether it paid $379,273.00 to PCCS, and what it plans to do with the $96,000 in restitution required of Mrs. Stafford.
Broker Richard Woonton, an expert witness for the defense, testified during the trial that the entire Wells Fargo package was severely flawed and did not involve the Staffords or their company.
The "Ginther" hearing set for Mrs. Stafford derives from a 1973 Michigan Supreme Court decision in the case of People v. Herbert Ginther. 
"Although Ginther would have us reverse his conviction, until he establishes the factual substantiality of the claims that the judge should have disqualified himself, that another lawyer should have been substituted and that the plea of guilty was impermissibly induced, the only relief we could properly grant would be to require an evidentiary hearing concerning those claims," the high court ruled.
Such hearings are now common. In her plea for a Ginther hearing, Mrs. Stafford cited ineffective assistance of her counsel Steve Lockhart, the statement from Wells Fargo that it had no role in the criminal complaint, and other matters involving Judge Hathaway.
She has been assigned new counsel to represent her, but her supporters said they are considering retaining an attorney who is not afraid to deal with Judge Hathaway.
Hathaway earlier said in an in-chamber conference regarding Tigh Croff, who killed a 56-year-old grandfather who had run blocks away from Croff's home, that he "would have done the same thing."
Related documents and stories:
http://voiceofdetroit.net/wp-content/uploads/WellsFargocomplaint.pdf
http://voiceofdetroit.net/wp-content/uploads/Wells-Fargo-email-re-13236-Nautica-Drive.pdf
http://voiceofdetroit.net/2016/01/12/wells-fargo-v-staffords-bombshell-bank-not-complainant-county-charged-couple-anyway/
https://justiceleaguetaskforce.wordpress.com/tag/wells-fargo/
http://voiceofdetroit.net/2015/12/19/whos-guilty-of-detroit-mortgage-fraud-not-wells-fargo-but-community-advocates-says-county/
**http://voiceofdetroit.net/2015/12/02/judge-michael-hathaway-seizes-water-protest-verdict-from-black-detroit-jury-halts-trial/
#WellsFargo, #mortgagefraud, #subprimemortgagemeltdown2008, #CliffordandMaryStafford, #WayneCountyprosecutor, #BailoutPeoplenotheBanks, #notaryfraud, #JudgeMichaelHathaway, #StopForeclosuresandEvictions, #HousingisaRight, #WayneCountyDeedFraudTaskForce, #JenniferDouglas, #MaryWilliamsJones, #CriminalInjusticeSystem, #BlackHomesMatter