UPDATE: FUNERAL ARRANGEMENTS:
KERNAN FUNERAL HOME 
1020 FORT STREET, LINCOLN PARK
VISITATION SUN. NOV. 27 1-5 PM
SERVICE MON. NOV. 28  AT FUNERAL HOME
FAMILY HOUR 10 A.M.  SERVICE 10:30 A.M.
CORNELL EDWARD SQUIRES, Sunrise JUNE 18, 1957 Sunset NOVEMBER 19, 2018 Loving father of Cornell. Cherished son of Vester and the late Eugene. Dear brother of Eugene Jr., Jeanette and Calvin (Kelly). Proud grandfather of Cordai and Ari. Loved dearly by nieces and nephews Freddie, Maurice, Morgan and Camille.
For further information, visit http://www.kernanfs.com/obituaries/Cornell-Squires/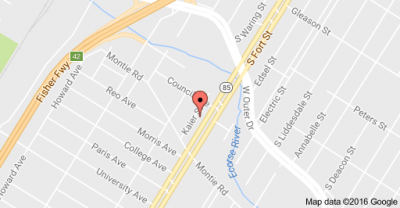 Commentary by Voice of Detroit staff
November 20, 2016 
DETROIT — The world is a much smaller place today since the passing of our beloved brother, dear friend to so many, dear son, father, brother and grandfather, and fellow activist Cornell Squires on Nov. 19, 2016, at the age of 59.
His heart was larger than that world. It will never be the same without him; we will mourn him for the rest of our lives, but be assured that we will follow in his footsteps as well. He taught so many so much and was an inspiration for the ages.
Cornell Squires, born June 18, 1957, passed away unexpectedly but peacefully, likely of a heart attack, as he was assisting his long-time dear friend Arnetta Grable, Sr. at the hotel where she was temporarily staying in Southfield, Michigan. He took a brief rest in a chair, and went to sleep. Then he went home to Allah, the Great Spirit, God, or the many other names under which people know that eternal life force. Cornell himself was extremely spiritual and began each day by calling his dear mother Vester Squires to pray with her.
Mrs. Squires, Cornell's son Cornell Emmanuel and Cornell Emmanuel's mother Carla, grandson Cordai, Cornell's brothers, Mrs. Grable and her son Aaron Grable and daughter's friend Shae gathered at the hotel after his death, along with several fellow activists including this writer, to grieve his passing. His family will be announcing his funeral arrangements shortly, which will be published here.
"It's time for younger and older men alike to stand against corruption, police brutality, and all injustice in our communities," Cornell, a reporter and photographer for Voice of Detroit, wrote in an article April 9, 2015, last year.
"Americans must stand up for the truth and our personal freedom! All human beings have a constitutional right for equality and God given rights no man can take away! God is the true lawgiver."
He continued, "America has a double standard in our legal system and we must demand a new legal system immediately! This is also an unfair, hateful, malicious, ungodly and disrespectful system to our city's residential homeowners and the taxpayers in our communities." (See full article at http://voiceofdetroit.net/2015/04/19/stop-police-murders-and-frame-ups-of-our-black-youth-jail-killer-cops/.)
Cornell Squires cannot be replaced. He was unique in that he had no personal agenda. He was motivated by a true love for the people, as Che Guevara said. He cared about each individual he worked with, their families, and their individual problems. He freely gave his heart and hard work to each person he worked with for justice.
When called to help, he would arrive with his large, calm, reassuring presence, comfort those who needed it, and go on with whatever work was needed for them.
As a paralegal with We the People for the People, RicoBusters, the Detroit Active and Retired Employee Association (DAREA), the Coalition to Free Rev. Edward Pinkney, the Detroit Coalition Against Police Brutality, the National Oct. 22 Coalition, the Detroit Black Farmers, and numerous other groups, he personally assisted thousands of people across Detroit and Michigan in saving their homes, their children from state kidnapping and from prison, and their very lives in the battle against police murders.
Cornell recently did tireless paralegal work to stop the outrageous imprisonment of Mary Stafford, sentenced to 1-10 years by Wayne County Circuit Court Judge Michael Hathaway after a "deed fraud" trial of Mrs. Stafford and her husband Clifford Stafford, rife with judicial and prosecutorial misconduct, and based on falsified evidence.
Cornell took on the battle against the Dearborn police in the case of Terry Jerome Jones, injured for life by Dearborn police for "walking while Black," down Michigan Avenue on Sept. 4, 2011. He helped Jones' cousin Antoinette Austin initiate and fight an ongoing lawsuit against the city and the police. He went on to cover the brutal killing of Kevin Matthews, another mentally challenged man, by a Dearborn cop on Dec. 23, 2015.
VIDEO BELOW BY CORNELL SQUIRES
Earlier, with his dear friend the late great attorney Leonard Eston, one of the last great legal warriors from the 1960's, Cornell fought hundreds of cases, many times with no compensation. Cornell and Leonard Eston successfully restored the law license of the late people's hero and Mayor of Mississippi, Chokwe Lumumba, also a friend of Cornell's.
One of the people they helped was Ed Wilcox, a Detroiter whose neck was broken by the six white Southfield cops in 2009. They pulled him out of his car, threw him on the ground, put a foot on his neck, and tasered him four times. He nearly died from the beating.
He survived chiefly by yelling just so he could breathe before a friend took him to the hospital, and doctors discovered a disc had nearly severed his spine, which would have left him a paraplegic. He still suffers from seizures causing his arms and legs to shake, pain, and has to take medication just to sleep.
Cornell and Leonard Easton worked with him on a federal lawsuit which got thrown out of the Eastern District six times before the Sixth Circuit Court of Appeals sent it back and ordered the district to deal with it. After Eston passed, Cornell kept working with Wilcox, filing a case with the U.S. Department of Justice, going to U.S. Rep. John Conyers, and also to Barbara McQuade of the Detroit Attorney General's office.
Another dear friend Cornell went all out to support in her battles against her own eviction and the gentrification of Brush Park was Gwendolyn Mingo. She herself became a leader of hundreds, fighting to preserve the homes of families who had lived there for decades. The area has now become a playground for the well-to-do, including a complex of sports arenas for the Red Wings, Pistons, Tigers, and Lions, all of them owned by multi-billionaires, surrounded by luxury condo developments, restaurants and retail establishments. But through Gwen's efforts, aided by Cornell, Arnetta Grable, Ron Seigel of the Michigan Citizen, and numerous others, she still lives in her own home there.
Cornell was also a City of Detroit retiree. He worked for 12 years as an EMS technician, and fought the administration to get better ambulances and conditions for the workers. Then he was forced to fight for his disability pension, which he only started receiving last year, many years after he had to leave the job due to stress and harassment by management.
He joined the struggle with the Detroit Active and Retired Employee Association after the emergency manager takeover of Detroit, and the phony bankruptcy which followed. He worked on the legal committee which helped draft ongoing lawsuits against the drastic cuts retirees experienced to their annuity savings fund and health care.
Cornell worked with Bert Dearing of Bert's Warehouse and Theater to draft a federal lawsuit which put a stay on the foreclosure and takeover of Dearing's property, part of the assault on Black-owned businesses in Detroit. Cornell himself was previously a business owner, of a car lot on Detroit's southwest side. He also worked tirelessly to find opportunities for the youth in his distressed far southwest neighborhood for recreation and employment.
Cornell recently began attending meetings of New Era Detroit, held at Bert's Warehouse every Thursday. He was excited to see young Detroiters beginning to organize independently for the future of the youth and of Detroit.
All of those who benefited from Cornell's love and hard work will have many stories to tell. The Voice of Detroit invites all to contribute to the coverage of this great man's life by either submitting their comments below or writing their own articles and sending them to diane_bukowski@hotmail.com or the Voice of Detroit, P.O. Box 32684, Detroit, MI  48232.
Cornell's death felt like a grenade lobbed through our chests, leaving a huge hole that will nonetheless eventually heal, cradling him and his heart and spirit at the center of our beings.
Part of the story of Cornell's life with the Voice of Detroit, the Detroit Coalition Against Police Brutality, the Detroit Active and Retired Employees Association, and the battle for Michigan's juvenile lifers is portrayed here in photos. There will be much more to come after his home-going ceremonies are complete.
Cornell, you carried out your mission with courage, bravery, unbounded love, and unflagging determination and you were loved by thousands. When God felt it was time and your mission was complete, he called you home. Rest in his loving arms and the arms of your late father Eugene Squires, and late brother Odell Squires, in power and in peace, and in our love.
The world as we know it will never be the same without you. Love you forever, Cornell.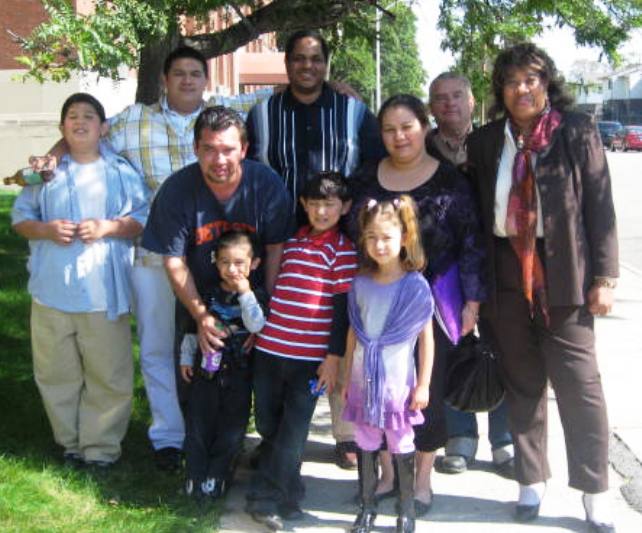 Cornell is shown at right  with (l to r) Mailauni Williams, her mother Lennette Williams, behind them Ron Hereford, and Arnetta Grable, Sr. He and Arnetta fought for Lennette to maintain custody of her daughter and control of her finances against vicious Probate Court officials who savaged a settlement awarded to the Williams family related to hospital neglect in Mailauni's birth.
CORNELL SQUIRES WAS AN ACTIVE MEMBER OF RICOBUSTERS. ONE OF THEIR MANY VIDEOS IS SHOWN BELOW.  
Related stories:
http://voiceofdetroit.net/2016/11/02/family-friends-want-release-not-re-sentencing-for-charles-lewis-condemn-appointed-atty-newman/
http://voiceofdetroit.net/2016/09/29/community-honors-lamar-grable-murdered-20-yrs-ago-by-detroit-cops-eugene-brown-vicki-yost/
http://voiceofdetroit.net/2016/04/05/activists-say-wayne-co-tax-foreclosures-illegal-violation-of-indigenous-rights-domestic-terrorism/
http://voiceofdetroit.net/2016/02/17/outrage-judge-michael-hathaway-gives-mary-stafford-1-10-yrs-no-evidentiary-hearing/
http://voiceofdetroit.net/2015/11/08/layoffs-flood-detroit-water-dept-risk-public-health-rising-debt-higher-rates-more-shut-offs/
http://voiceofdetroit.net/2015/09/30/federal-lawsuit-alleging-fraud-unclean-hands-forestalls-seizure-of-berts-marketplace/
http://voiceofdetroit.net/2015/05/04/support-man-injured-for-life-by-dearborn-police-for-walking-while-black-tues-may-5-10-am/
NO JUSTICE FOR YOUNG DETROIT DAD TERRANCE KELLOM; WORTHY REFUSES TO PROSECUTE KILLER COP(S) AGAIN
http://voiceofdetroit.net/2015/03/29/unprecedented-katrina-of-tax-foreclosures-to-hit-detroit-wayne-county-march-31/
http://voiceofdetroit.net/2014/05/27/dismiss-all-charges-against-rev-pinkney-court-fri-may-30-save-benton-harbor-boycott-whirlpool/
http://voiceofdetroit.net/2011/10/09/%E2%80%9Ci-want-my-mother-to-come-home-espinoza-trial-continues-oct-14-10-a-m/
http://voiceofdetroit.net/2015/12/25/family-mourns-detroits-kevin-matthews-killed-by-white-dearborn-cop-natl-march-jan-4-2016/
'RICOBUSTERS' FIGHT CRIMINAL INJUSTICE SYSTEM, 'DOMESTIC TERRORISM' BY CORPORATE OLIGARCHY