U.S. Supreme Court first declared juvenile life without parole (JLWOP) unconstitutional for all in 2012
Michigan's older, ill juvenile lifers may die in prison waiting for justice; only 30 Wayne County lifers, or 20.4%, have been re-sentenced so far
Charles Lewis: post-conviction hearing set for Thurs. Feb. 9, 2017; Worthy wants to re-instate JLWOP for him despite documented innocence claims
By Diane Bukowski
January 12, 2017 Update January 13, 2017
Note: earlier version of this story reported 8% re-sentenced; figures updated
DETROIT – Charles Lewis, a Wayne County juvenile lifer whose family and supporters say he is innocent of a murder charge for which he has spent 41 years in prison, recently summed up what is happening in the re-sentencing process for many of the county's 147 juvenile lifers.
"I think they're just dragging things out, waiting for me to die," Lewis told VOD. His mother Rosie Lewis earlier said, "They've done everything they can to him—let him go!" The County earlier admitted it had lost Lewis' entire case file.
Lewis, 57, has had three heart attacks for which the Michigan Department of Corrections denied him effective treatment. He also suffers from severe diabetes. But he has battled throughout his 41 years in the prison system, becoming an accomplished jailhouse lawyer who has filed dozens of appeals in both the state and federal court systems.
"I guess I'm addicted to the struggle," he told VOD at one point. He currently works in the law library at Lakeland Correctional Facility and said he tries to help his fellow prisoners research and fight their cases in that capacity.
Only two of Wayne County's 147 juvenile lifers, William Washington and Timothy Jordan, have been paroled so far. Thirty, or 20.4%, have been re-sentenced to date, according to updated figures. Twenty-eight of the 30 got 60 year maximums and are awaiting parole. Nine were given sentences with minimums exceeding what they have served so far, meaning they are not yet parole eligible.
It has been four and a half years since the USSC's first ruling in Miller v. Alabama (2012) that only the "rarest child" should be sentenced to die in prison, and that JLWOP was unconstitutional, a view held in every other country in the world. Most of Michigan's juvenile lifers have served terms far beyond those accorded to adult offenders for the same crimes.
Michigan was one of four states to wait til the bitter end before agreeing that Miller was retroactive, pursuant to the USSC's 2016 Montgomery v. Louisiana decision.
Attorney Gerald Evelyn wrote regarding Timothy Kincaid, "Mr. Kincaid was born in 1961, when the closest measure of life expectancy for his demographic (African-American males born between 1969 and 1971) was 60 years. Those numbers do not adequately account for being incarcerated for a significant if not all of those years. Thus, a 60-year sentence is a de facto life sentence, which denies Mr. Kincaid the reasonable possibility of parole during his lifetime."
Others including former Wayne County Prosecutor John O'Hair and Former Michigan Governor William Milliken have also condemned Michigan's draconic juvenile lifer re-sentencing statutes, passed in 2014, which set a minimum of 25-40 up to maximum of 60 years in those cases where prosecutors have not re-recommended JLWOP. They also bar juvenile lifer re-sentencings from taking "good time" into account.
Lewis had a post-conviction hearing scheduled Fri. Jan. 13, 2017 in front of Wayne County Circuit Court Judge Qiana Lillard, but that was adjourned until Feb. 9, 2017.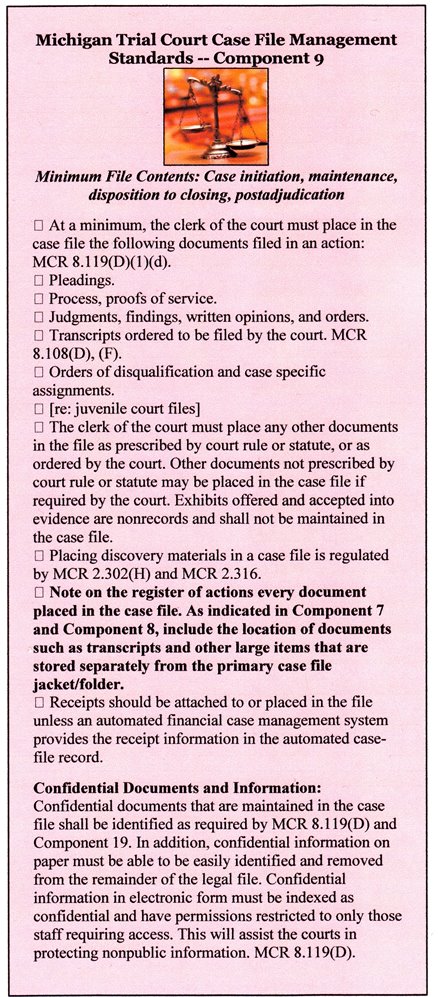 Lewis' entire case file went missing several years ago. His falsified Register of Actions (ROA) remains intact on the county's website, including only events from 2000 on, although he was sentenced in 1977, after three separate trials. It still incorrectly says he was convicted April 3, 2000 front of Judge Gershwin Drain. State law considers the ROA the backbone of case files.
On Nov. 11, Lillard denied Lewis' motion to dismiss his case based on U.S. Supreme Court and state court precedents regarding missing or altered records. She ordered the prosecution, defense, and Clerk's office to "re-construct" his file after eight months of hearings, during which numerous officials affirmed the loss of the records.
On Jan. 13, Deputy Court Clerk David Baxter said the re-constructed file was complete.
But Lewis says whatever is in the file cannot be accurate according to state standards (see box at left) particularly without a valid ROA. He says he also questions the legality of the re-construction procedure, saying there is no court precedent or state law supporting it.
"They can't re-construct my file without me there," he said. "I doubt they have the records of all three trials I had in 1977. The jury was dismissed without reason in the first trial by Judge George Maher, but I've always believed they acquitted me. Where are the records showing why Maher dismissed them? Next my case was assigned to Judge Ollie Gibbs and a jury was selected, but Judge Maher intervened and said he wanted to re-try the case. Where are the records of that action? My third trial began in July, 1977, but there was never a sentencing transcript produced."
Lewis is one of 65 juvenile lifers for whom Wayne County Prosecutor Kym Worthy is recommending re-instatement of life without parole sentences. This means they still face complex re-sentencing hearings required by the USSC in its 2012 Miller v. Alabama decision. (See list of County juvenile lifers with LWOP or TOY (term of years) recommendations at http://voiceofdetroit.net/wp-content/uploads/JLWOPchart916.pdf.)
Lewis was convicted of killing off-duty police officer Gerald Sypitkowski July 31, 1976. VOD reported previously that Aug. 1, 1976 Free Press coverage of the killing, obtained immediately from numerous eyewitnesses at the scene, including Sypitkowski's partner officer Dennis Van Fleteren, exonerates Lewis. Those witnesses said the fatal shot came from a white Lincoln Mark IV driving down Harper at Barrett.
None of them told the Freep that they saw four Black teens including Lewis, then 17, in a yellow Ford Gran Torino, at the scene.
But that was the scenario former DPD homicide chief Gil Hill (then a sergeant) cooked up against Lewis, recruiting three frightened juveniles to testify against him, admittedly overriding court rules that required them to be handled by juvenile court. Hill, who testified he was working with the "Special Assignment Squad," was known for decades as an allegedly dirty cop who took bribes to cover up homicides and drug-deals.
"I said that the police obviously made up their stories," Lewis said he told his court-appointed attorney Valerie Newman. "All of their stories are basically the same story. If you get three sixteen year old's together and have them watch one event you will get three different versions of what happened. So, for them to all make basically the exact same statement was crap. I asked her how do you take the testimony of three juveniles over the testimony of a police officer, white college students, and a white bouncer. She could not answer that question. The reality is this, if you don't believe in my innocence, you can't fight for me."
Meanwhile, to date, two juvenile lifers out of the County's 147 have actually been paroled after re-sentencing under draconic state statutes passed in 2014. The statutes are currently under federal appeal by the American Civil Liberties Union.
The first was William Washington, 59, who was released from prison Nov. 17, 2016 after serving 40 years, the first juvenile lifer out nearly 370 across the state to finally see freedom. Now, according to his attorney, Timothy Jordan, 48, was paroled Jan. 10, 2017, after being re-sentenced Sept. 23, 2016 to to 25 to 60 years after serving 30 years. Both Washington and Jordan still face two years of parole oversight before their status is finally confirmed.
Seven others shown below, (known to VOD) still serving these unconstitutional sentences have been re-sentenced but not yet paroled. Wayne County Prosecutor Kym Worthy has appealed re-sentencing decisions for two of them, causing further delay. Some who have seen the parole board now must go through several months of re-entry classes, psychiatric evaluations, and other pre-release requirements before parole board approval.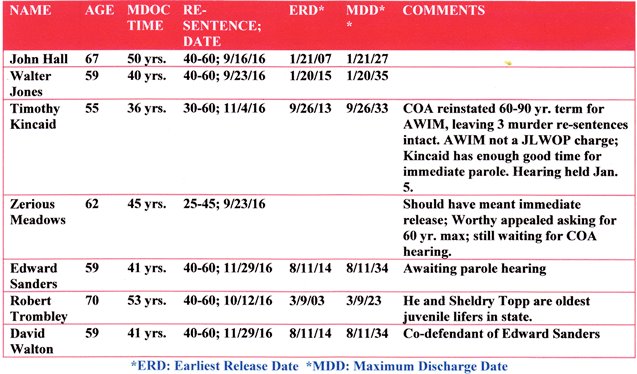 In Kincaid's case, an appeals court ordered Dec. 29 that he be re-sentenced to 60-90 years for "assault with intent to commit murder (AWIM)," while upholding a trial court re-sentence of 30-60 years for three counts of first-degree murder in a 1976 case.
Kincaid is already 55 years old. He has served 36 years for the murders of three women, carried out by two older men in 1976, when he was 16. Ironically, Kincaid himself did not shoot or kill any of the four women victims, instead having one hide in a closet while he shot into the ground. Two older men who were the actual killers did not receive life without parole sentences.
"According to the probation officer, the surviving victim believes she is still alive through the intercession of Mr. Kincaid, in light of his protective conduct during the shooting," trial court Judge Michael Callahan said during Kincaid's re-sentencing Nov. 4. "She even visited him while he was housed in the Department of Corrections."
Attorney Evelyn said, "In the prosecution's brief, they acknowledge that any judge has the authority to correct an unconstitutional sentence. The prosecution should not have opposed Callahan's common sense correction,"
Evidently, however, the COA ruling will hopefully not hinder Kincaid's parole. His hearing on that was held Jan. 5, 2017, according to his family members, who had the understanding that the AWIM sentence of 60-90 years was NOT a JLWOP charge. Therefore, state good time rules should apply, cutting 35 years out of that sentence. The state's OTIS website already indicates his new sentence, showing his earliest release date as Sept. 26, 2013.
Kincaid's brother, Waymon Kincaid, a parolable lifer who was a plaintiff in an ACLU lawsuit against the state's changes to parolable lifer sentencing, is now finally home himself.
Meanwhile, the Court of Appeals has not yet ruled on Worthy's appeal of Wayne County Circuit Court Judge Bruce Morrow's re-sentencing of Zerious "Bobby" Meadows to 25-45 years, which should have set him free immediately, since he had already served the 45 years.
Worthy contends state law requires that the maximum of 60 years is mandatory, while Meadows' attorney Melvin Houston said, "My client has little else to lose by appealing this matter as the state has already taken his youth."
Houston has filed extensive briefs which contend that state law does not require a prisoner be sentenced to a maximum of 60 years, as well as citing a Florida case where an appeals court struck down mandatory minimums for juvenile lifers.
VOD covered Meadows' case earlier, at
http://voiceofdetroit.net/2016/11/28/case-of-zerious-meadows-challenges-michigans-draconic-juvenile-lifer-re-sentencing-practices/.
Related stories:
http://voiceofdetroit.net/2016/11/28/case-of-zerious-meadows-challenges-michigans-draconic-juvenile-lifer-re-sentencing-practices/
http://voiceofdetroit.net/2016/11/08/good-news-in-timothy-kincaid-juvenile-lifer-case-judge-recommends-immediate-parole/
http://voiceofdetroit.net/2016/10/26/free-charles-lewis-mich-juvenile-lifers-re-sentenced-to-die-in-prison-rally-fri-oct-28/
http://voiceofdetroit.net/2016/10/13/support-for-charles-lewis-mich-juvenile-lifers-strong-at-hearing-oct-11-bring-them-home-now/
http://voiceofdetroit.net/2016/10/07/stop-new-death-penalty-for-mich-juvenile-lifers-rally-tues-oct-11-for-charles-lewis-others/
http://voiceofdetroit.net/2016/09/10/new-hope-for-michigan-juvenile-lifer-charles-lewis-as-others-await-long-delayed-justice/
http://voiceofdetroit.net/2016/09/04/free-charles-lewis-wayne-co-juvenile-lifers-dying-in-prison-rally-at-hearing-tues-sept-6/
http://voiceofdetroit.net/2016/08/18/genocide-state-s-a-d-o-subject-michigan-juvenile-lifers-to-more-cruel-and-unusual-punishment/
http://voiceofdetroit.net/2016/08/02/michigan-files-for-jlwop-for-80-of-juvenile-lifers-fed-court-wants-all-parole-eligible/
http://voiceofdetroit.net/2016/07/26/worthy-others-want-large-portion-of-juvenile-lifers-to-die-in-prison-despite-ussc-rulings/
http://voiceofdetroit.net/2016/06/02/stop-torturing-michigans-juvenile-lifers-with-state-delays-freedom-now/
http://voiceofdetroit.net/2016/05/24/free-charles-lewis-innocent-juvenile-lifer-who-has-spent-41-years-in-state-prisons/
http://voiceofdetroit.net/2016/05/18/michigan-juvenile-lifers-score-6th-circuit-appeals-court-victory-in-hill-v-snyder/
http://voiceofdetroit.net/2016/04/30/why-is-juvenile-lifer-charles-lewis-still-in-prison-16-yrs-after-his-case-was-dismissed/
http://voiceofdetroit.net/2016/04/12/dying-in-prison-michigan-juvenile-lifers-get-new-hope-under-montgomery-still-face-obstacles/
http://voiceofdetroit.net/2013/02/12/u-s-judge-rules-all-michigan-juvenile-lifers-eligible-for-parole/
http://voiceofdetroit.net/2012/10/28/michigans-juvenile-lifers-want-state-to-comply-with-u-s-supreme-court-ruling/
http://voiceofdetroit.net/2012/08/16/michigan-challenges-u-s-supreme-court-ruling-on-juvenile-life-without-parole/
http://voiceofdetroit.net/2012/07/02/us-supreme-courts-juvenile-lifer-decision-brings-hope-to-thousands/
http://voiceofdetroit.net/2012/07/02/nations-high-court-ends-mandatory-life-without-parole-sentences-for-youth/