https://youtu.be/J15UcaCoVCk
Lewis in prison 42 years since age 17, innocent, official court file and ROA have disappeared
Lewis makes record during June 19 hearing of voluminous documents still missing from file, objects again to re-creation, handover of defense docs.
Lewis: what reasons did Pros. specify in asking for LWOP again? MSC decision in People v. Hyatt, Skinner says factual reasons must be stated
AP Dawson challenges Lewis' pro se motions as 'non-existent' because he had no atty., violating USSC Faretta v. California, Louisiana v. McCoy
Rally for Wrongfully Convicted, others Fri. July 20, 2018 at Frank Murphy Hall
By Diane Bukowski
July 5, 2018
(VOD apologizes for the lateness of this story on June 19 hearing; MSC ruling in Skinner/Hyatt, which affects Lewis' case as well as cases of 246 other Michigan juvenile lifers, came down June 20. VOD story on that intervened.)
DETROIT—During a hearing June 19 on the case of juvenile lifer Charles 'K.K.' Lewis, Wayne Co. Circuit Court Judge Qiana Lewis said that she still must "certify" a file which purports to be a recreation of his missing official court file, before moving forward with his juvenile lifer re-sentencing. She set a court date of Fri. Aug. 3 at 9 a.m. in her courtroom #502 for further action. Hearings on Lewis' re-sentencing have been ongoing in front of her since May, 2016.
Lewis is serving juvenile life without parole on charges that he murdered an off-duty Detroit police officer in 1976, when he was 17, charges which were refuted by all actual eyewitnesses at the scene including the officer's own partner, both at trial and in newspaper accounts. Corrupt Detroit police officials threatened three Black juveniles from Lewis' east-side neighborhood that they would be charged as well if they did not testify against Lewis.
Lillard noted for the record that Lewis has repeatedly objected to the rcreation of his file, citing higher court rulings, and that the parties were also still waiting for the Michigan Supreme Court ruling on People v. Hyatt, Skinner. (Ed. note: That ruling came down the following day.)
"I have not made a final ruling as to whether or not the file has been successfully recreated," Judge Lillard said. "Mr. Schulman can make those arguments—I'm assuming it will be his position that we have been unable to recreate the file in any meaningful manner to move forward," Lillard said.
Lewis, attending by video from Lakeland Correctional Facility, interjected forcefully, listing massive amounts of documents still missing from the "re-created" file.
"These are specific objections I would like to place on the record regarding the file," Lewis said. "I got a copy of the 'recreated' file and the first trial transcript is totally incomplete, like it's not even there, from March 9 to March 23 of 1977. A record of proceedings held in front of visiting Judge Ollie Bivins March 23 is also not in the file."
Lewis told VOD earlier that his first trial judge, Joseph Maher of Detroit Recorder's Court, intervened to take Bivins off the second proceeding after questionably discharging the jury in his first trial. Bivins, a visiting judge, was the first African-American Judge appointed to the Genesee County Circuit bench. As VOD has previously noted, the late attorney Kenneth Cockrel, Sr. told reporters that Maher was a "racist monkey, a honky dog, a racist pirate, and a bandit."
"There's no voir dire transcript for the July 5 trial," Lewis continued [referring to jury selection.] "There are also no proceedings from the appeal of right or the appointment of appellate counsel or the initial appeal that was sent to the Michigan Court of Appeals. Then proceed to the transcript from the Pearson evidentiary hearing in 1980, but there's no record of all the proceedings that led up to the evidentiary hearing, and no ruling on the Pearson evidentiary hearing. All the proceedings from 1980 to probably 1997, none of those are in the file. So all of that makes the file incomplete in my opinion pursuant to People vs. Fullwood. 392 MI 751."
He asserted again that the Judge has no authority to certify the file, to order the defense to produce attorney-client privileged documents for it, or to issue orders to the prosecutor's office or the Wayne County Clerk's office in the matter.
Defense attorney Sanford Schulman told Judge Lillard that AP Tom Dawson gave him a flash drive which he thought contained the entire recreated file, but Dawson said other documents are still outstanding in physical files in Lillard's courtroom.
The flash drive itself is controversial since it contains numerous attorney-client privileged documents which Lewis never gave consent to his former attorney Valerie Newman of the State Appellate Defenders Office to release. It was created by SADO, evident by looking at the flash drive itself.
In addition to the loss of his file, which comprised a tall stack of boxes, the entire Register of Actions for Lewis dating from his first arraignment Aug. 2, 1976 through 1999 has been wiped off the Third Circuit Court's computers. It does not even include a "PDF" of actions during the existence of Recorder's Court, which all other ROA's VOD has reviewed do include.
"Before we go, Mr. Dawson, I was wondering if you had access to the agreement that was made with the three juveniles in this case that testified against me," Lewis asked AP Thomas Dawson. "I've never seen that and that's something we would definitely want to have for any mitigation hearing. Also we would really like to know why exactly why you are asking for LWOP, what your reasons are. It's impossible for me to mount a defense without really knowing why you have made that request."
Dawson responded, "Any question your lawyer brings me I will be happy to answer any and all. So when he presents those to me, I will try to answer those."
Schulman objected on the record to Lewis addressing the court without consultation first with his defense attorney. However, Judge Lillard in the past has allowed Lewis to do so on numerous occasions.
Dawson said earlier in the hearing that he did not respond to Lewis' pro se motions because they were not filed by an attorney, and therefore as far as he was concerned, "they did not exist."
But Dawson's arrogant statement dealing with Lewis, a Black man, age 59, who has become a well-respected 'jail-house lawyer" and holds a paralegal certificate and associates degree, violated well-known U.S. Supreme Court precedent in Faretta v. California, 422 U.S. 806 (1975).
"The U.S. Supreme Court held that criminal defendants have a constitutional right of self-representation," says a posting on Lawyers.Com. "In Faretta, the Court found that the Sixth Amendment not only provides the right to counsel in one's defense, it implicitly protects a defendant's right to control and present his or her own defense.
Faretta said, 'The right to defend is given directly to the accused; for it is he who suffers the consequences if the defense fails.' The right to self-representation, however, is not absolute. To exercise this right, a defendant must: "knowingly and intelligently" waive the right to counsel, and be able and willing to abide by courtroom rules and procedures. (See: https://www.lawyers.com/legal-info/criminal/criminal-law-basics/representing-yourself-in-a-criminal-case.html.)
In McCoy v. Louisiana, handed down on May 14, 2018, the U.S. Supreme Court was most emphatic about a defendant's rights regarding defense counsel's actions.
"The Sixth Amendment guarantees to each criminal defendant 'the Assistance of Counsel for his defence,'" said the Court. "The defendant does not surrender control entirely to counsel, for the Sixth Amendment, in 'grant[ing] to the accused personally the right to make his defense,' speaks of the 'assistance' of counsel, and an assistant, however expert, is still an assistant." The Court said the decision to plead 'guilty' or 'not guilty' falls entirely within the control of the defendant alone, (addressing specifically death-row prisoner Robert McCoy's objection to his defense counsel telling the jury he was guilty, an unsuccessful move to avoid the death penalty).
They added, "Violation of a defendant's Sixth Amendment-secured autonomy ranks as error of the kind our decisions have called 'structural'; when present, such an error is not subject to harmless-error review."
See ruling at http://voiceofdetroit.net/wp-content/uploads/McCoy-v-Louisiana-1.pdf.
Schulman, of the Federal Criminal Defense Office, said during the hearing that he would preserve his client's pro se motions and essentially argue them as his own by providing praecipes for them, as requested by Dawson. Judge Lillard so directed, but did not cite any legal requirement for such an additional action; Lewis himself had praeciped the motions when he e-filed them, as pro se litigants are permitted to do under state law and court procedures.
Additionally, Lewis' question about the reasons for the LWOP motion was addressed the next day by the Michigan Supreme Court in People v. Hyatt, Skinner (June 20, 2018). Although most of the decision has been viewed as a direct violation of U.S. Supreme Court rulings on the unconstitutionality of juvenile life without parole, the MSC did address the responsibility of the prosecutor in such cases.
The MSC said, "MCL 769.25(3) does require the prosecutor to file a motion to seek a life-without-parole sentence for a defendant less than 18 years old, and this motion must specify the grounds on which the prosecutor is requesting such a sentence. If such a motion is not filed, the trial court must sentence the juvenile to a term-of-years sentence."
In Lewis' case, as in all the other 66 cases in which Wayne County Prosecutor Kym Worthy requested LWOP again, nearly all for Black men, only boiler-plate motions were filed not giving any specific reasons for requesting the harshest penalty that can be inflicted on a child offender.
During a hearing on the case of Jenard Sharp, Oct. 17. 2017, defense attorney Nefertiti Alexander of the New York law firm of Cleary, Gottlieb, Steen & Hamilton argued that the boiler plate motion used by Prosecutor Kym Worthy in all of the 67 Wayne County cases recommending renewed JLWOP is insufficient and asked for the case against Sharp to be dismissed. The case has not yet been resolved. Judge Richard Skutt, who was hearing it, passed away Feb. 5, 2018 and it has been transferred to another judge.
Judge Lillard said she stood by her order to re-create Lewis' court file, but she has stated on the record that she would address his legal objections to that re-creation as stated in his pro se filing June 23, 2017. Lewis cited rulings from the U.S. and Michigan Supreme Courts which say that even the partial loss of a file means the case must be dismissed and re-tried.
Attorney Schulman said he would also brief and praecipe the 1974 Michigan Supreme Court ruling in People V. Fullwood, raised by Lewis. In that case, the defendant's criminal conviction and sentence were reversed due to the impossibility of reconstructing his lost file.
Meanwhile, support for Lewis and other wrongfully convicted prisoners like Thelonious Searcy (see previous article) is growing in the community. During a show at Detroit's oldest blues club, the Raven, on June 29, the CJ Styles band announced their support for Lewis and pledged to attend his hearing Aug. 3. Lewis says he was playing with the band leader Charles Jackson's former band, Pure Pleasure, until late into the morning of July 31, 1976, at the UAW Local 212 hall (formerly located on Mack in Detroit), during the time Officer Sypitkowski was killed. (See video at top of story.)
His trial attorney Arduin never called any of the band members or the audience that night to testify as Lewis' alibi witnesses. Jackson said members only found out about Lewis' conviction and time in prison several years ago [when Lewis' previous attorneys from Foley & Lardner contacted them). Arduin also argued at trial that Lewis was essentially guilty, a member of a Black youth "gang" whose other members should have been charged in the killing of the off-duty police officer as well.
His case will also be addressed as part of a rally on Fri. July 20, below, to be held outside the Frank Murphy Hall. The rally is meant to unite the wrongfully convicted and their families, Michigan's juvenile lifers, and victims of police brutality, along with organizations representing them, including Protect Our Stolen Treasures (P.O.S.T.) and the Detroit People's Task Force.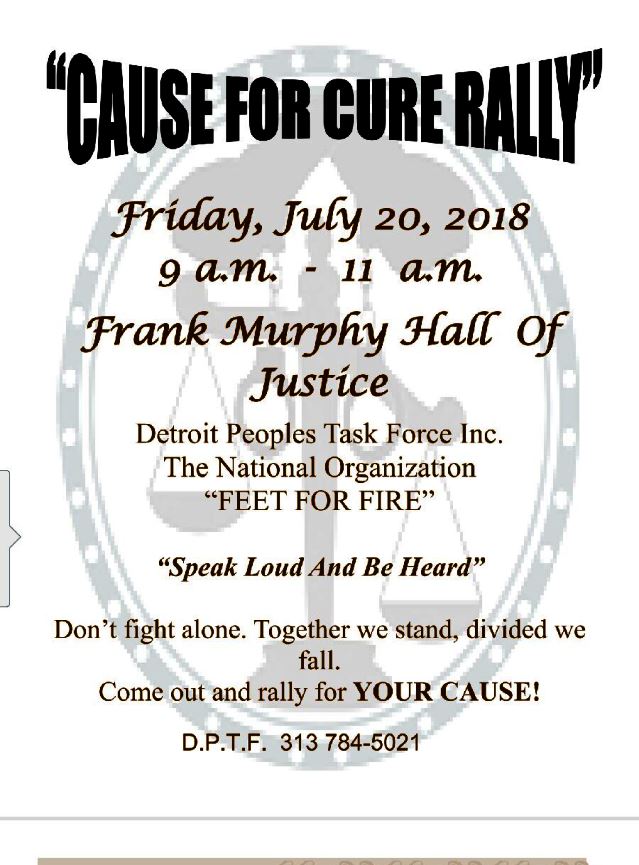 https://youtu.be/3L7UBV-6-CM https://youtu.be/2B88kJuMC_A
Read CHARLES K.K. LEWIS full pro se motions below:
http://voiceofdetroit.net/wp-content/uploads/MOTION-TO-DISMISS-CASE-DUE-TO-DEFENDANTS-ACTUAL-INNOCENCE.pdf
http://voiceofdetroit.net/wp-content/uploads/CHARLES-LEWIS-MOTION-RE-INEFFECTIVE-ASSISTANCE-OF-TRIAL-COUNSEL.pdf
http://voiceofdetroit.net/wp-content/uploads/CHARLES-LEWIS-MOTION-TO-DISMISS-REQUEST-TO-SENTENCE-TO-LWOP-RECD-1.pdf
http://voiceofdetroit.net/wp-content/uploads/Charles-motion-for-bond-1.pdf
Also see his June 23, 2017 Objection to Judge Lillard's order to reconstruct his criminal file at:
http://voiceofdetroit.net/wp-content/uploads/C-Lewis-Objections-6-23-17.compressed-2.pdf
Read Judge Deborah Thomas' opinion of Aug. 6, 2016 at
http://voiceofdetroit.net/wp-content/uploads/DThomasOpinion-3.pdf
RELATED STORIES:
https://www.detroitnews.com/story/news/local/wayne-county/2018/07/02/missing-file-holds-up-juvenile-lifers-bid-freedom/735086002/
http://voiceofdetroit.net/2018/05/27/u-s-supreme-court-rules-for-death-row-inmate-robert-mccoy-whose-lawyer-conceded-guilt/
http://voiceofdetroit.net/2018/05/07/detroit-peoples-task-force-forges-ahead-for-prisoners-families-youth-community/
http://voiceofdetroit.net/2018/04/11/victory-mich-juvenile-lifers-to-have-good-behavior-credits-included-in-re-sentencing-u-s-court/
http://voiceofdetroit.net/2018/02/22/sitting-through-my-own-lynching-charles-lewis-fights-on-3rd-atty-withdraws-in-secret-hearing/
http://voiceofdetroit.net/2017/10/17/judge-denies-bond-in-charles-lewis-juvenile-lifer-case-despite-lost-court-record-innocence/
http://voiceofdetroit.net/2017/10/08/charles-lewis-innocent-detroit-lifer-with-lost-court-file-could-go-free-after-41-yrs-hearing-1013/
http://www.detroitnews.com/story/news/local/detroit-city/2017/10/06/juvenile-lifer-seeks-release-years/106375972/
#TAKETHEKNEE! FRI. OCT. 6; FREE CHARLES LEWIS, INNOCENT, IN PRISON 41 YEARS; COURT FILES DESTROYED
http://voiceofdetroit.net/2017/06/23/juvenile-lifers-ex-offenders-advocates-begin-new-chapter-in-battle-for-justice-june-18/
http://voiceofdetroit.net/2017/08/08/juvenile-lifer-re-sentencings-drag-on-in-michigan-nation-as-states-snub-u-s-supreme-court/
http://voiceofdetroit.net/2017/07/15/the-troubled-resentencing-of-americas-juvenile-lifers-the-nation/
http://voiceofdetroit.net/2017/02/20/charles-lewis-must-be-freed-due-to-loss-of-court-file-innocence-sado-withdraws-from-case/
http://voiceofdetroit.net/2017/02/12/rogue-justice-free-another-innocent-detroiter-charles-lewis-now-hearing-wed-feb-15-9-am/
'ROGUE JUSTICE!' FREE ANOTHER INNOCENT DETROITER, CHARLES LEWIS, NOW! HEARING WED. FEB. 15 @ 9 AM.
http://voiceofdetroit.net/2017/01/20/judge-deborah-thomas-charles-lewis-should-have-been-acquitted-sentence-vacated-in-1976-murder/
http://voiceofdetroit.net/2017/01/12/wayne-co-juvenile-lifers-lives-at-stake-only-two-paroled-charles-lewis-hearing-thurs-feb-9-2017/
http://voiceofdetroit.net/2016/10/26/free-charles-lewis-mich-juvenile-lifers-re-sentenced-to-die-in-prison-rally-fri-oct-28/
http://voiceofdetroit.net/2016/10/13/support-for-charles-lewis-mich-juvenile-lifers-strong-at-hearing-oct-11-bring-them-home-now/
http://voiceofdetroit.net/2016/10/07/stop-new-death-penalty-for-mich-juvenile-lifers-rally-tues-oct-11-for-charles-lewis-others/
http://voiceofdetroit.net/2016/09/10/new-hope-for-michigan-juvenile-lifer-charles-lewis-as-others-await-long-delayed-justice/
http://voiceofdetroit.net/2016/09/04/free-charles-lewis-wayne-co-juvenile-lifers-dying-in-prison-rally-at-hearing-tues-sept-6/
http://voiceofdetroit.net/2016/08/02/michigan-files-for-jlwop-for-80-of-juvenile-lifers-fed-court-wants-all-parole-eligible/
http://voiceofdetroit.net/2016/07/26/worthy-others-want-large-portion-of-juvenile-lifers-to-die-in-prison-despite-ussc-rulings/
http://voiceofdetroit.net/2016/05/24/free-charles-lewis-innocent-juvenile-lifer-who-has-spent-41-years-in-state-prisons/
http://voiceofdetroit.net/2016/04/30/why-is-juvenile-lifer-charles-lewis-still-in-prison-16-yrs-after-his-case-was-dismissed/
http://voiceofdetroit.net/2012/10/28/michigans-juvenile-lifers-want-state-to-comply-with-u-s-supreme-court-ruling/
http://voiceofdetroit.net/2012/08/16/michigan-challenges-u-s-supreme-court-ruling-on-juvenile-life-without-parole/
http://voiceofdetroit.net/2012/07/02/us-supreme-courts-juvenile-lifer-decision-brings-hope-to-thousands/
http://voiceofdetroit.net/2012/07/02/nations-high-court-ends-mandatory-life-without-parole-sentences-for-youth/
#FREECHARLESLEWISNOW, #FREEMICHIGANJUVENILELIFERSNOW, #ENDMASSINCARCERATION, #ENDSCHOOLTOPRISONPIPELINE