Above: Interview with Temujin Kensu on Dec. 28, 2020
Michigan Gov. Whitmer denied clemency for Kensu Jan. 2, 2021 despite extensive evidence of innocence, prominent supporters
Multiple witnesses saw Kensu (Freeman) in Escanaba, MI at time of murder for which he is serving a life sentence, which took place in Port Huron, MI
AP Robert Cleland, now a U.S. District Court Judge, told jury Kensu could have chartered a plane to commit the murder, used jail-house informant
U.S. District Court Judge Denise Page Hood granted new trial in 2007 in 51-pp. ruling which said Cleland guilty of prosecutorial misconduct
By Diane Bukowski with
B. David Sanders of Proving Innocence
Gov. Gretchen Whitmer denied clemency in January to a Michigan man Detroit News editor Nolan Finley called "the poster child for unresolved wrongful convictions," Temujin Kensu (a.k.a. Fredrick Freeman).
Kensu has now served 35 years of a life term in prison for the 1986 shotgun slaying of Scott Macklem in a Port Huron Community College parking lot. Multiple eyewitnesses  testified at trial, and since, that he could not have committed the crime because he was in Escanaba, Mich. 400 miles away at the time.
"For years Michigan's judicial system has time and again failed this wholly innocent man and now the fail-safe option, Executive Clemency, has failed him as well," said David Sanders of Proving Innocence. "This is in no small part due to the Governor accepting the Parole Board's recommendation, a body totally unqualified to examine cases of actual innocence."
Proving Innocence was founded by former Channel 7 news reporter Bill Proctor, who did numerous investigative stories on Kensu's case over the years, beginning in 1995.
At trial, Asst. Prosecutor Robert Cleland, now a U.S. District Court Judge, presented what some have called the "flying carpet" theory that Kensu, penniless at the time, could have chartered a private plane to Port Huron to commit the crime. U.S. District Court Judge Denise Page Hood, sitting in the same district as Cleland, granted Kensu's habeas appeal of his conviction in a scathing 51 page opinion in 2010.
She said Cleland had indeed committed "prosecutorial misconduct," among other factors. Judge Page Hood is now Chief Judge for the Eastern District of Michigan.
"We know of no case in the country where a Chief Judge has condemned a judicial colleague serving on her very bench," Sanders said.  "Unfortunately, her ruling was overturned on purely procedural grounds of late filing, having nothing to do with Temujin's actual innocence."
No forensic evidence connected Kensu to the murder, only two vague witness statements, one of them elicited from a jail-house informant recruited by Cleland. The other witness was Kensu's ex-girl friend, who was engaged to Macklem at the time and reportedly was angry about her break-up with Kensu.
No follow-up was done to locate a shotgun shell box found at the scene that has a fingerprint that is not Temujin's.
The University of Michigan Law School's Michigan Innocence Clinic submitted a clemency application on Temujin's behalf based upon his innocence as well as his serious health conditions that put him at high risk of re-infection by COVID-19, which is raging through the prison system.
"It is incomprehensible that this innocent man could be considered guilty when every independent examination (outside the prosecution's) has concluded otherwise," Sanders said.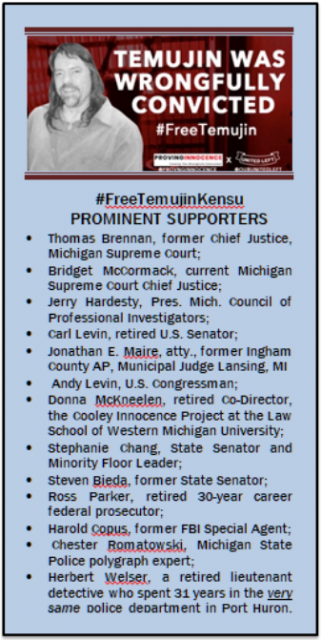 "It is mystifying that the Governor denied Temujin's clemency based upon the Parole Board's recommendation when that body does not include innocence as a consideration and they are on record saying so. How can anyone have faith in Michigan's justice system with such a truly irrational and dysfunctional approach to reviewing clemency applications?"
State law requires that the Governor consider (though not adopt) the recommendation of Michigan's Parole Board. In its deliberations for parole, the board considers such matters as whether the prisoner has expressed remorse for the crime, has reformed, and has a place to live and work. MDOC prisoners applying for parole who claim innocence are almost always denied.
"It is apparent that the Governor's office simply rubberstamped the Parole Board's recommendation and did not review actual innocence at all," Sanders said. "If innocence was examined, what is the evidence of Temujin's guilt?  If such evidence exists, it should not be kept under veil as the Parole Board does but should be publicly revealed.  What good public Purpose is served by not revealing a solid rationale for keeping this man in prison?"
Sanders said the parole board falsely claimed in their recommendation to Whitmer on Kensu's clemency application that Kensu had 17 Class I misconduct tickets during his time  in prison, although he now has an excellent record, at -33 points, the lowest possible.
He told the Port Huron Times-Herald that Kensu's case still is being reviewed by Atty. General Dana Nessel's office. Nessel  established a state-level Conviction Integrity Unit that operates out of her office in 2019. Later that year, partnering with the Western Michigan University Cooley Law School Innocence Clinic, it received more than $1 million in federal grants to freview 600 post-conviction claims of innocence. To date, however, that office has yet to announce final results in any case.
"Michigan's process for reviewing clemency is broken, irrational, and dysfunctional," Sanders added. "It requires immediate reformation or more wholly innocent people will be denied their rightful freedom.  Michigan cannot claim to have a system that delivers true justice with a process that ignores innocence and condemns innocent men and women to a lonely death behind bars."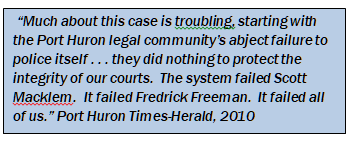 Whitmer spokeswoman Chelsea Parisio told VOD, "The clemency request for Temujin Kensu was denied, but we don't have anything to add, as we do not comment on clemency applications." She failed to address VOD's request for a copy of the parole board's recommendation on his application.
Send letters to: Temujin Kensu #189355, Macomb Correctional Facility, 34625 26 Mile Road, Lenox Twp., MI 48048
Letters of support can be sent to:  governorsoffice@michigan.gov  for Michigan Governor Gretchen Whitmer and NESSELD@michigan.gov for Michigan Attorney General Dana Nessel.
U.S. District Court Judge Denise Page Hood's ruling granting new trial:
http://voiceofdetroit.net/wp-content/uploads/Temujin-Kensu-Judge-Hood-USCOURTS2-mied-2_07-cv-10350-2.pdf
Related stories:
Innocence website stories on Kensu:
Deadline Detroit | Detroit Federal Judge Compared Illegal Immigrants to Insects and Japanese Beetles
Judge defends 1987 case handling | State News | record-eagle.com (record-eagle.com)
Macklem Blog #6 – An Open Letter to Judge Cleland (provinginnocence.org)