Former Dallas County prosecutor disbarred after withholding exculpatory evidence in the capital cases of Stanley Mozee, Dennis Jackson
"This is someone who repeatedly and intentionally hid favorable evidence from two defendants who were on trial for their lives."–Atty. Lena Morrison
Jail-house informants used, recalling Wayne County's "Ring of Snitches," current Oakland Co. case of Juwan Deering
The Associated Press
May 16, 2021 
DALLAS –A former Dallas County prosecutor has surrendered his law license after the State Bar of Texas said he withheld evidence that led to the wrongful convictions of two men who spent 14 years in prison in the fatal stabbing of a pastor.
The Dallas Morning News reports that Richard E. "Rick" Jackson surrendered his law license last month. The State Bar concluded that he failed to inform Dennis Allen and Stanley Mozee's defense attorneys about evidence that could have cleared them at their capital murder trials in 2000.
"This case is not about someone disbarred for making a mistake or a prosecutor who accidentally or even sloppily failed to turn over favorable evidence," Nina Morrison, a lawyer with the Innocence Project in New York who worked to clear Allen and Mozee, told the newspaper. "This is someone who repeatedly and intentionally hid favorable evidence from two defendants who were on trial for their lives."  20 years ago, a Dallas pastor was stabbed 47 times, and 2 innocent men paid for it (dallasnews.com)
Allen and Mozee had been sentenced to life in prison in the slaying of the Rev. Jesse Borns Jr., who was stabbed 47 times at his leather and woodworking store in 1999. [Borns operated a storefront ministry with homeless congregants.]
Allen and Mozee were freed from prison in 2014 after the Dallas County district attorney's office said they were wrongfully convicted based on prosecutorial misconduct.
They were declared innocent five years later after DNA testing helped clear them.
The district attorney's office under former DA Craig Watkins had reopened the file and found evidence that defense lawyers said they'd never received, such as accounts from witnesses who saw two men arguing with Borns outside the store the evening he was killed. Witnesses said one man was distinctly taller than the other and one had a noticeable scar across the side of his neck. Allen and Mozee are about the same height, around 6 feet. Neither had a scar.
The file also included previously undisclosed letters from people in jail who agreed to testify against Allen in exchange for favors in their cases.
Jackson was among prosecutors who were not invited to remain in the Dallas County district attorney's office after Watkins won the 2006 election. Jackson, who had spent 17 years as a Dallas County prosecutor, sued Watkins in federal court, claiming that his termination was race based. Jackson is white and Watkins is Black. A judge tossed the suit.
The Innocence Project in New York and the Innocence Project of Texas filed a 196-page grievance with the State Bar in 2018 against Jackson.
Jackson's lawyer, Bob Hinton, said Jackson has long maintained that he handed over the evidence to the defense and still believes that Allen and Mozee are guilty. Hinton said Jackson didn't want to comment.
Jackson retired from practicing law in 2013 after he was fired from the Denton County district attorney's office. Hinton said Jackson now spends his summers driving tour buses in Alaska.
Hinton said that against his advice, Jackson chose not to spend his retirement savings fighting the accusation at a disciplinary hearing where he faced losing his law license.
The person who killed Borns has not bee)n caught.
Wayne County Pros. Kym Worthy: Media Cover-up?

On May 24, the Detroit Free Press ran an excellent article by Bill Laitner describing in detail the progressive programs newly-elected Prosecutors Karen McDonald of Oakland County and Peter Lucido of Macomb County have instituted. See: Are police the problem? These prosecutors say, 'No, it's mainly us' (freep.com)and Juwan Deering arson case leads Oakland Co. prosecutor to probe office (freep.com.)
The article cited in particular the case of Juwan Deering, a Royal Oak Township resident convicted in Oakland County with the use of what the U-M Innocence Clinic called arson-related "junk science," as  well as three "jail-house snitches."
Another Royal Oak Township resident, David Shelton, has been in prison for 28 years on rape charges. His conviction was based solely on strands of hair found at the crime scene. Later, a Michigan State Police forensics lab report ruled Shelton out as the source of the hairs, which were identified as those of a Caucasian man. Michigan Atty. General Dana Nessel's Conviction Integrity Unit has taken Shelton's case after other clinics dropped it. See EXPOSED!! RACIST FRAME-UP OF DAVID SHELTON BY OAKLAND COUNTY IN 1993 RAPE CASE | VOICE OF DETROIT: The city's independent newspaper, unbossed and unbought
Freep left Kym Worthy off the hook; endorsed her in 2020 election
The Freep article as published failed to call out the third prosecutor in the tri-county triumvirate: Kym Worthy. VOD has covered numerous cases involving wrongful convictions in Wayne County, handled either directly by Worthy's office since her term began in Jan. 2004, or indirectly dealing with prisoner appeals alleging police and prosecutorial misconduct.
Although Worthy's office currently boasts of its Conviction Integrity Unit's work in the exoneration of 29 individuals to date, nothing has been done to hold police and assistant prosecutors responsible for those wrongful convictions. A 2018 Detroit Free Press article in the case of exoneree Kenneth Nixon blew the whistle on one Wayne County AP, Patrick Muscat, saying he had instructed police officers in the jail to interview Nixon's cell-mates. One testified in exchange for a reduction in his sentence in another case.
AP Muscat was also involved in the wrongful conviction of Davontae Sanford in 2009, who spent nine years in prison, and in the pending case of Thelonious "Shawn" Searcy, with 17 years in prison.
A Court of Appeals opinion in Searcy's case essentially blasted the roles of Muscat as well as trial judge Timothy Kenny (now Chief Judge of the Wayne County Third Circuit Court) in Searcy's 2005 trial and his 2018 evidentiary hearing.  See: DID WAYNE CO. APA MUSCAT SUBORN PERJURY IN CASE OF DETROITER KENNETH NIXON? HAS HE DONE IT BEFORE? | VOICE OF DETROIT: The city's independent newspaper, unbossed and unbought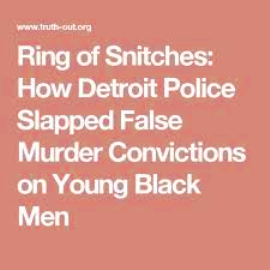 Prosecutor McDonald told the Free Press she is opening up investigations into other cases where testimony from the snitches in Deering's case was used.
Despite extensive coverage in multiple media outlets identifying jail-house informants involved in Wayne County's wrongful convictions, Prosecutor Worthy has not announced broadened investigations into other cases involving the informants, or into cases involving the police officers who produced the informants.
The Freep published only non-specific comments on Worthy's institution of "key reforms," along with previously published information on the alleged underfunding of the Wayne County Prosecutor's Office.
A VOD ataffer commented as follows on the Freep article:
"Wonderful article on the new wave of reform and justice-minded prosecutors. Washtenaw County Prosecutor Eli Savit, with his top Asst. Prosecutor Victoria Burton-Harris, has initiated a similar broad wave of reforms there. Ingham County Prosecutor Carol Siemon is reviewing the cases of 90 individuals serving life without parole sentences and a  host of other reforms. THE QUESTION IS–WHY IS WAYNE COUNTY PROSECUTOR KYM WORTHY  LEFT OFF THE HOOK IN THIS ARTICLE? An editorial decision? If so, it needs to be re-assessed because it does NOT serve the interest of justice for all in Wayne County.
"The Free Press editorial board's endorsement of Worthy last year, (and endorsements by the News, religious leaders llike Wendell Anthony,  union leaders, etc., in the face of strong opposition from Victoria Burton-Harris, who advocated the same program of reforms described in this article, severely damaged the outcome of that election and the futures of hundreds of thousands of county residents for the foreseeable future."
WRONGFUL CONVICTION PROTEST/RALLY FRI. JUNE 4, 2021 9AM-2PM (FRANK MURPHY) GRATIOT/ST. ANTOINE DETROIT | VOICE OF DETROIT: The city's independent newspaper, unbossed and unbought
https://voiceofdetroit.net/2020/07/21/wayne-co-prosecutor-kym-worthy-must-go-vote-for-victoria-burton-harris-aug-4-in-dem-primary/
https://voiceofdetroit.net/2021/04/06/did-wayne-co-apa-muscat-suborn-perjury-in-case-of-detroiter-kenneth-nixon-has-he-done-it-before
https://voiceofdetroit.net/2021/03/18/does-kym-worthy-want-51-mich-juvenile-lifers-to-die-in-prison-violating-u-s-supreme-court-orders/