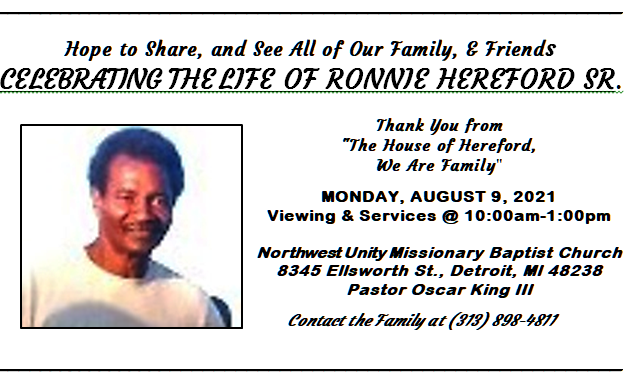 "I am truly blessed to have been raised by two of the most loving, caring and dedicated parents any child could have–my parents Ronnie and Darleen Hereford" — Reinaldo Hereford
An ironworker for decades, Ronnie met with Detroit Mayor Coleman Young to produce Exec, Order #22,  providing jobs for Blacks, Detroiters, women
Ronnie and wife Darleen established "Doll's Go-Kart Track," which provided safe, off-the-street recreation for children and their families for decades
Fought ceaselessly against son Darron's wrongful conviction, and for other victims of mass incarceration
Active member of Detroit and Pontiac Coalitions vs. Police Brutality
By Diane Bukowski 
August 8, 2021
DETROIT — Ronnie Hereford, Sr. devoted his life first to his wife and soul-mate Darleen Hereford, who he called "Doll," in a 48-year love story for the ages,  and their children Ronnie Jr., Reinaldo, Darron, Ryan and Olivia. His love included the rest of their extended family. Darleen's father Romie R. J. Rowe lived with them in his later years.
He dedicated his life to all children as well, as owner of the beloved Doll's Go-Kart Track on Grand River and Oakman, which he opened to keep kids off the street, hosting thousands of families for decades in the central city neighborhood. Ronnie also fought an unceasing battle against the forces of gentrification greedy for the land there,  repeatedly refusing offers to buy the property. He worked with the late Cornell Squires against such actions city-wide and later against the beautiful home in Southfield he had provided for his family in 1983 on his wages as an ironworker in the skilled trades.
Ronnie further extended that love to all workers, as a union activist member of Ironworkers Local 25 and co-drafter of Executive Order #22, which guaranteed jobs for Blacks and others of color, women and city residents.
Ronnie was also a long-time organizer with the Detroit and Pontiac Coalitions Against Police Brutality.
In 1995, he financed three busloads of men who attended the historic Million Man March on Washington. Ronnie also battled against mass incarceration and wrongful convictions, including that of his son Darron, falsely arrested and convicted in 1998, and that of juvenile lifer Charles Lewis, released after 46 years in prison.
RONNIE–MAN OF IRON
Ronnie was an ironworker for 48 years, a member of Detroit Ironworkers Local 25. Such jobs require great strength and courage in dealing with dangerous conditions.
He was a Black ironworker at a time when the skilled trades strongly discriminated against Blacks, women and Detroit residents. Darleen Hereford told VOD that Ronnie and another Local 25 member, Ken Smallwood, met with Detroit's Mayor Coleman Young to map out a proposal for what became Executive Order #22 in 1983.
EO 22 required that all construction contractors with the City of Detroit hire 50 percent Detroit residents, 25 percent Blacks and other people of color, and 5 percent women.
Executive Order #22 was a strong challenge to the city's corporate establishment as well as to the skilled trades unions. It held sway for nearly 20 years, as workers in the Human Rights Department monitored it and confronted those who did not comply. They were able to cancel contracts in those situations, after being schooled in standing firm during on-site inspections and meetings with contractors and union leaders.
This writer worked in the Human Rights Department from 1995 to 1999, under Mayor Dennis Archer, and witnessed the craven dismantling of the Order as a backlash against affirmative action swept the U.S.  Human Rights Department workers were stripped of the ability to cancel contracts with violators, and the required numbers were replaced with ineffective "goals."
Ronnie was a dedicated union activist, working with Local 25 on many battles over the decades. Darleen Hereford recalled one time when Ronnie and other organizers shut down the Ambassador Bridge to protest anti-labor activity by employers, one of many memories. Local 25 was headquartered in Detroit at the time, but has since moved to Novi.
THE BATTLE TO FREE DARRON HEREFORD FROM RACIST FRAME-UP THAT COST HIM A DECADE OF HIS LIFE
In the biggest battle of their lives, Ronnie, Darleen and their children fought with fierce determination to free their son Darron Hereford after his false arrest in 1999 for robbing a Southfield 'Hungry Howie's" restaurant. Darron worked there after high school but quit after experiencing harassment from the white managers. Shortly afterwards, Southfield police framed him for a robbery there, which took place while he was home with his parents.
The Michigan Citizen published multiple in-depth articles by this writer on Darrons' case.
Darron was railroaded in a bench trial by Oakland County Circuit Court Judge Rudy Nichols, who allowed the prosecutor to present a mentally impaired witness to testify against him over the objections of the young man's mother, during a conference without the presence of  Darron's defense attorney. With his parents' support, he appealed all the way to the U.S. Sixth Circuit Court, which remanded the case back to the trial judge, but proceedings at that level through 2010 did not result in his freedom.
Ronnie's heart, if not his will to fight, was broken by his beloved son Darron's unjust 10-year incarceration after his false conviction.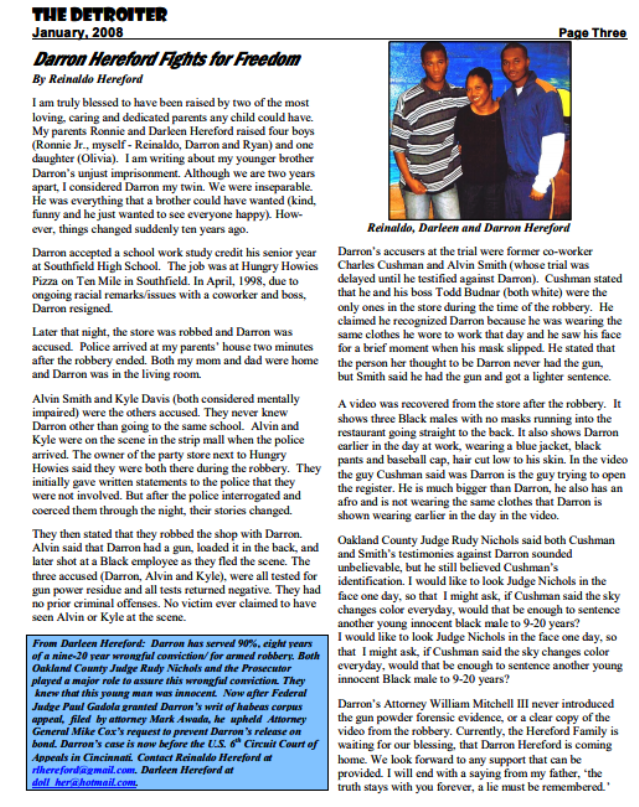 RONNIE CONTINUED THE BATTLE FOR OTHERS VICTIMIZED BY RACIST POLICE AND COURTS THROUGHOUT THE REST OF HIS LIFE.
Ronnie sponsored a  2009 "Fun-Raiser" at Doll's Track for this writer, after her 2008 false arrest and conviction for assaulting state troopers while covering the death of two Detroit men during a high speed chase down Davison Avenue in 2008.
See: Defend Diane Bukowski » FUN-RAISER at DOLL'S GO-KART TRACK (freedianebukowski.org)
Ronnie joined the Detroit Coalition Against Police Brutality after its founding by Arnetta Grable and Herman Vallery, who won a $6 million judgment against Detroit police officer Eugene Brown and the City of Detroit on behalf of their son Lamar Grable, murdered in 1996.
The Coalition continued its battle for dozens of others killed by Detroit police through subsequent years, including Aiyana Jones, 7, killed during a horrific police raid on her home in 2010. It foreshadowed the global Black Lives Matter movement triggered by the police murder of George Floyd in 202o.
Meanwhile, after Darron eventually came home from prison, Ronnie continued the battle for others still in prison. In 2017, Ronnie and Darleen attended a court hearing to support juvenile lifer Charles Lewis, who had spent 45 years in prison after being framed for the murder of a white Detroit police officer in 1975.
DOLL'S GO KART TRACK "SING-A-SONG" FOR A RIDE JULY, 2014 EVENT
DOLL'S-GO-KART ANNUAL SING A SONG FOR A RIDE A BIG SUCCESS | VOICE OF DETROIT: The city's independent newspaper, unbossed and unbought