Virus has re-emerged in 9 Michigan prisons, likely due to Delta variant
"All 5  of the top 5 clusters of COVID-19 infections" in the U.S. are in prisons
COVID-19 can cause 200 symptoms in ten different bodily organs; many linger after virus leaves body
"Efforts to control COVID-19 in the community are likely to fail" if it runs rampant in prisons and jails
Sign Michigan Prison Reform petition to stop double-bunking, release prisoners to homes on tethers, other measures @ http://Bitly.com/MichPR.
By Efrén Paredes, Jr.
August 10, 2021
"Since the first case of the novel coronavirus disease 2019 (COVID-19) was confirmed in the United States on January 21, 2020, the largest clusters of infection have occurred within prisons and jails, distantly followed by meatpacking plants and nursing homes."

Authors Camille Strassle and Benjamin E. Berkman made that observation in their 2020 academic journal article published in the San Diego Law Review titled "Prisons and Pandemics."
They added, "All five of the top five clusters of COVID-19 infections around the country are in carceral facilities, and incarcerated people are at least two-and-a-half times more likely than the general population to acquire COVID-19."
The virus has re-emerged in nine of Michigan's prisons this past week. A large number of the cases are likely the result of the highly contagious Delta variant which accounts for 93% of COVID-19 cases nationwide. Its ability to shut off the body's immune system long enough to produce substantial, and sometimes irreversible damage, is particularly troubling.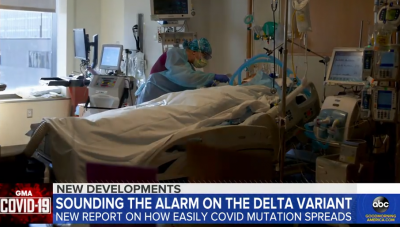 Once the disease begins proliferating inside prisons we are going to witness it produce potentially catastrophic results once again. While vaccination numbers may help curtail surges of hospitalizations and deaths, it won't prevent people who have been vaccinated from the possibility of experiencing long-term symptoms.
In a disturbing study published in LANCET last month researchers reported finding that COVID-19 can cause 200 symptoms in ten different bodily organs. In places like prisons that act as reservoirs or petri dishes for the virus the potential for this to occur is far greater than for members of the general public.
Vulnerable people caged in Michigan prisons who are powerless to extricate themselves from crowded living areas and other shared spaces desperately need your help to break the chain of COVID-19 infection and transmission.
To help combat this problem we are asking members of the public to please take a few moments to sign the Support Michigan Prison Reform (SMPR) online petition which can be accessed at http://Bitly.com/MichPR.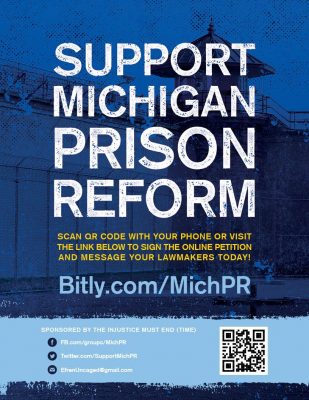 Each time a person signs the petition an email is sent to their respective State Representative and State Senator calling on them to support passage of legislation reflecting the 10-Point Michigan Prison Reform Platform.
The SMPR petition includes calling on lawmakers to end the inhumane practice of double-bunking and separating all beds in housing units by at least six feet to reduce transmission of deadly viruses.
If implemented this change can significantly reduce the population density in prisons and result in the release of thousands of people who would can be safely managed in the community and would pose no danger to society.
Through expanded use of the tether program people can still be held accountable for their crimes. Not only    could they protect their health and become productive members of society, they could also continue to be supervised electronically until the completion of their sentence.
The World Health Organization makes the valid argument that during a pandemic prison health should be equated with public health:
"The risk of rapidly increasing transmission of the disease within prisons or other places of detention is likely to have an amplifying effect on the epidemic, swiftly multiplying the number of people affected. [P] Efforts to control COVID-19 in the community are likely to fail if strong infection prevention and control (IPC) measures, adequate testing, treatment and care are not carried out in prisons and other places of detention as well." (Regional Office for Eur., World Health Org., "Prevention and Control of COVID-19 in Prisons and Other Places of Detention" 1 (2020)).
COVID-19 outbreaks in prison are a deadly public health emergency that demand a solution proportional to the size of the problem. That includes amplifying our voices to ensure our demands for change are persistently heard by every state lawmaker to help prevent incarcerated people from being silently stalked by a deadly virus.
Please act now and sign the petition. If you have already signed the petition please share the link widely in your social network and invite others to sign and share it as well.
Efrén Paredes, Jr.
Support Michigan Prison Reform
http://Bitly.com/MichPR
SMPR Facebook Group:
http://fb.com/groups/MichPR
SMPR Poster:
http://Bitly.com/MichPR-Poster
NEW JUVENILE LIFER COURT HEARING FOR EFREN PAREDES, JR.  SEPTEMBER 10, 2021
Michigan has highest number of juvenile lifers not yet resentenced in U.S.
70% of state juvenile lifers are people of color
94% of state juvenile lifers who have been re-sentenced got term of years
By Necalli Ollin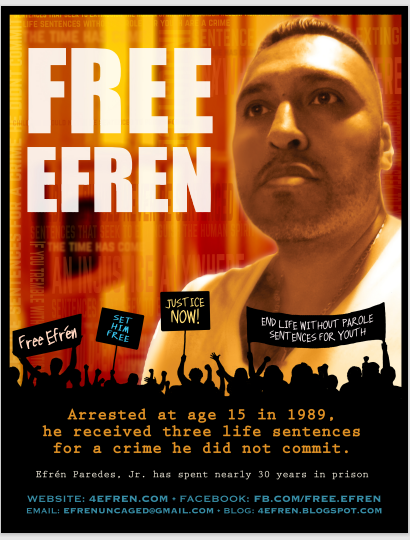 After postponing court hearings three times for Efrén Paredes, Jr since March 2021, Berrien County Trial Court Judge Charles LaSata has scheduled a court hearing in the case to be convened September 10, 2021.
The court hearing will be to decide whether LaSata will grant retired Berrien County prosecutor Michael Sepic's motion seeking a life without parole (LWOP) sentence in Paredes's case or dismiss the motion and grant Paredes a subsequent resentencing hearing.
Paredes is one of the individuals who received a mandatory LWOP sentenced when he was a minor who are commonly referred to as "juvenile lifers." He was arrested at age 15 for a 1989 murder and robbery in St. Joseph, Michigan, which forensic evidence and witness statements made under oath since his trial establish he did not commit.
In 2012 the U.S. Supreme Court issued a landmark ruling in the case of Miller v. Alabama abolishing mandatory LWOP sentences for juvenile offenders. The Court ordered the 2,500 people impacted by the ruling nationwide to have their cases reviewed for resentencing consideration.
Of the 367 juvenile lifers in Michigan at the time of the Supreme Court ruling an astonishing nearly 70% are people of color. Nine years after the 2012 high court ruling Michigan shamefully leads the nation in the number of juvenile lifers it incarcerates and has not yet resentenced.

The resentencing delays in these cases are due in large part to prosecutors who filed motions seeking undeserving LWOP sentences in many juvenile lifer cases. Their decisions require judges to conduct costly mitigation court hearings to be held requiring expert witnesses paid for at taxpayer expense in dozens of cases.
According to the U.S. Supreme Court, only juvenile offenders who are irreparably corrupt and forever incapable of change or rehabilitation can receive a LWOP sentence again. Anyone who demonstrates the capacity for change and rehabilitation must receive a term-of-year sentence.
To date 94% of people originally sentenced to LWOP when they were children in Michigan who have been resentenced have received a term-of-year sentence averaging 30.5 years. Only six percent have received LWOP again.
Despite prosecutors having their motions seeking LWOP sentences in juvenile lifer cases being denied by judges the overwhelming majority of the time they recklessly persist pursuing the extreme sentence.
Today Paredes is a social justice changemaker, thought leader, husband, and parent. A review of his extensive body of work and impressive record of accomplishments behind bars the past 32 years make it abundantly clear he is not a candidate to receive a LWOP sentence again.
He has developed a remarkable sense of self-awareness and has persistently evolved spiritually and intellectually. He is also a sound consequential thinker and problem solver who has developed a profound appreciation for the sanctity of life.
The retired prosecutor seeking a LWOP sentence against Paredes, Michael Sepic, was the original prosecuting attorney in the case in 1989. Prior to trial Sepic engaged in misconduct by providing false and misleading information to the media about the case to taint the jury pool and wrongly convict Paredes. He stonewalled Paredes' JLWOP case for years.
The Michigan Supreme Court has stated, however, that "a court cannot base its sentence even in part on defendant's refusal to admit guilt." (People v. Hatchett, 477 Mich. 1061 (2009); People v. Jackson, 474 Mich. 996 (2006)).
Newly elected Berrien County prosecutor, Steven Pierangeli,  swore Sepic in as an assistant prosecutor after his retirement to continue working on the Paredes case. Pierangeli recently vacated the conviction of Corey McCall at the request of the State Attorney General Dana Nessel's Conviction Integrity Unit.
After 32-and-a-half years it's long overdue that Paredes receive a fair ruling free of the taint of prosecutorial misconduct and abuse of power. He deserves to be granted a term-of-years sentence proportional to the average sentence other similarly situated juvenile lifers have received when resentenced.
Readers are invited to "Like" the Free Efrén Paredes, Jr. Facebook page to support his campaign for freedom, listen to his radio and podcast interviews, read his latest essays, and access links to social justice and criminal penal reform issues and events. The page is available at http://fb.com/Free.Efren.
Related on Berrien County cases:
Local juvenile lifer cases reflect the challenge across Michigan in re-examining whether justice was served | News | heraldpalladium.com
Police in St. Joseph taking new look at Benton Harbor teen's 1991 death (freep.com)
RELATED on or by:  LIFER EFREN PAREDES, JR. REPORTS ON COVID-19 IN MDOC; PRISONERS IN GRAVE DANGER WORLD-WIDE | VOICE OF DETROIT: The city's independent newspaper, unbossed and unbought