"They murdered the young man, he was shot in the back, unarmed, and there is a clear effort to cover it up; WE WILL GET JUSTICE" — Atty. David A. Robinson
Robinson interviewed by Fox 2's Charlie Langton Sept 29 (video below).
Adams ran from scene of  accidental crash with unmarked vehicle used by undercover cops surveilling "dragging and drifting" event
DPD has not released names of cops, nearby business video, gun info 
DPD officers have now killed at least 8 people since July, 2020, including Adams, refuse to release names of officers, those killed, any other details
Killing happened during "major increase in police presence," with 40% increase in DPD overtime, part of DPD summer crowd control plan 
Lawsuit asks for $20 million in damages
By Diane Bukowski
September 27, 2021, updated October 2, 2021.
DETROIT—Michael Contrell Adams III, 19 and unarmed, was shot twice in the back and killed Aug. 8 while running away from a car accident, by an undercover Detroit police officer who did not identify himself before firing, says a lawsuit filed Sept. 10 on behalf of Adams' family.
It says police also endangered a crowd of onlookers, which Adams entered while  running north from the accident before he was killed.
Detroit Police Chief James White said Aug. 8 that the young man exited a car in which he was a passenger, holding a gun, after it collided with a car holding two officers surveilling a "dragging and drifting" car race on E. Grand Blvd. near the GM Zero Plant (a/k/a Detroit-Hamtramck Assembly).
White said an officer yelled "police," told the man,  "drop it," and then used "fatal force," shooting the passenger "multiple times." He said 200 people were there. The vehicle was deployed in an attempt to make other drivers think it was just part of the audience, according to recent announcements from DPD.
The suit, filed by prominent Detroit attorneys David A. Robinson, Brandon McNeal and Thomas E. Kuhn, strongly contradicts the police version. See the lawsuit at:
http://voiceofdetroit.net/wp-content/uploads/Michael-Contrell-Adams-Wrongful-Death-by-DPD-Complaint-9-10-21-final-4.pdf
"They murdered the young man, he was shot in the back, unarmed, and there is a clear effort to cover it up, which contradicts the so-called transparency that Chief White has said is his stance," Atty. Robinson told VOD.
"Chief  White indicated that the young man was armed and that the officer first announced himself as a police officer, told him to put the gun down, and then he shot at him. Under that description the wounds would have been not in the back but in the front. Michael Adams' wounds are in the back. He collapsed some distance away from where the gun was found, right at the passenger door of the blue car."
The autopsy on Adams revealed gunshots struck Adams "twice in the back and once in the forearm," hitting his lungs and a "subclavian" artery, according to the lawsuit.
The autopsy said the "kill shot" was "a through and through entrance gunshot wound on the right upper back," resulting in 800 ml. of blood forming in the chest cavity. The second shot to the back was "a through and through entrance gunshot wound on the left lateral back.' 

DPD did not release video of police killing of Michael Adams from Preferred Produce at 2445 E. Grand Blvd. shown in photos above.
White said Aug. 8 that police bodycam and dashcam videos were disabled by the crash. But Robinson said, "The police have video from the business Preferred Produce right in front of the incident. That video apparently isn't supportive of Chief White's version. If it were, if he were trying to be transparent, he would publicly display it."
The lawsuit says, "At no time did either defendant officer identify himself as a police officer. At no time did plaintiff's decedent have a weapon. . . At no time were any shots fired at the officer.  At no time was Plaintiff's deceased ever a threat to either defendant officer. At the time of the terminal shot incapacitating the deceased, the claimed gun found at the scene was nowhere near the deceased's body."
The suit is scheduled for an initial hearing Dec. 6 in Wayne County Court Dec. 6. But Robinson said the City is expected to remove it to federal court, a further delay.
"BUT WE WILL GET JUSTICE," he declared.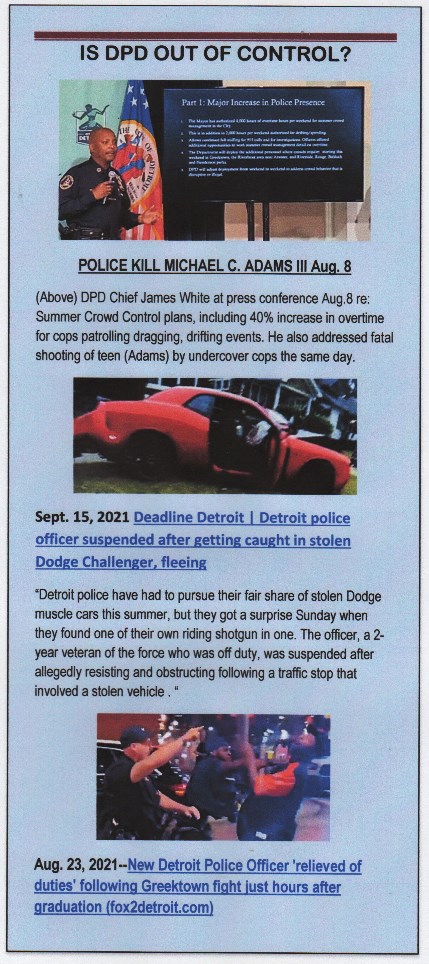 Atty. Robinson was a Detroit police officer for 13 years. He has been a lawyer since then for the last 28 years, specializing in civil rights, police misconduct, and wrongful death. He and co-counsel Melissa El won a historic $4 million verdict against the City of Detroit for the family of Lamar Grable, 20, shot to death by three-time killer cop Eugene Brown in 1996.
That case played a major role in  initiating federal oversight of the DPD use of force and other practices from 2003-2016.
Defendants in the suit are Detroit Police Chief James White, police officers John Doe and James Doe, and the City of Detroit.
DPD Deputy Chief Rudy  Harper declined to provide information on the case, requested by VOD Sept. 16, including the names of the undercover cops, details on the gun alleged to belong to Adams, and DPD policies regarding the use of undercover officers and vehicles. He said VOD must submit a formal FOIA request to the city's Law Department, which is being done.
Former DPD Chief James Craig initiated a "Dragging and Drifting" crackdown on street races before he left office. At a press conference earlier this year, he said it included surveillance by helicopters and undercover cops in unmarked cars.
"This activity threatens the safety of our residents and our officers, and children in our neighborhood," he Craig said.
"We're deploying undercover vehicles, yes, so you won't know who's behind you. You're going to stop at some point, and when you stop we're going to arrest you. And when we arrest you, we are going to seize your vehicle."
Craig is currently targeted in a new documentary on police assaults on local protesters against the murder of George Floyd in Minneapolis. (See link below story.)
During his press conference Aug. 8 (video below) current DPD Chief White announced a major increase in police presence at summer events in Detroit, including "dragging and drifting" events. DPD granted up to 40 percent more overtime for police patrolling those events. He spent most of the press conference detailing the crackdowns, but spent little time discussing the killing of 19-year-old Michael C. Adams III by undercover cops the same day.
Members of several controversial groups including the Detroit 300 and Operation Cease-Fire who spoke at the Aug. 8 press conference did not address the killing of Adams III, either.
The two groups last year aided Craig's attacks on local protests against the police execution of George Floyd May 25, 2020 in Minneapolis, part of a global outpouring. They held press conferences before the April 20, 2021 verdict on killer cop Derek Chauvin, warning that the city might erupt in flames if he was acquitted.
But U.S. District Court Judge Laurie Michelson from the Eastern District of Michigan last year tossed out a suit Craig and the City of Detroit filed against the George Floyd protesters alleging that they committed violent acts, and upheld claims of police brutality and misconduct against the protesters in a suit filed by the activist group Detroit Will Breathe.
Detroit police killed two still-unnamed Detroit men with mental health issues just prior to the verdict. At the same time, Wayne County Prosecutor Kym Worthy held a press conference declaring that the police killing of Hakim Littleton July 10, 2021 was justified. Detroit police killed several others after Littleton's death as well. Neither Worthy nor the DPD has released the names of the police officers involved in any of those killings to date.
"THIS IS A MURDER TRIAL. THIS WAS AN EXECUTION."
Atty. David A. Robinson, FOX 2 Detroit 
After VOD published this story Sept. 28, Fox 2 News interviewed Atty. David Robinson (below) who told them unequivocally, "This is a murder trial. This was an execution." He demonstrated on a chart how far away from a gun DPD alleges he had, with no proof so far,  Michael Adams III collapsed and died.
Below: Comments by Trey Songz: what more can be said? Website at: Trey Songz Official Website. https://www.treysongz.com/
Related: if there is any doubt about what the Detroit Police Department is capable of, watch the video below, compiled by videographer Kate Levy. It shows horrific assaults on peaceful protesters who marched in Detroit after the murder of George Floyd in Minneapolis May 25, 2020. 
Click on "Watch on You Tube" to see the 21-minute video.
Documentary shows police violence against police reform protesters (freep.com)
DID CHIEF CRAIG, PROS. WORTHY ORCHESTRATE TERROR CAMPAIGN IN DETROIT PRIOR TO CHAUVIN VERDICT? | VOICE OF DETROIT: The city's independent newspaper, unbossed and unbought
**********************************************************************************

Voice of Detroit is a pro bono newspaper, now is devoting itself entirely to coverage of stories related to our PRISON NATION and POLICE STATE.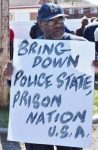 VOD's editors and reporters, most of whom live on fixed incomes or are incarcerated, are not paid for their work. Ongoing costs include quarterly web charges of $450.00, P.O. box fee of $180/yr. costs for research including court records, internet fees, utilities, office supplies, gas, etc.
Please DONATE TO VOD at:
********************************************************************************