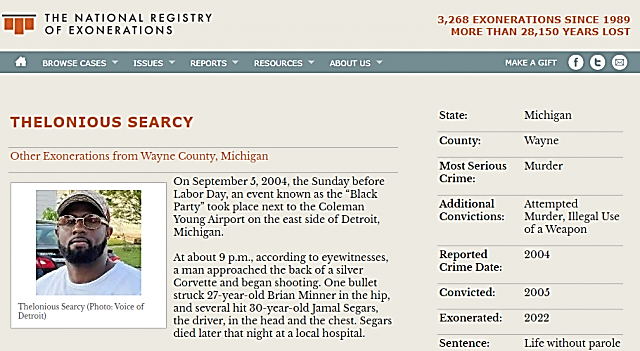 Crowning victory for Thelonious 'Shawn' Searcy,  family and supporters
Wayne Co. Pros. Kym Worthy fought Searcy every step of the way in her usual role as 'Innocence Denier,' also in the case of Davontae Sanford

VOD covered Searcy's story extensively beginning in 2017; photos and videos below are added to the NRE report from the VOD stories, and from Channel 2 Detroit report by Amy Lange. 
By Ken Otterbourg  —  National Registry of Exonerations
October 14, 2022
On September 5, 2004, the Sunday before Labor Day, an event known as the "Black Party" took place next to the Coleman Young Airport on the east side of Detroit, Michigan.
At about 9 p.m., according to eyewitnesses, a man approached the back of a silver Corvette and began shooting. One bullet struck 27-year-old Brian Minner in the hip, and several hit 30-year-old Jamal Segars, the driver, in the head and the chest. Segars died later that night at a local hospital.
Because of the large crowd at the event, police were already nearby and quickly responded after shots were fired. Officer Micah Hull tried to drive toward the sound of the gunfire, but his patrol car was hit by a Mercury Marauder. Hull and his partner, Officer Shawn Stallard, then saw a man with a gun fire more shots, although they were not sure whether this man had also fired the initial shots. Hull gave chase on foot, but the man got away. Some witnesses said the shooter ran into a nearby convenience store.
At the crime scene, police recovered shell casings from two weapons; They found eight .40-caliber casings near or in the Corvette and seven .45-caliber casings at least 20 feet from the car.
For reasons that aren't clear from police records, the police quickly pursued a theory that the shooting was a case of mistaken identity and that the intended target was DeAnthony Witcher, who drove a similar-looking Corvette. An undated note in the police files said, "This case is about being at the wrong time, place. [Segars] was driving the exact vehicle as Deanthony and even looked like him."
On September 6, an investigator's report identified 24-year-old Thelonious Searcy as the shooter, and an assistant prosecutor recommended that murder and assault charges be filed. Searcy was said to have had a long-running feud with Witcher, but the police records don't say how investigators first learned of his name. A motion later filed on Searcy's behalf would call this "a complete mystery."
On September 5 and September 6, the police interviewed eyewitnesses, who gave different descriptions of the shooter. None mentioned Searcy or indicated that it was a case of mistaken identity. They all agreed the shooter was Black, but some said he was only 5 feet 6 inches tall, while others said he was perhaps 6 feet tall. One witness said the shooter had caramel skin; another said his skin was dark. Several of the witnesses knew Segars, who had served eight years in federal prison for drug offenses, and, as one person said, "He did what he had to get paid."
Minner, interviewed at the hospital, was unable to make an identification of the shooter.
Police re-interviewed three witnesses on September 8, now showing them lineups that included a mugshot of Searcy. The witnesses – including one who had initially told police he could not identify the shooter "by face" – identified Searcy as the man who shot Segars.
Police interviewed Witcher on September 9. He said that his Corvette was a "twin" of Segars', and that he and Searcy had a falling out after he paid Searcy to do some work and then Searcy lost the money shooting dice. Witcher said that he returned to a house he owned one day and found the property ransacked. Witcher said Searcy was inside and shot him several times.
Witcher said he was at the party near the airport on September 5, and that his phone started blowing up after the shooting. "A lot of my friends told me, 'Man, a [person] dead in your car.' They thought it was me."
On November 30, officers entered an apartment in the Detroit suburbs looking for Searcy. They initially saw only his grandmother and his wife, but later found Searcy behind a piece of drywall in a bedroom closet. Separately, officers also found a .45-caliber semi-automatic gun in the bedroom where Searcy had hidden.
Searcy was charged with first-degree murder, assault with intent to murder, and use of a weapon in committing a felony. His trial in Wayne County Circuit Court began on May 2, 2005.
During his opening statement, the prosecutor told jurors that Searcy had meant to shoot Witcher but made a mistake and instead shot Segars, because their Corvettes were similar. In his opening statement, Robert Mitchell, Searcy's attorney said the party was too chaotic and busy for the witnesses to make proper identifications, but he never rebutted the state's theory that Witcher – not Segars – was the intended target.
Four eyewitnesses identified Searcy as the shooter at trial. Three of the witnesses had picked him out of a photo lineup. Minner testified, but he was unable to make any identifications.
Witcher testified about his relationship with Searcy, including his claim that Searcy had shot him in 2003. On cross-examination, Witcher said that he had not wanted to testify but had not cut any deals in exchange for his testimony about Segars' death.
Mitchell asked Witcher if he was involved in other crimes. Witcher said he wasn't. Mitchell then asked Witcher if he had ever been arrested or convicted for anything involving deception, fraud or falsehood. Witcher said he hadn't. Mitchell tried to ask Witcher about whether he had owned a permit to carry a gun, but Judge Timothy Kenny cut him off and said there was no evidence that Witcher had a gun.
Later, Witcher testified that he didn't call the police after the 2003 shooting because of a concern that he would be investigated for drugs. He acknowledged that he was given immunity from any charges related to that incident.
Dr. Carl Schmidt, a medical examiner, testified that Segars had been shot seven times and that he had removed four bullets during the autopsy. One of these slugs was entered into evidence as People's Exhibit 23, labeled as ".40 caliber, Metal jacket bullet," without any reference to its source. The police separately and incorrectly labeled it in their files as a 9 mm casing.
Kevin Reed, a technician with the police department's firearms identification unit testified that the weapon found in the apartment was the source of the .45-caliber casings found at the crime scene. (The firearms report was not completed until the first day of the trial.) Reed also testified that the slug in Exhibit 23 could not have been fired from the weapon found at the apartment, because it wasn't "caliber consistent." He wasn't asked to state the caliber of the slug or where it had come from.
Searcy did not testify. But several friends and family members said he was at a barbecue at his mother's house on the night of September 5, 2004. His mother and grandmother testified that Searcy did not live at the apartment where he was arrested. The grandmother testified that the gun found at the apartment did not belong to Searcy and that a man named Jeffrey Daniels, who had a child with a member of Searcy's extended family, had left the gun there after driving her home around the time of the shooting. Daniels was shot to death on September 24, 2004.
Deliberations began on May 6, 2005, a Friday. The jury first asked whether the casings recovered were .45 caliber or .40 caliber. Later, the jury asked about the bullet recovered from Segars. It also asked to review the medical examiner's report and the report of casings found at the crime scene.
The jury was brought into the courtroom, where Judge Kenny addressed them as a group. "Now with regard to your first question, what type of caliber bullet was found in the deceased?" he asked.
"After speaking with the attorneys they have agreed to my sharing with you the fact that the testimony presented in the case, and there is a report on one of the exhibits that the bullets that were recovered from the deceased were too deformed to be able to identify what gun it came from or what caliber it came from."
That was incorrect. Mitchell didn't object, and prosecutors didn't correct the statement.
On May 9, the jury returned a guilty verdict on all charges. On May 23, Judge Kenny sentenced Searcy to life without parole for the murder conviction, and concurrent sentences of 15 to 30 years for the assault conviction and two years on the firearms conviction.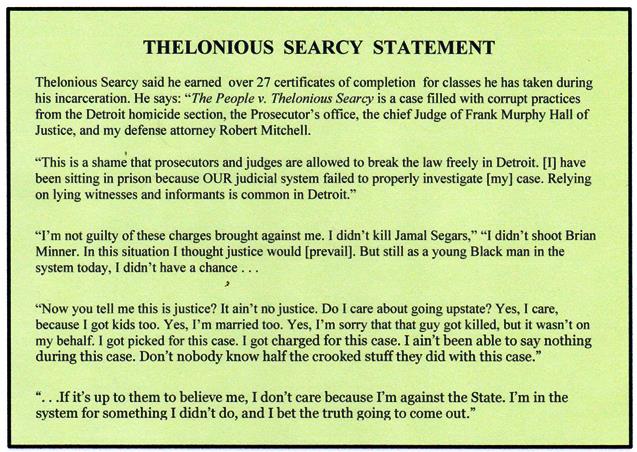 At his sentencing, Searcy proclaimed his innocence and criticized his attorney for his inadequate representation and preparation. "This man right here, he got the audacity to stand on the side of me, and he took my Mama's hard-earned money. Standing here like he's my lawyer."
Later he said: "Now you tell me this is justice? It ain't no justice. Do I care about going upstate? Yes, I care because I got kids, too. Yes, I'm married, too. Yes, I'm sorry that that guy got killed, but it wasn't on my behalf."
Searcy appealed his conviction, arguing that Judge Kenny erred in allowing the firearms report to be entered into evidence during trial. He also said that a prosecution witness, Latasha Boatwright, had committed perjury by testifying that Witcher was her friend. Boatwright and Witcher were half-siblings, Searcy said.
The Michigan Court of Appeals affirmed the conviction. It said that Mitchell could have but didn't ask for a continuance on the firearms report and that Boatwright's statement might not be perjury because Witcher could be both a friend and a half-sibling.
Beginning in 2015, Vincent Smothers confessed to killing Segars and submitted several affidavits claiming that Searcy had no involvement in the crime. He said Daniels was his partner in the shooting. Smothers was a Detroit contract killer, in prison for 11 murders. His confession to four other murders was at the heart of a claim of innocence by Davontae Sanford, who would be exonerated in 2016.
On June 24, 2015, Searcy filed a pro se motion for relief, and a series of evidentiary hearings were held three years later. At the hearings, Smothers testified that he had been stalking Segars for months because he was a drug dealer known to carry around a lot of money. (Segars's criminal record had not been introduced at Searcy's trial.)

See 1994 6th Circuit Court ruling on Jamal Segars' drug conviction at: http://voiceofdetroit.net/wp-content/uploads/Jamal-Segars-6-CC-denial.pdf
Smothers said Daniels carried the .45; Smothers used a .40-caliber Smith & Wesson, and he described how he came up on Segars from behind, which was consistent with the autopsy on several of Segars's entry wounds. Smothers was also able to describe the chaotic scene after the shooting, when the Marauder hit the police cruiser, and how the cruiser's airbags deployed.
On December 3, 2018, Judge Kenny denied Searcy's motion for relief, ruling that "a reasonable jury could not find Vincent Smothers' testimony credible at a retrial."
Represented since 2017 by Michael Dezsi, Searcy appealed, asserting that Judge Kenny had applied an unreasonable standard in evaluating Smothers' testimony.
In addition, the appeal said that prosecutors had failed to disclose exculpatory forensic evidence and evidence that undermined Witcher's credibility. The motion said prosecutors never told Mitchell that the slug in Exhibit 23 had been removed from Segars's body, although the state claimed in its responses that this information was easily inferred. In addition, prosecutors didn't disclose Witcher's lengthy criminal record or that a charge for carrying a concealed weapon had been dismissed the day that police arrested Searcy.
On February 11, 2021, the Michigan Court of Appeals granted Searcy a new trial. It said that Judge Kenny had incorrectly told the jury that the slug taken from Segars was "too deformed" to be tested, and that in dismissing Searcy's appeal, he had too heavily discounted Smothers's statements and subsequent testimony. (Smothers had briefly recanted but later said he did so out of concern that a parallel investigation into another possible wrongful conviction would unduly harm Sanford's quest for freedom.)
"We conclude that, when considering Smothers's testimony in its entirety, it is clear that his testimony is not wholly incredible, as the trial court found, and that a reasonable juror could find his testimony worthy of belief on retrial," the court said. The ruling did not address Searcy's claims that prosecutors had failed to disclose evidence.
Searcy was released from prison on April 16, 2021.
A year later, on April 15, 2022, Dezsi filed a motion to dismiss. The motion said prosecutors had misled Judge Kenny about the slug, because forensic testing had said it came from a .40-caliber weapon.
It also said prosecutors had failed to provide Searcy's attorney with footage from a security camera taken from a nearby convenience store. Two witnesses had told police that the shooter ran into the store.
An officer retrieved the footage, according to an evidence log, but the prosecutor told Judge Kenny prior to opening statements that he had not seen the footage and had been told by the police that the footage did not exist. The motion said the failure to preserve this evidence violated Searcy's right to a fair trial.
On October 3, 2022, Judge Thomas Hathaway granted Searcy's motion to dismiss the charges. "The damage caused by the suppression and withholding of the exculpatory evidence cannot be cured," Hathaway wrote.
The forensic evidence was particularly critical to Searcy's defense, Judge Hathaway said. "At the time of the trial, the prosecution's forensic examiners were aware of the bullet caliber type removed from the victim's body and that it did not match the handgun offered at trial," he wrote.
"Defendant argues and this court agrees that there is nothing more exculpatory than this single piece of evidence which was suppressed from the defense and the jury."
– Ken Otterbourg
Related: 
The story below on dismissal of all charges against Searcy includes links to all VOD stories published on his case beginning in 2017.
THELONIOUS SEARCY: "IT'S OVER!–FREE!" CHARGES DISMISSED, JUDGE BLASTS WAYNE CO. PROSECUTOR | VOICE OF DETROIT: The city's independent newspaper, unbossed and unbought
**********************************************************************************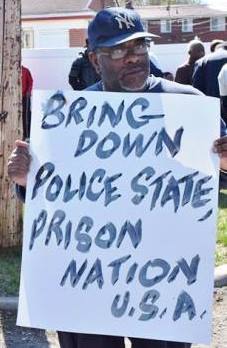 Voice of Detroit is a pro bono newspaper, now devoting itself entirely to stories related to our PRISON NATION and POLICE STATE.
VOD's editors and reporters, most of whom live on fixed incomes or are incarcerated, are not paid for their work. Ongoing costs include quarterly web charges of $460.00, P.O. box fee of $180/yr. and other costs including utility and internet bills, costs for research including court records and internet fees, office supplies, gas, etc.
Please DONATE TO VOD

at:
************************************************************************************