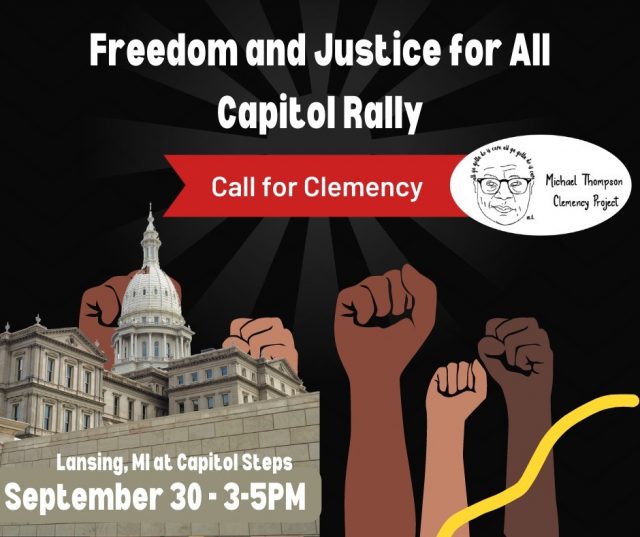 CHANGE, CLEMENCY AND A SECOND LOOK!
State and national campaign challenging mass incarceration continues
By Ricardo Ferrell
VOD Field Editor
September 2, 2023 
Ricardo Ferrell, VOD's Field Editor, proudly announces that the Michael Thompson Clemency Project is inviting families, friends and supporters to the upcoming: 'Freedom and Justice for All' rally to be held on Saturday, September 30th, 2023 from 3-5pm, on the steps of the State's Capitol Building in downtown Lansing.
Anyone who wish to attend can do so free of charge. There will be an open mic for those wishing to briefly tell the stories of their incarcerated loved ones who they believe warrant being considered to have their sentences commuted through the clemency process by Gov. Gretchen Whitmer. Let your voices be heard LOUD and CLEAR!!!
The time is now! Call for Freedom and Justice for All of our incarcerated men & women in Michigan who lives have been impacted by mass incarceration within the carceral system. This is the hour where we're calling on our governor to utilize her clemency power.
In the State of Oregon, former Governor Kate Brown got it right by granting clemency to well over 1,100 people in her state. Gov. Brown is quoted in a previous VOD article stating, "I absolutely believe that the criminal justice system in the U.S. is built on the back of Black and Brown people, and… that the single most powerful tool governors have to embed justice in the system – is the clemency power." — Kate Brown, retired Governor of Oregon
In a Related Effort:
The Sentencing Project in Washington, DC is pushing its Second Look Legislation Campaign in Michigan with the help and ingenuity of the phenomenal Alexandra Bailey. Ms. Bailey recognized the dire need for Michigan to take criminal justice reform seriously. So, she has devoted a great deal of her time working towards that end. The many thousands of men & women locked down in our state truly do owe an enormous debt of gratitude for the tireless work that Ms. Bailey and the Sentencing Project have put in and continue to put in on a daily basis. This is the climate for Change, Clemency and A Second Look!!!
Related stories:
SECOND CHANCES FOR MICHIGAN LIFERS! MOVEMENT GAINS STEAM AS RE-SENTENCING ACT INTRODUCED | VOICE OF DETROIT: The city's independent newspaper, unbossed and unbought
MICHAEL THOMPSON CP, ACLU, U-M PROJECT CALL FOR MASS CATEGORICAL CLEMENCY FOR MICHIGAN PRISONERS | VOICE OF DETROIT: The city's independent newspaper, unbossed and unbought
MICHIGAN HAS SENTENCED MORE KIDS TO DIE IN PRISON THAN ANY OTHER STATE AND IN THE REST OF THE WORLD | VOICE OF DETROIT: The city's independent newspaper, unbossed and unbought
HUNDREDS OF MEN, SERVING LIFE SENTENCES ON THE CREDIBILITY OF CORRUPT DETROIT POLICE DETECTIVES! | VOICE OF DETROIT: The city's independent newspaper, unbossed and unbought