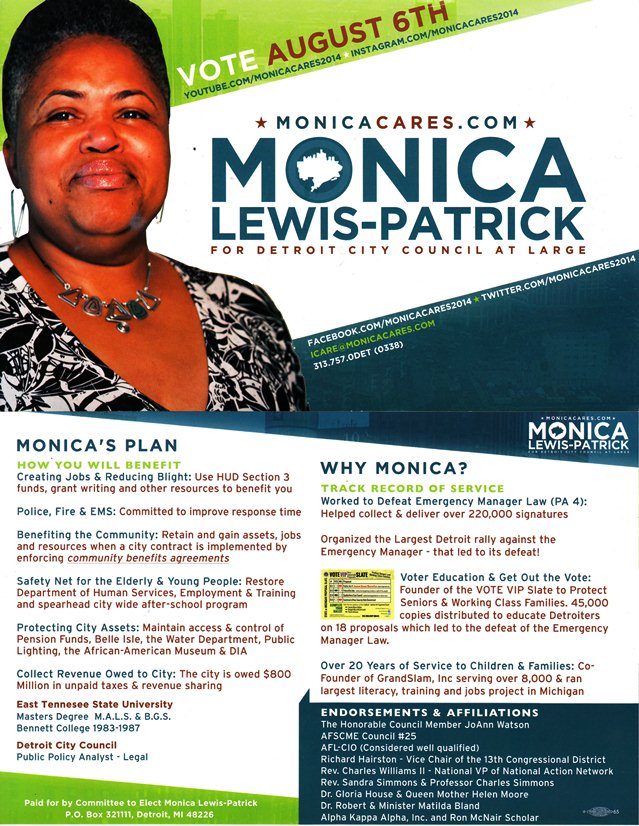 By Diane Bukowski
Aug. 1, 2013
(This editorial endorsement of Monica Lewis-Patrick for City Council at Large is interspersed with her own speeches on You Tube and photos of her supporters at the fish fry fund-raiser at Hush House near Greater King Solomon Baptist Church.)
DETROIT – The backyard of Detroit's Hush House was packed July 26 with supporters of Monica Lewis-Patrick for City Council attending a fish fry fund-raiser. They included people who have fought side by side with her for self-determination for the people of Detroit, ever since the introduction of the legislation that became Public Act 4, otherwise known as Michigan's Emergency Manager Act, in 2011.
Present were the co-founders with Monica of We the People of Detroit and Free Detroit No Consent: Debra Taylor, Gloria (Aneb) House, Cecily McClellan, Chris Griffith, Valerie Glenn, Keith Hines, and more, including youths she brought into the battle like Demeeko Williams.  Marian Kramer of the Welfare Rights Organization showed up to speak on Monica's behalf, as did long-time community organizer Gwen Mingo. The rest are too numerous to name. 
Also present, of course, was Councilwoman JoAnn Watson herself, who Monica has worked for over the past period.
'
Some of the many who turned out for a campaign fund-raiser/fish fry at Hush House Friday, July 26, 2012.
 "Over the last two or three years, I have watched Monica as she and all the members of We the People fought every day," said Gloria (Aneb) House, a renowned activist in Detroit since the 1960's.  "Strategy meetings, picket lines, non-stop organizing. She has a warrior's spirit. She belongs to us. She brought the same fire to make sure Councilwoman Watson's work was done by day and by night. She understands what's going on. When she's elected we can count on her not to be in the backrooms making deals behind closed doors. She is going to keep her head and feet behind us in the community. We must be ready to turn out to support her and fight for our city."      
Monica and her allies have paid their dues in the grueling battle to stop the corporate-state takeover of the world's largest Black-majority city, Detroit, which is also the nation's poorest major city. '
Prior to working for Councilwoman Watson, Monica worked diligently on the recount of the 2009 election that gave Detroiters Dave Bing, supporting the challenge brought by Tom Barrow.  The Wayne County Board of Canvassers found that over 60,000 votes in that election were unrecountable due to numerous irregularities, but certified the elction anyway. Her work previous to that is described in her campaign flier above.
Monica then went to work for Councilwoman Watson, organizing rallies with the massive turn-outs in Lansing in February and April of 2011, against Public Act 4, the last swelling to over 10,000 people, then the huge Jan. 2, 2012 rally against a PA4 takeover of Detroit at Triumph Baptist Church  She then worked day and night with thousands of others across the state on the arduous job of collecting over 240,000 signatures to repeal Public Act 4.
At the same time, she worked with Councilwoman Watson to oppose the disastrous Public Act 4 Consent Agreement the Council voted for on April 4, 2012, the anniversary of Dr. Martin Luther King, Jr.'s assassination. That agreement began a prolonged assassination of Detroit. Despite all setbacks, however, Monica has never given up the battle, believing that the people of Detroit will win their city back.
It is perhaps best said in her own words during the fish fry.  Monica told how she felt going back into the Coleman A. Young Center to collect her belongings after she and Debra Taylor were laid off due to cuts sanctioned by Detroit Emergency Manager Kevyn Orr.
"I know they are trying to take our pensions, our water, our island, our city and our vote," she said. "Over the last five years I have fallen deeply in love with the citizens of Detroit. Yesterday my oldest daughter gave birth to a little baby girl. There is something special about a grandchild. You know that part of you will live on. I've seen Detroiters fight to maintain their right to self-determination, with the Councilwoman fighting like none other."
"We need you to help us save our city," Monica said. Mitt Romney told us to let Detroit go bankrupt. We worked day and night to repeal Public Act 4, with Governor Snyder acting like a wolf going after sheep, like George Zimmerman hunting down Trayvon Martin. He found us in a most vulnerable state.
"He knew our leadership had been compromised and our assets were in jeopardy. Our fight has been unmatched, for collective bargaining, for HUD Section 3 which guarantees employment for our youth, for our children to be able to go to the same quality schools this city used to set the bar for. 
"I am asking President Barack Obama to hold true to his promise not to let Detroit go bankrupt. We deserve the right to vote, to self-determination, to our water system that we paid for, to Belle Isle. Our forbears came from cotton picking and sharecropping to becoming engineers, lawyers, doctors, some of the best scholars in the world. We want to make sure we get a Mayor that's proven they love this city."
 (Unfortunately, VOD lost track of who said what during the rally, but following are  other comments, by speakers Cecily McClellan, Debra Taylor, Marian Kramer and more. They may be somewhat amalgamated.) 
"We have to push Monica's campaign into high gear, like we did when we were voting for the President. They aren't rebuilding Detroit for its current residents. Detroit is big enough for everybody. We're not trying to keep anybody out, but we sure as hell aren't going to let them kick us out."
"Kevyn Orr was on the news talking about the thousands of people in Detroit who collect pensions. He said we have to balance the budget. This is evil when you turn your back on the people who built the city and kept it running. Our struggle is not against flesh and blood. Orr's emails show that once upon a time he had a conscience, and knew it was wrong to take over Detroit."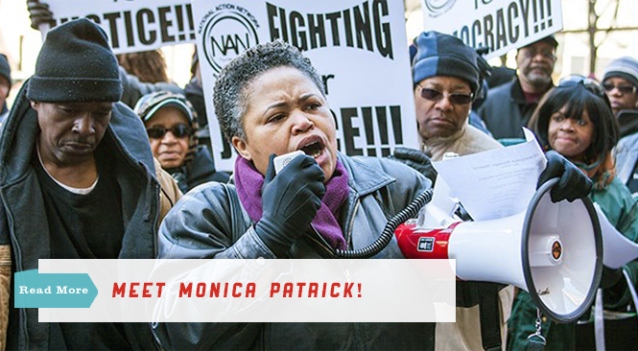 Website for Monica's campaign is at http://monicacares.com.
As editor of the Voice of Detroit, who religiously covered all the events Monica and others organized, from Lansing to Detroit, I have to say that I rarely trust politicians and do not believe in endorsements by newspapers. My former employer, the Michigan Citizen, previously had a policy of non-endorsement, knowing that promises made at election time can easily be forgotten in the fray afterwards. Unfortunately, the Michigan Citizen betrayed that policy in the last election, endorsing the likes of James Tate, Saunteel Jenkins, and Andre Spivey, who sold the people out, voting for the consent agreement and contracts with the law firms that are now pushing Orr's attack on Detroit—Jones Day, Ernst & Young, Miller Canfield, Milliman, Inc. and many more. They literally sold our city to the devil, if such exists. 
_______________________________________________________________
BUT, AS DIANE BUKOWSKI, AND AS EDITOR OF VOD, I DO TRUST IN AND BELIEVE THAT MONICA WILL NOT BETRAY THE PEOPLE OF DETROIT, HAVING WATCHED HER WORK THROUGH THESE LAST YEARS. MONICA LIKED TO TELL EVERYBODY THAT I WAS THE IDA B. WELLS OF OUR TIME—I DEFER. MONICA LEWIS-PATRICK IS THE IDA B. WELLS OF OUR TIME—THIS TIME, THIS PLACE, HERE IN OUR BELOVED CITY OF DETROIT. VOTE FOR HER!
  I decided to review VOD's entire archives beginning with late 2010 to see what actions Monica Lewis-Patrick and Councilwoman JoAnn Watson led to stop the corporate-state takeover of Detroit, which VOD reported on. The list below is VOLUMINOUS; it was exhausting just to think of what work went into the actions reported on, in particular by Councilwoman Watson and her staff, including Monica and Debra Taylor, as well as Councilwoman Brenda Jones, who is running again.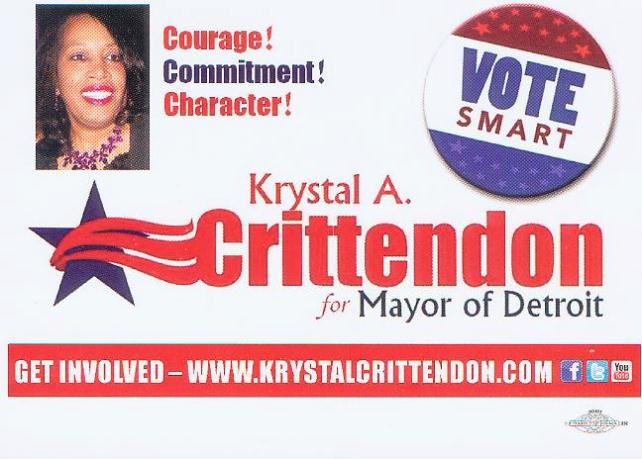 While reviewing these articles, I also saw dozens describing Mayoral Candidate Krystal Crittendon's heroic battle to stop the consent agreement despite attacks from Gov. Snyder, Mayor Bing, and the City Council Sell-Out Six that resulted in her discharge as the city's Corporation Counsel. I know that Councilwoman Watson and her staff consulted frequently with Krystal Crittendon.
I WISH TOM BARROW AND OTHER SUNDRY MAYORAL CANDIDATES HAD JOINED FORCES WITH MS. CRITTENDON INSTEAD OF RUNNING ON THEIR OWN, EFFECTIVELY SPLITTING THE VOTE IN THE FACE OF THE CORPORATE FUNDED CANDIDATES, BENNY NAPOLEON AND MIKE DUGGAN. MORE ON THIS BY MONDAY AT THE LATEST, ALTHOUGH I KNOW IT'S LATE IN THE GAME. BUT I JUST WANT TO SAY ALSO: KRYSTAL CRITTENDON FOR MAYOR–A TOUGH WOMAN PROVEN IN BATTLE!
See articles below, related to the battles waged by Monica Lewis-Patrick, Councilwomen JoAnn Watson and Brenda Jones along with Councilman Kwame Kenyatta (not running this year), and Mayoral Candidate Krystal Crittendon and decide for yourselves who should get your vote!
http://voiceofdetroit.net/2010/11/23/coa-busts-barrow-appeal/
http://voiceofdetroit.net/2011/01/26/stop-takeover-of-detroits-water/
http://voiceofdetroit.net/2011/02/26/bust-wall-street-not-unions-public-employees-mobilizing-for-national-strike-april-13/
http://voiceofdetroit.net/2011/02/21/4841/
http://voiceofdetroit.net/2011/04/19/lansing-rally-first-step-or-well-shut-the-state-down/
http://voiceofdetroit.net/2011/12/03/michigan-moves-to-take-over-detroit-other-majority-black-cities/
http://voiceofdetroit.net/2011/12/20/11654/
http://voiceofdetroit.net/2012/01/06/stop-state-takeover-of-detroit/
http://voiceofdetroit.net/2011/12/28/snyder-dillon-ignore-banks-escalate-pa-4-war-on-detroit/
http://voiceofdetroit.net/2011/12/31/no-pa-4-consent-agreement-or-em-for-detroit/
http://voiceofdetroit.net/2012/01/25/pa-4-repeal-gathering-steam-faces-snyder-challenge/
http://voiceofdetroit.net/2012/02/20/final-call-michigan-gov-accused-of-disenfranchising-detroit-other-majority-black-cities-in-the-state/
http://voiceofdetroit.net/wp-admin/post.php?post=12505&action=edit
http://voiceofdetroit.net/wp-admin/post.php?post=12000&action=edit
http://voiceofdetroit.net/2012/03/13/detroit-consent-agreement-fiscally-and-legally-irresponsible-and-unacceptable-says-u-s-rep-john-conyers/
http://voiceofdetroit.net/2012/03/24/no-consent-agreement-or-em-make-the-banks-pay/
http://voiceofdetroit.net/wp-admin/post.php?post=12967&action=edit
http://voiceofdetroit.net/wp-admin/post.php?post=13101&action=edit
http://voiceofdetroit.net/2012/04/04/consent-agreement-will-allow-sale-of-detroit-city-assets/
http://voiceofdetroit.net/2012/04/14/detroiters-tell-council-to-stand-up-vote-no/
http://voiceofdetroit.net/2012/04/10/bing-lewis-advisor-mcgee-helped-draft-pa4/
http://voiceofdetroit.net/2012/04/06/detroit-city-councils-fatal-five-vote-for-pa4-consent-agreement/
http://voiceofdetroit.net/2012/04/09/banks-state-take-control-of-detroit-council-assassinates-city-in-5-4-consent-vote/
http://voiceofdetroit.net/2012/05/14/no-consent-not-one-cent-cancel-the-debt-detroiters-say-on-boa-day/
http://voiceofdetroit.net/2012/06/02/detroit-consent-agreement-challenge-to-go-before-judge/
http://voiceofdetroit.net/2012/06/04/detroits-top-counsel-crittendon-takes-consent-agreement-to-court/
http://voiceofdetroit.net/2012/06/07/free-detroit-letter-to-corp-counsel-krystal-crittenon/
http://voiceofdetroit.net/2012/06/07/lawsuit-hearing-on-detroit-consent-agreement-june-13-dozens-pack-council-meeting-to-support-action/
http://voiceofdetroit.net/2012/06/14/collette-dismisses-detroit-suit-says-mind-made-up-from-beginning/
http://voiceofdetroit.net/2012/06/20/broad-coalition-plans-civil-disobedience-if-pa4-repeal-not-put-on-state-ballot/
http://voiceofdetroit.net/2012/06/21/showdown-community-supports-crittendon-bing-wants-council-to-remove-her-june-22/
http://voiceofdetroit.net/2012/07/03/let-the-people-vote-protesters-occupy-state-bldg-demand-vote-on-pa4/
http://voiceofdetroit.net/wp-admin/post.php?post=14327&action=edit
http://voiceofdetroit.net/2012/07/07/crittendon-intervenors-fight-dictatorship-of-banks/
http://voiceofdetroit.net/2012/07/15/detroits-corporate-rulers-dictate-huge-cuts-for-workers-city-council-discussion-mon-july-16-130-pm/
http://voiceofdetroit.net/2012/07/18/war-on-city-workers-wrong-dirty-and-low-down/
http://voiceofdetroit.net/2012/07/30/rally-to-save-belle-isle-wed-aug-1-at-1-pm-bandshell/
http://voiceofdetroit.net/2012/08/05/save-belle-isle-save-detroit/
http://voiceofdetroit.net/2012/08/06/pa-4-on-ballot-organizers-plan-battle-on-two-fronts-to-strike-it-down/
http://voiceofdetroit.net/2012/08/09/free-detroit-no-consent-tells-roberts-detroit-ca-appointees-to-hit-the-road/
http://voiceofdetroit.net/2012/08/19/free-detroit-no-consent-travels-to-lansing-on-democracy-day-aug-15/
http://voiceofdetroit.net/2012/09/15/90-yr-belle-isle-lease-entry-fees-go-to-state-fedstate-cops-to-patrol-council-hearing-mon-sept/
http://voiceofdetroit.net/2012/09/18/councilwoman-watson-hears-citizens-on-belle-isle-rally-at-belle-isle-casino-sat-sept-22-12-noon-council-hearing-tues-sept-25-1-pm/
http://voiceofdetroit.net/2012/09/25/no-on-pa-4-yes-on-protect-our-jobs-vip-slate-absentee-voters-take-note/
http://voiceofdetroit.net/2012/09/27/peoples-rally-hands-off-belle-isle-council-hearing-thurs-oct-4-1-pm/
http://voiceofdetroit.net/2012/10/14/vote-nov-6-no-on-1-yes-on-2-3-4-yes-on-m-tv-ads-needed-to-defeat-pa-4/
http://voiceofdetroit.net/2012/10/17/city-council-members-favorable-to-revised-lease-sept-25/
http://voiceofdetroit.net/2012/10/17/council-sabotages-oct-18-public-hearing-on-belle-isle-lease/
http://voiceofdetroit.net/2012/10/22/vote-no-on-prop-1-repeal-pa-4-make-the-banks-pay/
http://voiceofdetroit.net/2012/10/22/dillon-bing-cabal-at-council-demands-action-on-drastic-re-structuring-of-detroit/
http://voiceofdetroit.net/2012/11/05/prof-angela-davis-in-detroit-peoples-struggle-not-just-elections/
http://voiceofdetroit.net/2012/11/11/michigan-dictator-law-pa-4-goes-down-detroiters-ecstatic/
http://voiceofdetroit.net/2012/11/19/detroiters-outraged-over-top-council-members-complicity-in-ema-water-dept-takeover-hearings-tues-nov-20/
http://voiceofdetroit.net/2012/11/25/detroiters-storm-council-nov-20-to-stop-takeovers-bing-plots-to-reconsider-contracts-mon-nov-26-1-p-m/
http://voiceofdetroit.net/2012/12/03/wall-street-state-intensify-attacks-on-detroit-mayor-says-people-not-entitled-to-jobs-to-appear-at-council-tues-dec-4-10-a-m/
http://voiceofdetroit.net/2012/12/10/state-blitzkriegs-detroit-to-get-deal-with-wall-street-will-council-stand-up-at-meeting-dec-11/
http://voiceofdetroit.net/2012/12/23/councils-craven-cave-in-brings-new-assault-on-detroit-state-declares-new-financial-review/
http://voiceofdetroit.net/2012/12/28/detroit-city-council-6-collaborators-in-war-on-people/
http://voiceofdetroit.net/2013/01/14/former-corp-counsel-crittendon-exploring-mayoral-run/
http://voiceofdetroit.net/2013/01/15/krystal-crittendon-i-stand-with-the-people/
http://voiceofdetroit.net/2013/01/18/the-gang-rape-of-detroit/
http://voiceofdetroit.net/2013/01/23/bing-and-detroit-council-set-to-give-belle-isle-to-state-let-the-people-vote-council-meets-jan-24-1-p-m-jan-28-29/
http://voiceofdetroit.net/2013/01/27/people-rise-up-against-lease-of-belle-isle-committee-votes-no-council-still-to-meet-mon-jan-28-2-pm-tues-jan-29-9-am/
http://voiceofdetroit.net/2013/02/09/jubilant-crowd-supports-crittendon-for-mayor-of-detroit/
http://voiceofdetroit.net/2013/02/27/detroit-financial-review-a-wall-street-takeover-black-cities-must-fight-back-by-any-means-necessary/
http://voiceofdetroit.net/2013/02/27/mayoral-candidate-krystal-crittendon-no-justification-for-detroit-em/
http://voiceofdetroit.net/2013/03/02/we-will-fight-emergency-management-concerned-citizens-coalition-of-detroit/
http://voiceofdetroit.net/2013/03/10/the-fight-for-detroit/
http://voiceofdetroit.net/2013/03/17/detroit-efms-law-firm-advises-worlds-biggest-crooks-including-libor-banks/
http://voiceofdetroit.net/2013/03/31/detroit-council-to-vote-on-jones-day-contract-firm-represents-criminal-banks-holding-citys-debt/
http://voiceofdetroit.net/2013/04/18/detroit-city-council-says-yes-to-banks-in-jones-day-vote-people-say-no/
http://voiceofdetroit.net/2013/04/20/detroit-city-council-grovels-to-power-inflicts-further-harm-on-city/
http://voiceofdetroit.net/2013/05/09/people-demand-moratorium-on-detroit-debt-reparations-as-em-readies-attack/
http://voiceofdetroit.net/2013/05/16/detroit-em-orrs-report-envisions-a-nightmare-future/
http://voiceofdetroit.net/2013/06/09/people-rise-up-against-em-kevyn-orr-and-bank-takeover-of-detroit/
http://voiceofdetroit.net/2013/06/20/mayoral-candidate-krystal-crittendon-focus-on-battle-vs-em-orr-snyder/
http://voiceofdetroit.net/2013/06/20/em-orrs-plan-for-detroit-phony-debt-moratorium-theft-of-city-assets-including-water-belle-isle-pensions/
http://voiceofdetroit.net/2013/07/21/orr-jones-day-aim-bankruptcy-gun-at-detroit-retirees-let-wall-street-off-hearing-mon-july-22-9am/
http://voiceofdetroit.net/2013/07/23/detroit-bankruptcy-snyder-orr-want-retirees-suits-dumped-while-creditor-ubs-announces-high-profits-hearing-wed-july-24-10-a-m-judge-rhodes/
http://voiceofdetroit.net/2013/07/29/war-retirees-workers-residents-v-wall-street-in-detroit-bankruptcy-judge-throws-out-state-claims/
http://voiceofdetroit.net/2013/08/01/protect-detroit-retirees-hurting-them-hurts-entire-society/