Video above shows Gayle Robinson talking with her oldest child, Kathleen Law, on the phone regarding her objections to being in probate court. Law filed the petition. Video below shows Mrs. Robinson at home actively taking care of her property, exercising on park swings, and walking her beloved dog.
Keith issues order for son Randy Robinson's arrest if he doesn't make his mother return
Orders Mrs. Robinson's brother, who resides in California, to do the same 
Keith has had Rowan illegally evict Randy and his 15-year-old daughter from Mrs. Robinson's home, despite her wish that they remain
Rowan, 68, has 416 open probate court cases, including conservatorships worth millions of dollars
Says husband John Cavataio, 37, "not involved with organized crime"
Keith may be in line for Chief Judge in wake of Milton Mack's appointment to State Court Administrator's Office July 27
By Diane Bukowski
July 30, 2015
DETROIT – "It's horrendous, unbelievable, like a nightmare," Debbie Fox, daughter of Gayle Robinson, said about her mother 's dealings with Wayne County Probate Court Judge Terrance Keith and his appointed guardian/conservator Mary Rowan.
Mrs. Robinson is 84, and a member of the Montford Point chapter of Marine Corps Veterans, among other activities.
All medical doctors and psychiatrists who have examined Mrs. Robinson have concluded she does not need a guardian and is capable of handling her own affairs.
Fox said actions by Keith and Rowan have "cost Gayle her freedom, her 2003 Escape, her finances of over $27,000 and they are working on marshaling her home of almost 60 years where all her memories of her late husband and son who both died in the home she would like to continue living in are."
On June 17, Mrs. Robinson fled the charmingly appointed home in Westland, where she resided with her son Randy Robinson and granddaughter Lynette, after raising 10 children there with her late husband Russell Robinson, also a veteran. They bought the home in 1956.
She flew to stay with her brother James Brown in California, to avoid being placed by Rowan in a nursing home or other institution.
Rowan attempted to do so without a court order three times earlier. The third time, on September 30, 2014, Rowan's aide Katie McDonald succeeded essentially in kidnapping her with the aid of Westland police, violating Keith's July 28 court order that she could not be removed without his written order.
She was held against her will for a total of 10 days, 9 of them in a "geropsychiatric unit" at Botsford Hospital in Royal Oak.
"Gayle Robinson has been severely traumatized by this kidnapping and heavily stressed by these probate court proceedings," Randy wrote in a court pleading asking for Rowan to be removed as guardian, and for Rowan and McDonald to be held in contempt of court. Keith ignored the pleading and instead later held Randy in contempt.
"My brother was arrested and [now] is being held as hostage for the return of Gayle," Fox said.
"I want Gayle, I want Gayle returned first!" Keith said according to courtroom observers.
Keith's order (see link below story), implied that Randy Robinson would be indefinitely detained if he and his uncle did not force Mrs. Robinson to return. He gave specific orders to Brown, although Brown resides in another state, and is not in Keith's jurisdiction.
An earlier charge of "contempt of court" for not showing up when his car broke down, landed Randy in jail for three days.
Keith gave Rowan "authority" to evict Randy and Lynette from the home and ordered the locks changed. Such eviction actions are legally handled by district courts. Without any such district court action, Mrs. Robinson's other children now have access to the house and are throwing out many possessions, according to observers.
Keith barred Randy and Lynnette, and Debbie Fox and members of her marital family from any contact with their mother. Keith also ordered that Randy no longer be allowed to drive his mother's car, with her permission, to earn a living delivering pizza.
Keith earlier gave Mary Rowan the "right" to shut down all Internet websites authored by Randy Robinson about his mother, likely a violation of the First Amendment. VOD obtained the videos on this site from other agency websites which posted them separately.
Rowan has meanwhile seized control of Mrs. Robinson's home and car, all of her Social Security and pension income, bank accounts, and other financial affairs. She doles out spending money to Mrs. Robinson in small bits at a time, and has not timely paid her bills, according to Randy. This M.O. has been noted in other cases handled by Rowan (see links to stories below.)
It is rumored that Keith may be in line for appointment as Probate Court Chief Judge following former Chief Judge Milton Mack's appointment to the State Court Administrator Office (SCAO), on July 27. The announcement included special kudoes from Michigan Supreme Court Chief Justice Robert P. Young, Jr., known for his right-wing views.
"It looks like when you get old, you don't have the right to take your own money out of the bank anymore," Mrs. Robinson told VOD outside Keith's court during a hearing Dec. 9. "I don't need a guardian, but I want my brother to be my conservator and I want my son Randy and his daughter Lynette to stay with me."
At the hearing, she clearly stated to Judge Keith that she does not want the daughter, Kathleen Law, who initiated the probate court proceedings, or other children, including Ricky and Mary Robinson, who admittedly raided her home equity line of credit without her permission, to visit her. She said that before they visit, they must pay her back.
Fox remarked, "My mother says this is like Nazi Germany in World War II. She has no freedom. We can't get a lawyer to even think about taking this case. They tell us, 'Forget about it, she's gone, she's been declared incompetent.'"
No medical doctor or psychiatrist has ever declared Mrs. Robinson incompetent, incapacitated, or in need of a guardian.
Her family physician, Dr. Mark Richter of Canton, who has seen her for over 20 years, and neuropsychiatrists at Henry Ford Hospital and the Veterans Administrations have provided written reports indicating she is fully capable of performing the activities of daily living on her own. The last report from Dr. Richter was submitted to the court July 6.
Videos below show Gayle Robinson at home after her traumatic ordeal at the psychiatric unit of Botsford Hospital.
But Keith appointed Marlana Geha, who has only a PhD in gerontology, as his "Independent Medical Examiner." Geha has 171 open cases in Probate Court and acts as a guardian in many.
She concluded that "Ms. Robinson is a person who meets the statutory requirement for the appointment of both a Guardian and a Conservator. Ms. Robinson is diagnosed with Depression and Depressive Disorder. These conditions impede Mrs. Robinson's ability to adequately collect, protect and marshal her assets . . .[and] to make informed and appropriate medical placement and day to day decisions."
But her summary of other reports, most by medical doctors, who supersede "PhD's" in qualifications, completely contradict her conclusion.
She said Mrs. Robinson took a Mini State Mental Exam at Botsford Hospital.
"Ms. Robinson scored twenty-nine our of a possible thirty points both times placing her in the normal range of cognitive function," Geha reported.
She said an exam at the VA hospital in 2009 resulted in the conclusion that "Ms. Robinson is capable of independently making her own treatment, financial and personal decisions."
In June, 2014, Geha reported, the "Instrumental Activities of Daily Living (IADL) Scale (Lawton) was administered [by VA]. Mrs. Robinson, as a result of the answers she provided, scored eight out of a possible eight points, indicting (sic) a high level of independence."
Further, Geha reported, "Ms. Robinson was also examined by Dr. Mark Richter, her civilian primary care physician, with respect to her cognitive functioning. In a letter signed by Dr. Richter, reflecting a date of visit of July 29, 2014, he reports that she does not have Dementia and that she has the capacity to make informed decisions regarding personal, medical, legal and financial matters."
Geha says Dr. Richter also conducted the Mini Mental State Exam, resulting in a score of 28 out of 30 points "denoting normal cognitive functioning." In a hand-written note attached to his report, Dr. Richter said, "End this nonsense—she doesn't have dementia."
Rowan has now forbidden Mrs. Robinson from seeing Dr. Richter without her permission.
Neuropsychological testing at Henry Ford Hospital June 25, 2014, reports Geha, resulted in the conclusion that Mrs. Robinson has "the capacity to make medical, legal and financial decisions." The doctors there said that depression and psychological stressors may impact this capacity at times.
"Ms. Robinson repeatedly stated during both interviews that she wanted to return to her home of many years to live with her son Randy, and her granddaughter, Lynette," Geha said of her interviews with Mrs. Robinson at Botsford. "Ms. Robinson stated she missed her dog who she stated was her constant companion."
She added, "Ms. Robinson repeatedly stated she felt as if she had been kidnapped and further stated she is quite embarrassed by the public scene at her house when she was extracted from her house."
Additionally, she reported, "Ms. Robinson stated that she thought her daughter, Kathy, filed to become her Guardian in order to make money."
Mrs. Robinson's oldest daughter Kathleen Law originally requested VA's 2009 exam of her mother, as a "court-related matter." She claimed her mother was suffering from dementia, after the death of her father the same year.
Law initiated probate court proceedings May 13, 2014, petitioning to become her mother's guardian and conservator, claiming her mother was "incapacitated." She is heard in the video at the top of the story discussing the matter with her mother by phone.
Rowan said in her response to an attorney grievance filed by Debbie Fox that the reason for the petition was that Law had not been able to see her mother for one month.
Law's petition was filed two years after Mrs. Robinson and her son Raymond Robinson, now deceased, initiated an elder abuse complaint with the Westland Police.
The report said that Mrs. Robinson's children, other than Randy and Debbie, had convinced their parents, to set up a "home equity line of credit," then took substantial loans from it after their father's death, without their mother's consent.
This was acknowledged later in Keith's court. He ordered that visits from those children, including Mary and Ricky Robinson, would not be allowed unless it was shown that they were paying the loans back to their mother on a regular basis.
Instead of Law, Keith appointed Rowan as Mrs. Robinson's temporary guardian and conservator June 11, 2014. Rowan is an attorney who court records now show has 421 open probate cases of various kinds, including millions of dollars in conservatorships, Rowan and Chief Judge Mack earlier denied that number of open cases.
"As Chief Judge of the Court my authority is limited to administrative matters," Mack told VOD in a January email regarding the Robinson case. "I have no authority to interfere with the decision-making in cases handled by other judges serving in the Wayne County Probate Court. I do not believe that Ms. Rowan is handling one hundred cases in our Court, much less hundreds."
Rowan responded to VOD's question about her abnormally heavy caseload by email last week.
"I have been appointed by the Court, nominated by individuals, families, other attorneys and retained as counsel through the years.  As to the procedure on Court appointments, I am notified by the Court after each appointment is made.  I do have a substantial active case load and have a great staff who assist me."
She added, "My primary role as guardian is to make decisions and take steps on behalf of Mrs. Robinson that are in her best interest based upon all of the information that I have been provided.
Complaints from some of Rowan's other wards about her practices to the contrary are detailed in links to stories at the conclusion of this one.
Rowan operates her practice out of her small home at 1303 Nottingham in Grosse Pointe, where she resides with her 37-year-old husband John Cavataio. He operates John Cavataio, Inc. a specialty construction business, according to state records.
Cavataio is related to a Peter Cavataio, about 65. Another Peter Cavataio, known as "The Baker," was the subject of a well-publicized mob hit in 1985.
VOD asked Ms. Rowan whether her husband plays any role in handling the substantial funds she controls as a conservator, and whether he is associated with organized crime.
She replied, "With respect to your questions regarding my husband and your questions about whether he has any ties to organized crime, no he does not have any."
She did not address whether her husband is related to the Cavataio family of organized crime repute, and whether he has any role in handling her conservatorship funds.
Rowan said in her response to an attorney grievance filed by Debbie Fox that she and Anna Duba, listed as an LPN and director of Admissions and Case Management at Maple Manor Nursing and Rehab Center in Wayne, Michigan, first visited Mrs. Robinson's home on June 20, 2014, nine days after Rowan's appointment as guardian. Their intent was to initiate Mrs. Robinson's placement in the Center.
Mrs. Robinson was not there because Randy had taken her to visit her father's grave in remembrance of his birthday that day. Rowan alleged she and Duba conducted a high-speed chase at 85 mph as Randy drove his mother from the home, which Randy denies. In any event, neither Rowan nor Duba had any authority to chase the car, especially at 85 mph.
No LPN license for Anna Duba exists on the state Dept. of Licensing and Regulatory Affairs web site. Medicare has cited Maple Manor for some cases of "not honoring a resident's rights as a resident of the nursing home, free of coercion and reprisal, and as citizens or residents of the United States," and many cases of fire code violations.
On June 27, Rowan again attempted to see Mrs. Robinson. Randy Robinson says she told him she was there to take his mother, but would not tell him where. He refused her entry.
Randy filed a report with the court stating this was an "illegal attempt to kidnap" his mother. "Rowan tried to force her way into the house illegally, pushing on the door with her hand," he said.
After more court hearings, during which Keith said July 28th that Mrs. Robinson could not be removed without a court order signed by him, Rowan's aide Katie McDonald, an accountant, showed up at the house with Westland Police, to take Mrs. Robinson again, during the Sept. 30, 2014 event.
A two hour stand-off occurred, during which Mrs. Robinson repeatedly asked why McDonald and Westland Sgt. Randall Thivierge had no court documents giving them permission to take her. (See video below, filmed by Randy Robinson with some adjustments for effect, such as repetitions of Thivierge's statement that he did not know where the court papers were.)
Finally worn down, Mrs. Robinson left the house after being told she would be gone only a couple of hours. She was taken to Botsford Hospital in Royal Oak. They would not admit her without a valid court order. Rowan admits that McDonald then took Mrs. Robinson to a hotel to spend the night. On Oct. 1, Randy said, Mrs. Robinson called home to tell him she was "back at Botsford is afraid please come get her."
When Randy and Debbie went to see their mother there, hospital staff first told them she had never been there, then refused access to them to visit her. Randy filed a petition with the court asking that Rowan be removed as guardian, which was ignored.
After a total of 10 days of Mrs. Robinson's captivity, Botsford's Dr. Theodore Ruza reported in her discharge summary that she was "admitted to the geropsychiatric unit on an involuntary basis with the patient and Guardian's permission."
He had earlier reported that Mrs. Robinson lived alone, had been "paranoid and delusional with her thought content," and needed assistance with activities of daily living, based on Rowan's false and/or unfounded statements.
"It should be noted that I feel at this time that the patient does not need a guardian," he concluded however. "She can assist in making her own decisions. I do feel the patient may benefit from a conservator to monitor her finances." (Author's emphasis.) 
Rowan claims reports from Mrs. Robinson's own doctor and Henry Ford Hospital psychiatrists are "not credible . . .because either Randy and/or Ms. Fox attended these appointments or garnered the reports and were present for all other medical exams of Gayle, making the results highly suspect," in a response to an attorney grievance filed by Debbie Fox.
She said Dr. Marlana Geha, subsequently appointed by the court to evaluate Mrs. Robinson, "is a PhD in Gerontology, a degree even higher than a medical doctor," a blatantly inaccurate statement.
Keith appointed Rowan and Brown as co-guardians and Rowan as full conservator Feb. 4, 2015, with the expectation that Brown would become sole guardian/conservator June 17, 2015. The "consent agreement" gives Mrs. Robinson permission to leave the state with her brother on vacations. It also allows visits by her other children in her home from noon to 9 p.m. without Randy or Debbie present.
During the court hearing Dec. 9, covered by VOD, Judge Keith told Mrs. Robinson it was up to her to decide the circumstances of her other children's visitation.
He specified that Mary and Ricky Robinson, the children who took loans from their mother's home equity account, can only visit if they are up-to-date on re-payments.
Below, Mary Robinson discusses financial situation with mother.
Keith denied Randy Robinson's and Debbie Fox's objections to the "agreement," which they said changed what was ordered in court Dec. 9.
On June 15, 2015, Kathleen Law filed a statement in court through her attorneys that alleged, "Jim Brown denies access to Mrs. Robinson as does Randy Robinson and Debbie Fox." Her mother's own statements in the video at the top of the story indicate that SHE did not want to visit with any children who put her in probate court.
In written notes, Jim Brown said he asked his sister if she wanted to speak to children who called, and was not willing to force her to do so after she said "No."
The statement alleges that Randy Robinson "forced" his mother to mow her own lawn. Randy told VOD his mother enjoys doing yard work and remaining active, as shown in his video. The statement also asked that Randy and Lynette be "ousted" from the home.
It claims that Randy and Debbie are denying Mary Rowan full access to their mother's accounts as directed by the court.
On June 17, Keith awarded sole guardianship and conservatorship to Rowan, terminating Brown's role as co-guardian. He also ordered attorney James Ayres to review the guardianship. His report is due Aug. 17, according to court records.
Chicago attorney JoAnne Denison, who authors a blog on probate court abuse, commented with regard to Gayle Robinson's case, "She is . . . suffering from this trauma of the state and Ms. Mary Rowan, an attorney and professional guardian, trying to steal all her assets and then do the 'target, isolate, medicate, drain the estate and quietly eliminate and cremate' scenario we are all too familiar with in the probate division of courts across the nation."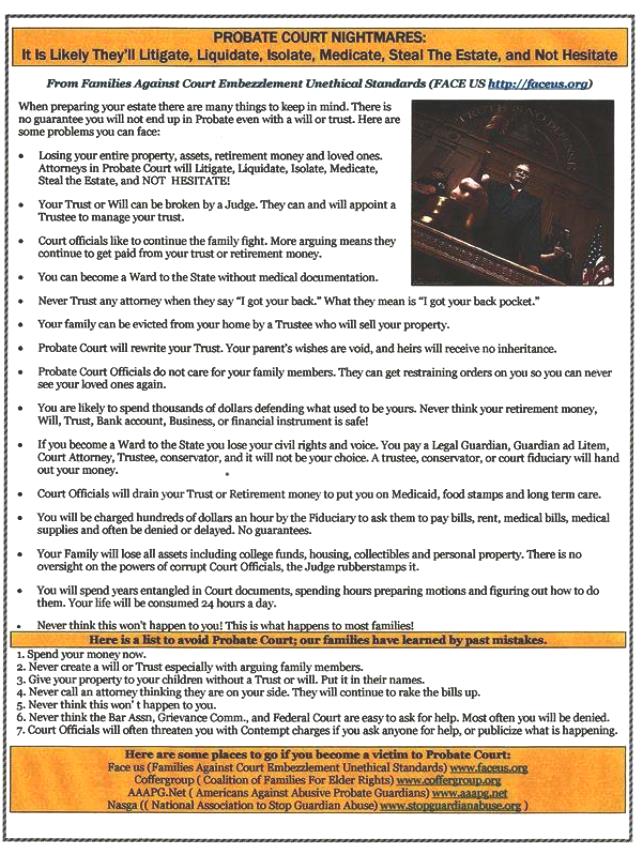 Hashtags:
#MaryRowan, #TerranceKeith, #ProbateAbuse; #ElderAbuse, #GuardianAbuse, #GayleRobinson
Related site:
http://nasga-stopguardianabuse.blogspot.com/
Robinson things rowan has done wrong
Robinson case Mary Rowan is unfit to be anybody
Related stories involving Mary Rowan:
http://voiceofdetroit.net/2014/12/27/mary-rowan-denies-family-visits-to-dying-grandmother-now-co-guardian-in-robinson-case/
http://voiceofdetroit.net/2014/10/23/serial-kidnapper-atty-mary-rowan-takes-second-adult-ward-from-home-without-court-order/
http://voiceofdetroit.net/2014/10/24/rosa-parks-godchild-mailauni-williams-found-judge-george-guardian-rowan-removed-from-case/
http://voiceofdetroit.net/2014/11/25/home-for-the-holidays-mailauni-williams-back-with-mom-after-6-month-kidnapping/
http://voiceofdetroit.net/2014/07/21/amber-alert-rosa-parks-godchild-mailauni-williams-missing-judge-kathryn-george-loots-estate-bars-mortgage-payments-on-her-home/
http://voiceofdetroit.net/2014/06/16/shady-probate-judge-kathryn-george-jails-mom-seizes-daughter-and-estate/