Dozens traveled to Lansing to oppose state dismantling of DPS district, and further debt of $385 million
Board files whistleblower complaint with SEC alleging that loan rates of up to 18% have cost DPS over $400 million under previous EM's
EM Rhodes' advisors told him plan would be "enormously costly"
 Parthenon Group involved: "All students are not equal; SOME ARE MORE PROFITABLE THAN OTHERS"
By Diane Bukowski 
July 23, 2016 
LANSING – "You just voted for Jim Crow," Detroit's elected school board members and supporters shouted at the Michigan Local Emergency Financial Assistance Loan Board July 18, after it approved the transfer of over $1.5 billion in Detroit Public Schools (DPS) assets to a state-operated "community district," and $385 million in initial loans, some at an 18 percent interest rate.
Speakers at the meeting called the plan "genocide," and said it makes Detroit's children second-class citizens.
"You are taking money from Detroit school kids to pay off a debt the state created," Board of Education President Lamar Lemmons said.
A state-controlled "community district" was created July 1 under Public Acts 192-197.  DPS itself will remain only to pay off about $3 billion in outstanding debt to the banks, left behind by 16 years of state control. That will come from funds meant to educate Detroit's children, 59 percent of whom live below the poverty level. The district will be the only one in the state allowed to hire non-certified teachers. Many more of the 104 schools left in the district, down from 261 in 1992, will be required to close.
Michigan Gov. Rick Snyder, the state legislature, and Emergency Manager Steven Rhodes launched the plan July 1. Rhodes presided over the City of Detroit's bankruptcy. He has hired many of the same costly consulting firms to effectuate the DPS plan.
They include Ernst & Young, which incorporated the notorious Parthenon Group in 2014, currently under investigation by the federal government for committing fraud at Corinthian College in California.
Parthenon specializes in converting public education systems into private investment opportunities, by increasing class sizes, cutting teachers' pay, and laying off staff like counselors and librarians, according to an article on New York education professor Diane Ravitch's blog.
Parthenon's motto is "All students are not equal; SOME ARE MORE PROFITABLE THAN OTHERS," Knox County Special Education teacher Rob Taylor, who researched Parthenon, says in the article.
"The long-term goal presented here is not to keep the public school system –it's to grow for-profit schools to be much larger than the public system, then reduce public schools enrollment to those 'less profitable' students," another teacher says.
In an email provided to the loan board, Rhodes' advisor Al Koch of Alix Partners strongly advised against splitting the District, saying it would be a "frustrating and enormously costly exercise." He added that it would be better to exclude Parthenon from the plan.
But in a subsequent email, he said of the plan, "It's certainly not perfect but in the restructuring business you leam to work with what you have and this is probably as good as you're going to get. Unfortunately, there is always the possibility of an unpleasant surprise of some magnitude."
See full email exchange at http://voiceofdetroit.net/wp-content/uploads/Rhodes-email-exchange.pdf.
Ernst & Young, whose Gustav Mulhatra is handling much of the restructuring, got such an unpleasant surprise in 2008, when the global stock market collapsed largely due to unbridled predatory mortgage lending. Ernst & Young kept the books for Lehman Brothers, whose dissolution set off the crisis. They have been sued by the states of New York and New Jersey for falsely advising them on the stability of Lehman Brothers.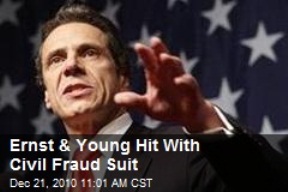 "Your message is loud and clear that the children of Detroit are second class citizens," school board President Lamar Lemmons told the loan board.
"The State Constitution requires the hiring of certified teachers for Michigan's 548 public school districts, as well as its charter schools," Lemmons went on. "More than half of Detroit's children now attend charter schools. But the new school district will be the only one free to hire unqualified, uncertified teachers."
Lemmons added, "It will take 25-30 years to pay the district debt off. You are taking money from our school kids to eliminate a debt the state has created. The Headlee Amendment says that if the state creates the debt, it must provide the funds to pay it off."
Lemmons and the board have demanded a forensic audit of DPS finances to find out how billions of dollars was siphoned off from the DPS budget under state control, since 1999 when the district had a surplus.
They filed a whistleblower complaint with the Securities Exchange Commission (SEC) July 14, alleging that fraud has been committed by the District's Emergency Managers. The complaint objects to usurious securities loan rates of up to 18%.
The complaint says the board estimates the excessive fees have cost the district over $400 million in recent years alone. Of the loans just approved, $235 million are allegedly set at that rate.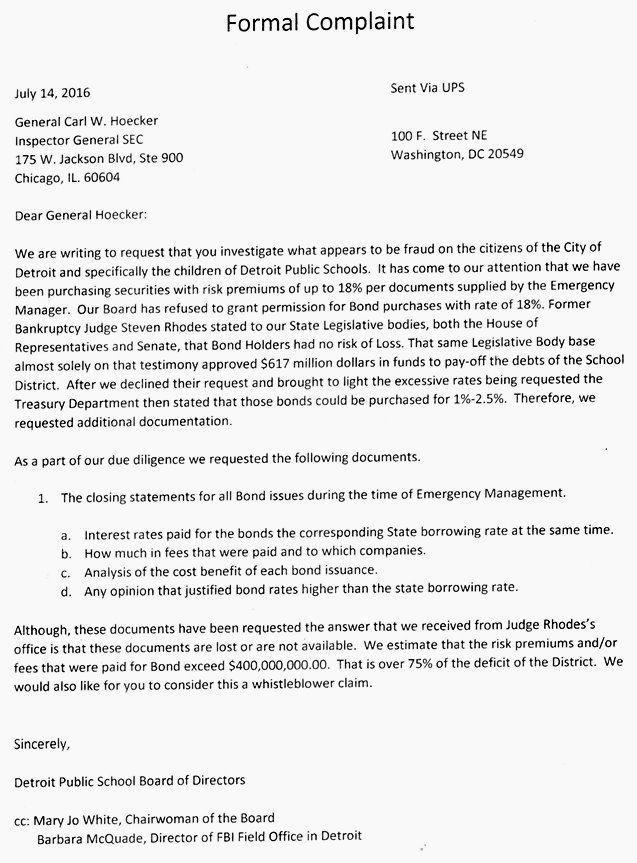 ---
A class action lawsuit was filed July 7 by Helen Moore, founder of Keep the Vote No Takeover, and other plaintiffs alleging that the state's actions against DPS violate both the Michigan and U.S. Constitutions. Despite the fact that the lawsuit asks for an emergency Temporary Restraining Order, Court of Claims Chief Judge Michael Talbot has not scheduled a review of the case until October 10, 2016, long after the school year starts, according to the case's register of actions.
The lawsuit says that Public Acts 192-197 are "local acts," meaning a two-thirds vote from the State House and from the Senate, along with the approval of Detroit electors, were required to pass them. It also says they violate the 14th Amendment by depriving Detroit children of equal protection and due process under the law.
Dr. Thomas Pedroni, an Associate Professor of Curriculum Studies and Critical Education Policy Sociology at Wayne State University, debunked allegations by Rhodes and others that they have to hire uncertified teachers because they cannot find enough certified teachers for Detroit.
"Dr. Maria Ferreira, of the national Woodrow Wilson Fellowship Foundation, has provided a pipeline for some of the teachers best trained for urban districts to come into DPS," Pedroni said. "But none of the applications from the candidates she put forward have even been considered. Many applications submitted under Emergency Managers Jack Martin and Darnell Earley were left untouched. EM Rhodes has acknowledged that he knows this."
A DPS teacher told the board that she has many certified teacher friends who have applied over and over to DPS, only to be turned away. She said non-certified teachers from "Teach for America," who had been teaching in the Educational Achievement Authority schools, often "went out for lunch in the middle of the school year and never came back."
Tahira Ahmad, president of the Community Task Force for Education, said, "This is nothing but genocide. Crime is soaring, people have become hopeless. One person miseducated means a whole society miseducated."
Board member Wanda Akilah Redmond agreed.
"When we miseducate our children, you will see our children with guns in hand, robbing people," she said. "Next time you see a child with a gun, know that you helped make that decision."
Elder Helen Moore said, "I don't do second-class citizenship. The U.S. is in deep trouble today because of discriminatory practices everywhere and now they are being perpetuated here in Detroit."
Board member Elena Herrada told the loan board, "I don't support this racist and unequal plan for DPS. Just as the children of Flint were lead poisoned because of Public Act 436, the children of Detroit are being forced into an inferior education."
Muqarrabah Miyzaan, who worked at DPS for over 30 years, said conditions are already so bad that children frequently don't have teachers in their classes. 
"Our children were ahead in school before the 1999 state takeover," she said. "Now they are suffering. The district's debt is up, and our assets are being absorbed, putting us in the negative."
The Loan Board, whose members are State Treasurer Nick Khouri, Budget Director John Roberts, and Licensing and Regulatory Affairs Director Shelley Edgerton, conducted hardly any discussion before voting unanimously for the loans and for the transfer of DPS assets to the "community district."
Khouri alleged that the interest rate on the debt could fluctuate with the market and might end up as "low" as 4 to 5 percent.
Related documents:
Board of Education document opposing Rhodes' proposals
http://voiceofdetroit.net/wp-content/uploads/DPSboardquestions.pdf
Lawsuit against DPS dissolution:
http://voiceofdetroit.net/wp-content/uploads/DPS-BE-lawsuit-Court-of-Claims.pdf
State Financial Review Committee package on DPS dissolution bills, etc.
http://voiceofdetroit.net/wp-content/uploads/FRC-Meeting-Packet-6-24-16_1-Special-Meeting-for-DPS-Oversight.pdf
Related stories:
http://voiceofdetroit.net/wp-content/uploads/The-Parthenon-Group.pdf
http://voiceofdetroit.net/2016/07/07/wall-street-greed-death-of-detroit-public-schools-fight-back-in-court-on-streets/
http://www.globalresearch.ca/detroit-public-schools-a-case-study-in-american-apartheid/5534407
http://voiceofdetroit.net/2016/04/24/state-war-on-detroit-public-schools-continues-selling-black-children-to-the-highest-bidder/
http://voiceofdetroit.net/2016/05/06/genocidal-snyderrhodes-plan-harms-detroit-public-school-children-workers-residents/
http://voiceofdetroit.net/2016/03/29/detroit-kids-in-danger-bills-end-dps-pay-off-banks-with-state-control-tax-levies-closings-charters/
http://voiceofdetroit.net/2014/11/15/detroit-bankruptcy-plan-genocide-in-usas-largest-black-majority-city-rich-get-95-9-poor-get-13-5/
http://voiceofdetroit.net/2013/12/04/detroit-bankruptcy-eligibility-decision-unprecedented-worst-in-the-country/
#SaveOurKids, #SaveOurChildren, #SaveDPS, #StopSchoolClosings, #MoneyforEducationnotforBanks, #MoneyforEducationnotforwar, #BlackLivesMatter, #BlackLivesMatterDetroit, #BlackEducationMatters, #Beatbackthebullies, #StandUpNow, #StoptheWaronBlackAmerica, #DefendPublicEducation