CHANGE.ORG PETITION AT
"For Covid-19, prisons, jails and other detention centers are arguably the worst environment to be living in. These populations are uniquely vulnerable to the virus." — NBC news opinion piece Dec. 9
Michigan among only 11 states that have NOT specifically prioritized prisoners for vaccine distribution; 28 others have put prisoners in top tiers
MDOC ranks among top 5 states in nation for COVID-19 infections, deaths; deaths now at 104; active cases range from 50-77% of  facility populations
Gov. Whitmer, MDOC and MDHHS officials have left prisoners to die with inadequate COVID-19 relief measures to date
By Diane Bukowski
December 17, 2020/Updated December 21, 2020
DETROIT, MI– Worried family members of Thelonious "Shawn" Searcy, whose case for exoneration has been extensively covered by the Voice of Detroit, say that he has now tested positive for COVID-19 a second time after recovering from an active case months ago.
He is evidently among 115 MDOC prisoners who have tested positive twice, as reported by Angie Jackson of the Detroit Free Press  See: State reviewing possible COVID-19 reinfections in Michigan prisoners (freep.com).
Searcy is awaiting a Court of Appeals hearing on his case, ordered by the state Supreme Court after Wayne County Third Circuit Court Judge Timothy Kenny's 2018 denial of his motion for relief for judgment. During a stunning evidentiary hearing that year, self-admitted hit man Vincent Smothers confessed to the murder for which Searcy has been locked up since 2004. A corrected forensics report showed that a .40 caliber bullet in the victim's body did not come from the .45 caliber gun the prosecution identified at trial as the murder weapon, testimony the trial jury never heard.
Searcy is among thousands of prisoners in the MDOC with likely valid innocence claims who have been locked up for decades. His family wants to know WHY he and others could actually DIE from COVID-19 for a crime he did not commit. He has been transferred to Macomb Correctional Facility, which has one of the highest rates of infection in the MDOC.
"Judge Kenny has put an innocent man in harm's way," Searcy's fiancee Quintasha McCroy told VOD. "He chose to overlook the prosecutor's deliberate lie about ballistics evidence and and the confession by Vincent Smothers."
Advocates for prisoners say none, whether innocent or guilty of the crimes with which they were charged, should face death in prison due to COVID-19.
MI. SUPREME CT. GRANTS REHEARING TO THELONIOUS SEARCY: HITMAN CONFESSED; JUDGE, AP LIED TO JURY | VOICE OF DETROIT: The city's independent newspaper, unbossed and unbought
Thelonious Searcy | Actual Innocent Prisoners
"We don't have the death sentence in Michigan," said Monica Jahner, who is formerly incarcerated and works with people returning home from prison through the Ingham County program Advocacy, Reentry, Resources, and Outreach.
Many prisoners and advocates have condemned what they say is the lack of action taken to protect MDOC residents so far by Michigan Gov. Gretchen Whitmer and other state officials, including expeditious release of prisoners from quarters that can be construed as COVID-19 death traps.
Kairi Sanders, who is incarcerated at the Muskegon Correctional Facility, told VOD that MDOC administrators passed out forms this week asking whether prisoners are willing to take the COVID-19 vaccine, with no details about the vaccine itself, its manufacturer, or other issues like side effects. He said people were told it would go to those 65 and over first, with a trickle-down after that, with no time frame cited.
Over 80 percent of Muskegon prisoners have tested positive for COVID-19, and nine have died.
"So many things have just been crazy," Sanders said. "Every time they bring in a new  medication, they give it to us first, then come back LATER to give us information on it. The guys are like, 'what vaccine you're considering,' 'who's it from,' and so on. A lot of guys don't want to take it. Meanwhile, while they're waiting for the vaccine, we're in danger. They're double-bunking cells, overcrowding the units, and have closed our school buildings so we can't get programming needed for parole."
He said the majority of MDOC prisoners are there on parole violations or past their earliest release date because on the lack of available programming, issues that many advocates have been raising for months.
"Gov. Whitmer could have downsized half the population and spread everybody around to allow social distancing," Sanders added. "Meanwhile, they're not testing employees on a regular basis. They only give guards temperature checks when 95 percent of the prisoners who've tested positive didn't have a temperature.  But we're taking nasal swabs and even if a guy tests positive they're allowing him to walk around other units for days although test results come back in one day."
Sanders said MCF residents are constantly being moved around, from "close contact" units to COVID-19 units and back again, causing infections to increase. He said he was moved to "close contact" because his cellmate had symptoms. Those with symptoms are sent to the COVID-positive unit for a few days, then come back to close contact units and infect others.
Pamela Moore wrote VOD, "Something needs to be done about so many prisoners not being released [on parole] because of unfinished classes. There are probably over 200 inmates being held because of it. And it shouldn't count against them because due to COVID-19, classes kept being cancelled. Even before COVID-19 inmates were having trouble getting the required classes done. Some of the classes can be done in the community. But it's like the governor and MDOC don't care about the lives of inmates. So many have passed away because of COVID but they could've been avoided if the governor would've done more for prisoners. Inmates' lives are just as important as ours."
A.M.A., SCIENTISTS: VACCINATE PRISONERS AS PART OF TIER I NOW 
Meanwhile, as vaccines approved by the (FDA) are now rolling out across the country, the American Medical Association and John Hopkins' Center for Health Security, among others, are demanding that the 2.2 million victims of mass incarceration in the U.S. be in the first tier of recipients. They note prisoners are four times as likely as the those in the general population to be infected.
"As we approach 300,000 pandemic-related deaths in the United States, we can't forget that the five largest Covid-19 clusters are in prisons," justice reform activist Ashish Prashar and DeAnna Hoskins, CEO of JustLeadershipUSA, wrote in an NBC News opinion piece Dec. 9.  "Allocating precious medical resources to people who are serving time may be anathema to much of the public, but elected officials must show some backbone by protecting this highly vulnerable population — for both moral and health reasons."
Prashar and Hoskins say incarcerated and detained individuals face "the reality of the conditions in which they live; in prison, they are unable to maintain social distancing and often have no access to proper medical care. Congregate settings like assisted living and nursing home facilities are already top of the list;  it would follow that detention centers and prisons should also be among the first places vaccines are distributed."
Researchers note that beyond the obvious risk to the people inside prisons, jails, and detention centers, they can circulate the virus back into the general community. Prison employees move between their homes and their place of work, while prisoners circulate back into the community on their release, particularly from short-term stays in jails.
https://www.prisonpolicy.org/blog/2020/12/08/covid-vaccination-plans/"According to more than 40 draft proposals analyzed by the Covid Prison Project and The Marshall Project, in at least six states, incarcerated people will be among the "phase one" recipients of the vaccine, along with medical personnel and essential workers," the Marshall Project reports.  "In many more states, they are slated to receive the vaccine during phase two, as a member of so-called "critical populations." (See graph above.)
But Michigan is among only 11 states that have not specifically prioritized its prison population for vaccine distribution in either phase I or II.
This is despite the fact that Michigan is a national hotspot for COVID-19 infections and deaths in prisons, consistently ranking among the top five states in the country for each.
The Marshall Project reported, "By Dec. 15, at least 276,107 people in prison had tested positive for the illness, a 10 percent increase from the week before. New infections this week reached their highest level since the start of the pandemic. The latest surges have far outpaced the previous peak in early August. California reported nearly 6,000 new cases. The Federal Bureau of Prisons had more than 3,000. Michigan and Pennsylvania had more than 2,000. Arizona and Nevada each saw more than 1,000 new cases."
Deaths among Michigan prisoners are now at 104, according to MDOC figures, or 26 per 10,000, which ranks Michigan third highest among states in the U.S.
Lynn Sutfin of the Michigan Department of Health and Human Services told VOD that MDOC prisoners would receive the vaccine as part of other categories in the MDHHS plan.
"Incarcerated inmates would be prioritized as they fit into the listed phases," Sutfin said. "In Phase 1C, individuals may be vaccinated who are age 65 or older, OR  who are 18-64 with underlying medical conditions that put them at risk of severe illness due to COVID-19 infection. Other incarcerated populations would fall into Phase 2 if they do not fall into the other categories listed.
"It is important to note that vaccination in one phase may not be complete before vaccination in another phase begins. http://voiceofdetroit.net/wp-content/uploads/MI_COVID-19_Vaccination_Prioritization_Guidance_710349_7.pdf"
MDOC spokesperson Chris Gautz said that the department is currently surveying all prisoners 65 years and older and those 18-64 with underlying conditions to see if they are willing to be vaccinated, and should have the results by next week. He said it is unclear how soon vaccines will be available for the MDOC, since the roll-out is just beginning.
But the Marshall Project, the Prison Policy Initiative and others emphasize that SPECIFIC selection of prisoner populations on an emergency basis is necessary to ensure that sufficient vaccine supplies are allotted for them as priority Tier I recipients.
RICARDO FERRELL, RICKY RIMMER-BEY, DARRELL EWING, CARL HUBBARD, EFREN PAREDES ALSO SUFFER FROM COVID-19
In addition to Thelonious "Shawn" Searcy, several other prisoners who have tested positive have connections with the Voice of Detroit, either as writers or subjects of stories on their cases.
VOD has published nearly 40 articles by its Field Editor, Ricardo Ferrell. Ferrell is a leader of "My Life Matters Too," a newsletter published by MDOC prisoners. He is also active on suicide prevention watch inside MDOC, and in numerous prison advocacy organizations. He has been incarcerated since 1982 for a murder that occurred on E. Jefferson across from the Renaissance Center in Detroit, during a period when the Police Department was locking up Black youths en masse to attract businesses to Detroit.  He says his conviction was obtained through police coercion of witnesses. See http://voiceofdetroit.net/wp-content/uploads/My-Life-Matters-TOO-Newsletter-Special-Issue-Death-by-Incarceration-December-2020-2.pdf
Ferrell recently tested positive for COVID-19, one of 825 active prisoner cases at Gus Harrison Correctional Facility in Adrian, 43 percent out of a total population of  1955. Five prisoners there have died from the virus.
Out of a total of 39,902 tests performed on MDOC prisoners since the beginning of the pandemic in March, a whopping 19,074,or 48 percent were positive. The MDOC reports that 6,727 cases are still active and 104 have died.  MDOC Response and Information on coronavirus (COVID-19) | by MI Dept. of Corrections | Medium.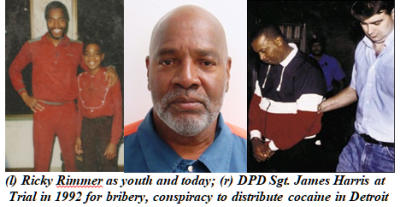 Ricky Rimmer is currently incarcerated at the Richard A. Handlon Correctional Facility, and recently tested positive for COVID-19, where 794 out of 1,233 prisoners have tested positive, 69 percent. Three have died so far.
Rimmer has been incarcerated since 1976 as a result of what appears to be frame-up by Detroit Police Sgt. James Harris, who recently was added to Wayne County Prosecutor Kym Worthy's Brady/Giglio list of police personnel who should not be trusted to testify truthfully. Rimmer was 22 at the time and is now 67. Harris, a member of Detroit's killer cop unit S.T.R.E.S.S. (Stop the Robberies Enjoy Safe Streets),  was charged with murder of a Wayne County Deputy Sheriff and other offenses related to the infamous Rochester Street Massacre in 1971, and later spent 20 years in federal prison for taking $200,000 in bribes to protect international drug shipments coming in to Detroit. MICHIGAN LIFER RICKY RIMMER-BEY: CONVICTED DRUG DEALER COP JAMES HARRIS FRAMED ME FOR MURDER | VOICE OF DETROIT: The city's independent newspaper, unbossed and unbought
Darrell Ewing has been incarcerated since 2010 for murder, but a total of eight judges at state and federal levels have ordered a new trial for him and his co-defendant Derrico Searcy because of jury misconduct. Despite the previous orders, Wayne County Prosecutor Kym Worthy appealed the latest from the state Court of Appeals to the Michigan Supreme Court, although legal experts say there is little likelihood of success there.
Meanwhile, Ewing tested positive for COVID-19 some months ago, at Lakeland Correctional Facility, where 24 prisoners have died from COVID after 58 percent of the population tested positive. His family wonders why the prosecutor is forcing him to remain incarcerated despite the fact that his sentence may become a death sentence. APPEALS CT. UPHOLDS NEW TRIAL ORDER IN 'GANG' SOCIAL MEDIA CONVICTIONS OF DARRELL EWING, DERRICO SEARCY | VOICE OF DETROIT: The city's independent newspaper, unbossed and unbought
Darrell Ewing | Actual Innocent Prisoners
Carl Hubbard is another lifer with a strong innocence claim that has been covered by the Voice of Detroit. He was convicted of murder in 1992 without any physical evidence, based solely on the claim of an acquaintance, Curtiss Collins, that he saw Hubbard in the vicinity of the murder. Police and prosecutors threatened to charge Collins if he did not testify, and went so far as to have him arrested as he left the witness stand after recanting during the trial.
Hubbard just wrote VOD,  "I have been very sick with this COVID-19. They tested me eight times and the last time it came back positive after Thanksgiving.  I have been sick ever since, lost all my taste and smell, and am having chest pains. There have been least three deaths here. I'm in the COVID unit 900 where everybody has COVID. But there is really no treatment going on here because an officer infected everybody here.  There are 240 prisoners with COVID in the unit, and in the whole compound,  2100 prisoners and at least 100 C.O.'s with it as well."
Hubbard has been fighting his conviction pro se; he is now in federal court in front of U.S. District Court Judge David Lawson, and is asking for assistance from attorneys. His pro se pleadings are extremely well-done.
Hubbard is in the Carson City Correctional Facility located in mid-Michigan north of Lansing. MDOC figures for the CCCF confirm Hubbard's estimates, with 77 PERCENT OF PRISONERS testing positive out of 2,506. THERE ARE STILL 1,706 ACTIVE CASES. Four prisoners have died. 
TIME TO FREE CARL HUBBARD; AP GONZALES JAILED KEY PROS. WITNESS AFTER HE RECANTED AT TRIAL | VOICE OF DETROIT: The city's independent newspaper, unbossed and unbought
COMMENTS on COVID-19 VACCINE FOR MI. PRISONERS NOW Petition
I'm signing because my husband is incarcerated with the MDOC. He feels that getting the vaccine will allow them to have some normalcy back. And I would give anything to be able to see him or even just hear some happiness and hope in his voice again.
I believe in second chances. MDOC #LetMIPeopleGO
My L/O was Negative till MDOC moved him to Newberry. Then he tested Positive at Newberry and got stuck in a gym for about a month. They're treating our L/O's like cattle. They do have human rights even though they are incarcerated!!
My loved one is incarcerated and is ACTUALLY INNOCENT!!! These men & women deserve to treated FAR better than they have been!!!  FreeKennethNixon.org
Related Stories:
Correctional Facilities Are COVID Hot Spots, Don't Get Vaccine Priority : NPR
MDOC hits bleak milestone: Over 100 Michigan prisoners have died from COVID-19 (wxyz.com)
IS MICHIGAN USING TRUMP'S COVID-19 'HERD IMMUNITY' STRATEGY TO KILL OFF PRISON POPULATION? | VOICE OF DETROIT: The city's independent newspaper, unbossed and unbought
COPING WITH COVID-19 IN MICHIGAN PRISONS: RALLY BY 'SILENT CRY' FRI. DEC. 11 AT GUS HARRISON CF IN ADRIAN | VOICE OF DETROIT: The city's independent newspaper, unbossed and unbought
STATE OF EMERGENCY IN MICH. PRISONS: COVID-19 CASES, DEATHS SKYROCKET, PRISONER UPRISINGS INCREASE | VOICE OF DETROIT: The city's independent newspaper, unbossed and unbought
U.S. HOUSE BILL: DISMANTLE MASS INCARCERATION, RELEASE PRISONERS FACING COVID-19 DEATH SENTENCE | VOICE OF DETROIT: The city's independent newspaper, unbossed and unbought
MASS MURDER IN MICH.: GOV. SAYS 'NOTHING SHE CAN DO' TO RELEASE MORE PRISONERS AS COVID ENGULFS MDOC | VOICE OF DETROIT: The city's independent newspaper, unbossed and unbought
PROTESTERS URGE WHITMER TO RELEASE MICHIGAN INMATES FACING RISK OF CORONAVIRUS IN STATE PRISONS | VOICE OF DETROIT: The city's independent newspaper, unbossed and unbought
WAYNE CO. JAIL RESIDENTS SAY MANY SICK, DYING WITH COVID-19; MDOC PRISONERS SAY LARGE NUMBERS TOO | VOICE OF DETROIT: The city's independent newspaper, unbossed and unbought
RESISTANCE GROWS TO COVID-CAPITALISM; JACKSON, MS CALLS FOR GEN'L STRIKE MAY 1: BLACK AGENDA REPORT | VOICE OF DETROIT: The city's independent newspaper, unbossed and unbought
LIFER EFREN PAREDES, JR. REPORTS ON COVID-19 IN MDOC; PRISONERS IN GRAVE DANGER WORLD-WIDE | VOICE OF DETROIT: The city's independent newspaper, unbossed and unbought