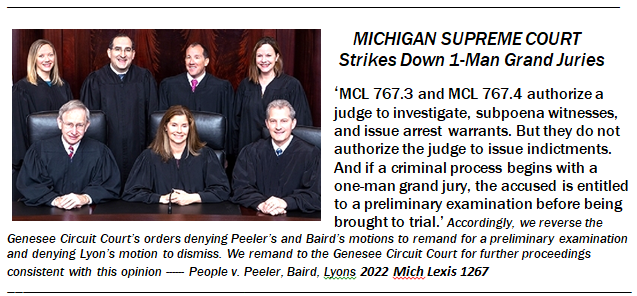 PEOPLE v PEELER, v BAIRD, v LYON, 2022 Mich Lexis 1267. Download at peeler-op.pdf (michigan.gov)
 Judges CANNOT issue charges, MUST hold preliminary examinations
"The Flint water crisis stands as one of this country's greatest betrayals of citizens by their government," but prosecution cannot cut c0rners – Justice Richard Bernstein
"If it's unconstitutional for one, it's unconstitutional for all" — Lillian Diallo, chair of the Wayne County Criminal Defense Bar Association
By Darrell Rashard Ewing
with VOD editor Diane Bukowski
July 18, 2022
DETROIT–Ruling unanimously, the Michigan Supreme Court blew the use of "one-man grand juries" in Michigan courts out of the water June 28. The high court handed down a game-changing decision, holding that state statutes in effect since 1912 "only authorize a judge to investigate, subpoena witnesses and issue arrest warrants. But they do not authorize the judge to issue indictments" which authorize criminal charges against defendants.  (See state statutes at MCL 767.3 and 767.4.)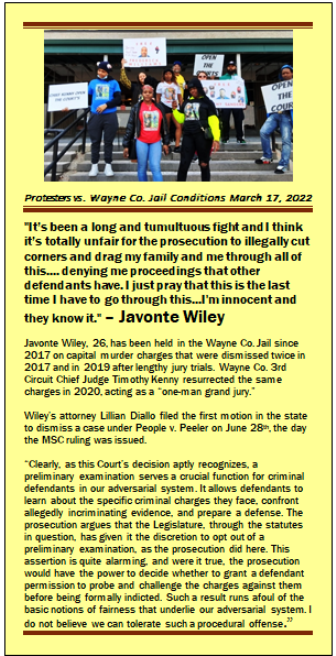 The Court said that even after a judge takes such initial actions, defendants still have the right to "preliminary examinations."
The high court targeted Michigan Attorney General Dana Nessel's use of the one-man grand jury in the criminal prosecutions of former Michigan Governor Rick Snyder and other state officials at the root of the 'Flint Water Crisis' that rocked the nation in 2014.
But the ruling affects hundreds and perhaps thousands of other grass-roots defendants in Michigan as well.
"The Flint water crisis stands as one of this country's greatest betrayals of citizens by their government," Justice Bernstein noted, stressing that the high court still wants justice for the people of Flint. He cites dozens of studies covering the breadth and life-long impact of the harm done to Flint residents by the corporate-sponsored contamination of their water with toxic levels of lead, E. coli, and Legionella bacteria.
"Yet the prosecution of these defendants must adhere to proper procedural requirements because of the magnitude of the harm that was done to Flint residents," he says. "The prosecution cannot simply cut corners in order to prosecute defendants more efficiently."
Instead of teams of special prosecutors issuing criminal complaints and then holding preliminary examinations in open court, at which Snyder et. al. could have heard and challenged the evidence against them, Nessel et. al. shimmied their way through and secretly cut corners.
They proceeded under a hundred-year-old 1912 law, which nowhere authorizes a one man grand jury to hear evidence and criminally indict. Lillian Diallo, one of the most vigorous defense attorneys in Detroit and President of the Wayne County Criminal Defense Bar Association, told Fox 2 News reporter Amy Lange, "I always knew it wasn't right."
Wayne County Prosecutor Kym Worthy responded, "This is a blow to us, in terms of prosecutorial tools." But Prosecutor Worthy has her own name in the Flint game.
Michigan Attorney General Dana Nessel appointed Worthy and former Wayne Co. Asst. Prosecutors Fadwa Mahmoud and Molly Sattler to handle the criminal case against Snyder et. al. She fired key prosecutors on former Attorney General Bill Schuette's team and dismissed the charges they brought against 15 former state and local officials.
Schuette's team did use preliminary exams in those charges. It was also planning to pursue racketeering charges targeting the Wall Street bond market's role in dismantling the Detroit Water and Sewerage Department and privatizing Flint's water services, according to a recent article in the Guardian (see link below story).
Worthy has been one of the only prosecutors in the State to often use the one-man grand jury ("18-20 cases a year"). She claims it is the only way of getting witnesses who fear coming forward and cooperating, to testify.
However, Legal Warrior Attorney Diallo shatters that position:  "They say oh, we can't get the people in to testify, but you get them to come in and testify for a grand jury." That's a point prosecutors can't dispute, and certainly not in the case of the 'Flint Water Crisis'. Residents of Flint steady protest and cry for aid to this day!
It's been uncloaked that the ruling has created another issue as Attorney Diallo made clear: "If it's unconstitutional for one, it's unconstitutional for all." She advised all four hundred attorneys in the Wayne County Criminal Defense Bar Association to immediately file motions for dismissal for any clients of theirs who were indicted under this now indisputably illegal one-man grand jury procedure.
"If you ask me even those in prison should be let out" she added, " If you want to retry them release them, then retry them. Starting with a preliminary exam. "
Related:


VOD's stories on the Flint water crisis, including this 2015 article, with links to other VOD Flint coverage. It begins: 
"The mass lead poisoning of the people of Flint, Michigan, a cold-blooded act of domestic terrorism, was contrived for the profit of the Wall Street bond market, corporations and politicians by both Republicans and Democrats with their own agendas." BI-PARTISAN DEAL LED TO FLINT WATER POISONING FOR PROFIT: THE KAREGNONDI WATER AUTHORITY (KWA) | VOICE OF DETROIT: The city's independent newspaper, unbossed and unbought

Picking up on VOD's depiction of water poisoning for profit,  the Guardian newspaper published this article analyzing the Flint prosecutions in Jan. 2021. It begins:
"The former criminal prosecution team investigating the Flint water crisis was building a racketeering case against state officials. Then the team was dismantled."  Revealed: the Flint water poisoning charges that never came to light | Flint water crisis | The Guardian
##################### #####################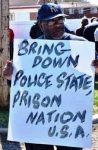 VOD's staff lives either on limited fixed incomes or is incarcerated. We are not paid; we publish the newspaper pro bono. Our web publisher, HostPapa, charges $460.00 every 3 months to keep VOD on-line. That quarterly bill is coming due next month on Aug. 4. PLEASE HELP US KEEP THIS UNIQUE NEWSPAPER ONLINE BY CHIPPING IN WHATEVER YOU CAN AT OUR GO FUND ME PAGE:
                            DONATE TO VOD 
(Contact editor for details on other ways to send funds, at 313-825-6126 or diane_bukowski@hotmail.com.)
######

#####################################