Detroit cop DeWayne B. Jones slugged Sheldy Smith, naked and in distress,  9 times in the ER at Detroit Receiving Hospital Aug. 1,  2018
Jury found Jones guilty of misdemeanor assault in 2019, but he won new trial set  for Sept. 8 on appeal; final pre-trial rescheduled to Aug. 10
"It's Not Over — Justice for Sheldy Smith!"–Marilyn Jordan, President, Detroit People's Task Force
"It's not only Jones, it's the entire system," — Scotty Boman, Pres. DRACO: Police union, dozens of cops supported Jones' assault on woman
Activists say Jones must be removed from the DPD and have felony charges reinstated
By Diane Bukowski
August 2, 2022
DETROIT — Four years to the day after Detroit Police officer DeWayne B. Jones viciously beat Sheldy Smith, a young Black woman in mental distress, in the Detroit Receiving Hospital ER while she was naked,  Detroit activists swore that they will never let Jones or the criminal justice system off the hook. They demanded that he be fired and have felony charges reinstated against him.
Members of Detroit Residents Advancing Civilian Oversight (DRACO), the Detroit People's Task Force, the National Action Network, schools and church activists gathered outside 36th District Court Aug. 1, where a court hearing on charges against Jones was scheduled, pending a second jury trial set for Sept. 8. Jones had appealed a 2019 guilty verdict on misdemeanor assault charges, and won a new trial.
"It's not over," Marilyn Jordan, president of the Detroit Peoples' Task Force said. "Our system is not broken. It does exactly what it is supposed to do. We're not just gathering here because we want justice. We know justice is not given, it has to be taken. Justice for Sheldy Smith!"
On August 1, 2018, Jones took Smith to the Detroit Receiving Hospital ER after picking her up on a  "lewd and lascivious" call at Brainard and Trumbull. She was unclothed and non-resisting, evidently having a breakdown. But after she was in the ER and again naked, he assumed a boxer's stance and slugged her nine times in the face and chest, severely injuring her, in view of other officers, hospital staff and patients. One observer secretly videotaped the attack. Jones and police union President Mark Diaz claimed Smith was out of control and attacked him.
"A person can definitely be maimed by someone biting onto them so the officer did what he felt at that time was appropriate," Diaz told Channel 4 News in 2018.
In 2018, the Detroit chapter of the NAACP issued a lengthy statement condemning that assault on Smith, but has not commented since. (See box below for excerpts.)
Scotty Boman, head of Detroit Residents Advancing Civilian Oversight (DRACO), said dozens of police officers turned out at a 2018 Police Commission meeting to support Jones against a disciplinary suspension, testified that he acted appropriately, and that they would have done the same thing.
"It is not just about Jones," Boman observed, "it's about the entire system."
"Dewayne Jones was able to get a promotion in spite of being a convicted violent criminal," he explained. In spite of the conviction he wasn't held accountable.  Now he is trying to be exonerated while Sheldy Smith remains captive and isolated from her family.  This isn't justice."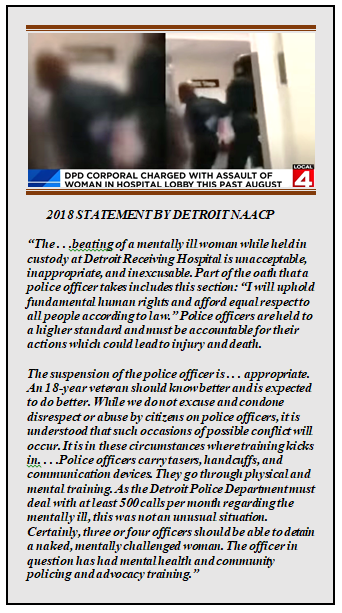 Pastor Eric Blount, of Sacred Heart Catholic Church, said he attended a private meeting with former DPD Chief James Craig where police bodycam videos were shown.
"Please do not believe the false narrative that she was trying to bite someone," Blount said." Channel 4 News reported that Smith was "passive" and non-resisting when Jones first picked her up.
Boman said Smith has never been able to speak for herself because she has been kept out of public view under a guardianship set up by Wayne County Probate Court. Notoriously abusive guardian Mary Rowan, who was profiled in an earlier series of VOD stories. has been assigned to her case. Smith's sister has continued appealing the guardianship in ongoing court proceedings.
Wayne County Prosecutor Kym Worthy originally charged Jones with a felony count of "misconduct in office," and misdemeanor assault. A legal observer told VOD that Jones should have also faced a felony weapons charge since he was armed with his DPD-issued gun during the assault.
Thirty-Sixth District Court Judge Kenneth King dismissed the felony "misconduct in office" charge without prejudice, meaning it can be re-instated, before a jury trial in 2019.
The jury found Jones guilty of the misdemeanor charge. King sentenced him only to one-year probation and various corrective measures like anger management classes.  Jones appealed the verdict and sentence citing improper jury instructions.
Judge E. Lynise Bryant heard the appeal and granted him a new trial. She continues to preside over his hearings.
In the interim, DPD promoted him to sergeant, overriding a vote by the Detroit Board of Police Commissioners. The BOPC did not appeal the DPD's action. Instead, they voted to reinstate him to the force as Sergeant Jones after his suspension was over.
Sheldy Smith's sister Ashley Smith told Detroit News reporter Oralandar Brand-Williams last year that she was outraged by Bryant's decision to grant Jones a new trial.
"It is ridiculous that the city of Detroit stood behind police brutality again," Smith said. "Everywhere else, cities are trying to improve relations with their communities, especially in light of the George Floyd case . . . not promote (officers accused of wrongdoing) . . . not be behind them. Yet the city continues to protect him. This is gross negligence. It's disrespectful. We saw him beating my sister on video."
RELATED:
JUSTICE FOR SHELDY PRESS RELEASE, D.R.A.C.O.
http://voiceofdetroit.net/wp-content/uploads/8-1-2022Justice4SheldyRelease.pdf
DETROIT COP DEWAYNE JONES BEAT MENTALLY ILL WOMAN AT HOSPITAL, GOT PROBATION, THEN GOT PROMOTED | VOICE OF DETROIT: The city's independent newspaper, unbossed and unbought
WAYNE CO. PROBATE JUDGE TERRANCE KEITH, GUARDIAN MARY ROWAN FORCE VET GAYLE ROBINSON, 84, TO FLEE | VOICE OF DETROIT: The city's independent newspaper, unbossed and unbought
SERIAL KIDNAPPER? ATTY. MARY ROWAN TAKES SECOND ADULT WARD FROM HOME WITHOUT COURT ORDER | VOICE OF DETROIT: The city's independent newspaper, unbossed and unbought
ROSA PARKS' GODCHILD MAILAUNI WILLIAMS FOUND; JUDGE GEORGE, GUARDIAN ROWAN REMOVED FROM CASE | VOICE OF DETROIT: The city's independent newspaper, unbossed and unbought
::::::::::::::::::::::::::::::::::::::::::::::::::::::::::::::::::::::::::::::::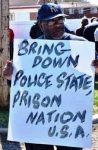 VOD's staff lives either on limited fixed incomes or is incarcerated. We are not paid; we publish the newspaper pro bono. Our web publisher, charges $460.00 every 3 months to keep VOD on-line. That quarterly bill is coming due shortly . PLEASE HELP US KEEP THESE STORIES ON THE POLICE STATE AND PRISON NATION COMING BY CHIPPING IN WHATEVER YOU CAN AT OUR GO FUND ME PAGE:
                            

DONATE TO VOD

 
(Contact editor for details on other ways to send funds, at 313-825-6126 or diane_bukowski@hotmail.com.)
::::::::::::::::::::::::::::::::::::::::::::::::::::::::::::::::::::::::::::::::