Sixth Circuit opinion in Hill v. Snyder (2) leaves 70 percent without relief, waiting without a sentence for nearly six years
MCLA 771.1 says sentencing cannot be delayed for more than one year
Ruling restores good time credits, corrective programming for others, after remand to U.S. District Court Judge John Corbett O'Meara
But ruling "opens door" to other avenues of relief for the Michigan 247
By Diane Bukowski
December 23, 2017
DETROIT – A Sixth Circuit Court of Appeals decision in Hill v. Snyder (Second Amended Complaint), rendered Dec. 20, brought joy to some of Michigan's 363 juvenile lifers who have already been re-sentenced under U.S. Supreme Court mandates.
It upholds their right to "good time" and "disciplinary" credits, barred under two draconian 2014 state statutes solely for their class, and validates their claim that they were denied corrective programming while serving life sentences.
Dozens of JLWOPer's resentenced in the last year and a half still face prison time ranging from two to 30 years before they can see the parole board under the state statutes, although their sentences are now considered unconstitutional from day one. Restoring good time and disciplinary credits to these prisoners would shorten the time before parole eligibility. Implementing corrective programming would heighten their chances before the parole board.
See full decision at http://voiceofdetroit.net/wp-content/uploads/Hill-v-Snyder-6th-Circuit-12-20-17.pdf .
But the panel of three justices, all appointed by Democratic presidents, provided little relief for 247 state juvenile lifers, for whom Michigan's prosecutors recommended renewed life without parole, although it did open the door for alternative solutions.
The "Michigan 247" are currently in limbo as to when, if ever, they will be re-sentenced, as they continue to age towards possible death in prison. They have been without sentences since 2012, nearly six years.
The panel summed up the plaintiffs' case as follows: "The SAC alleges that: Section 791.234(6) [state lifer law] continues to be enforced against Plaintiffs in violation of the Eighth and Fourteenth Amendments (Count I); Michigan's amended sentencing scheme violates the Eighth Amendment by subjecting juvenile offenders to sentences of life without parole (Count II); Michigan's policies and procedures governing parole deny Plaintiffs a meaningful opportunity for release in violation of the Eighth and Fourteenth Amendments (Count IV); the deprivation of Plaintiffs' good time and disciplinary credits in Section 769.25a(6) violates the Ex Post Facto Clause (Count V); and Defendants have failed to provide the Plaintiffs with access to programming, education, training, and rehabilitation opportunities in violation of the Eighth and Fourteenth Amendments (Count VI)."
It struck down Count I as moot, declaring that state statutes instituted in 2014 to provide for re-sentencing had changed the legal landscape.
But the panel added, "In affirming the district court's dismissal of Count I as moot, we do not mean to say that an individual stuck in carceral limbo pending resentencing may never challenge his continued confinement—an unwarranted or impermissible delay in resentencing sounds in procedural due process."
It also struck down Count II, declaring, "Count II functionally asks us to declare sentences of life without parole for juvenile offenders unconstitutional. Such a ruling would necessarily implicate the duration of Plaintiffs' impending sentences by imposing a ceiling, and Heck therefore requires Plaintiffs to follow a different legal path to obtain the relief. Fortunately, multiple avenues remain open for Plaintiffs to challenge life imprisonment without parole, including direct appeal and habeas."
The Sixth Circuit justices upheld the remaining counts and remanded the case to U.S. District Court Judge John Corbett O'Meara for further hearings in compliance with their ruling.
The American Civil Liberties Union and its co-litigants in Hill v. Snyder (SAC) had contended that an absolute bar on juvenile life without parole was necessary to remedy the egregious situation in Michigan, noting that [now 30] states have now barred JLWOP in one form or another. The U.S. is still the only country in the world that imposes this sentence. In fact, it is one of few countries in the world that impose life without parole sentences for any defendants.
"Michigan prosecutors apparently believe that seventy percent of the Plaintiffs present rare and uncommon cases of 'irreparable corruption' Miller, 567 U.S. at 479–80," the Sixth Circuit panel noted. "Approximately 250 class members face prosecutorial motions requesting that they again receive sentences of life without parole."
Michigan has the second highest number of juvenile lifers in the country; at least 70 percent are people of color.
But instead of condemning the prosecutors' recommendations as blatant, racist violations of the U.S. Supreme Court's rulings in Miller v. Alabama (2012) and Montgomery v. Louisiana (2016), similar to Southern states' refusal to honor Brown v. Board of Education (1954), the Sixth Circuit excused the recommendations by citing an issue not even part of the case.

"These individuals will eventually be resentenced under Sections 769.25 and 769.25a, but two cases pending before the Michigan Supreme Court have delayed their Miller hearings. See People v. Skinner, 889 N.W.2d 487 (Mich. 2017) (mem.); People v. Hyatt, 889 N.W.2d 487 (Mich. 2017)," the Sixth Circuit said. "Skinner and Hyatt address the amended statutory provisions that authorize judges—not juries—to make factual findings regarding the Miller factors when sentencing juvenile offenders to life without parole. Although that issue has not been raised in this case, Skinner and Hyatt have nevertheless delayed the Michigan sentencing and appeals processes for youth offenders convicted of first-degree murder."
The panel said further, "The delay in resentencing endured here certainly gives us pause. But resentencing pursuant to Sections 769.25 and 769.25a, although slow, is inevitable. Michigan has already resentenced nearly all of the class members not facing a prosecutorial motion for a renewed sentence of life without parole."
Charles Lewis, one of the 247 juvenile lifers facing another LWOP recommendation, stressed that the state is violating MCL 711.1 in all of their cases. He has been in prison for 41 years since the age of 17, and has become a highly skilled "jail-house" attorney during that time.
"If you are a juvenile lifer and you have not been resentenced know that your current incarceration is a direct violation of MCLA 771.1," Lewis said. (See box). "All sentences in Michigan must be done in one year. See People v West, 100 Mich App 498 (1980)."
People v. West at http://voiceofdetroit.net/wp-content/uploads/PEOPLE-v-WEST-100-Mich.-App.-498-299-N.W.2d-59.pdf .
He added that Michigan's 247 must educate and fight for themselves.
"Most of us have been waiting longer than one year to get resentenced," Lewis said. " You can't expect your lawyer to fight for you because many juvenile lifers are represented by the State Appellate Defenders Office (SADO). SADO will not challenge MCLA 769.25 and they will not challenge the judges and prosecutors for the delayed sentences.
"I am currently a clerk in the law library. In the course of a week I may see one juvenile lifer in the law library. Most juvenile lifers couldn't tell you the elements of the crime that they were convicted of. Most can't explain Miller v Alabama. Knowledge is power and it is imperative that we empower ourselves. Our circumstances won't change without a fight." Lewis then cited Frederick Douglass' famous speech as below: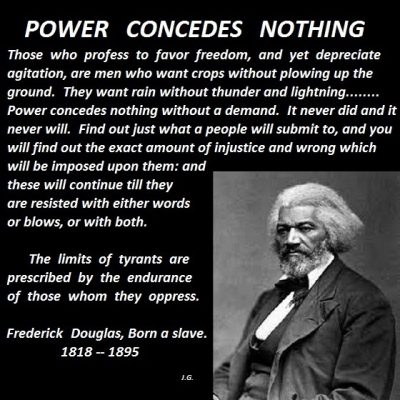 It is not known yet whether the plaintiffs in Hill v. Snyder will appeal their case to the U.S. Supreme Court, to which President Donald Trump has already appointed a new justice, Neil Gorsuch, since the Miller and Montgomery rulings.
Meanwhile, the Sixth Circuit has remanded the case to District Court Judge John Corbett O'Meara for correction of his original dismissal of the entire case, a process that will likely consume more months for the plaintiffs and defendants, and more precious time for juvenile lifers.
Juvenile lifer Efren Paredes, who heads the Juvenile Lifers for Justice campaign, suggested immediate action on a state level.
"Our focus right now needs to be on urging legislators to uniformly implement new sentences for the remaining people that have to be resentenced and revise MCL 769.25 so that they can receive sentences such as 15- to 30-year minimums and change the maximum sentence allowed from 60 to 40 years. It would save the state millions of dollars for resentencing hearings and be a fair and sensible alternative to sending everyone back to get resentenced."
Another juvenile lifer, Cortez Davis, resentenced to 25 to 60 years earlier this year, has already appealed, through his attorney Clinton Hubbell. Hubbell says the sentence violates ex post facto laws, not only due to the denial of good time credits, but also the replacement of his original, constitutional sentence of 10-40 years handed down by Judge Vera Massey Jones in 1994.
Davis told VOD, "Since the Sixth Circuit recommended expedited action at the District level, I am looking for a decision hopefully sometime in January, and then for a prompt referral to see the parole board, since my good time credits make me parole-eligible now."
"The State of Michigan raised Cortez's mandatory minimum sentence from 10 to 25 years after the fact," Hubbell writes in his brief.
"The Appellant argues that given the choice between the original, constitutional but unprescribed sentence, and the sentence Cortez is serving now after the 2014 law change, the former should prevail and the original sentence should, therefore, be reinstated. As applied to him, the mandatory minimum of 25 years, which was imposed upon him at resentencing pursuant to MCL 769.25a(4)(c), was an unconstitutional increase from his original, constitutional but unprescribed sentence of 10-40 years imposed by the Hon. Vera Massey Jones in 1994.
Hubbell argues that both U.S. and Michigan law prohibit ex post facto actions in criminal cases. "Both ex post facto clauses are designed to secure substantial personal rights against arbitrary and oppressive legislation," he says.
Among other legal precedents, he cites, "In one of the earliest criminal procedure decisions of the US Supreme Court, Calder v Bull, 3 Dall. 386, 390 (1798), the Court defined the scope of the Ex Post Facto Clause. After finding that the term "ex post facto" was a term of art with an established meaning, the Court set forth four ways a law could violate the prohibition:
"[1.] Every law that makes an action done before the passing of the law, and which was innocent when done, criminal; and punishes such action. [2.] Every law that aggravates a crime, or makes it greater than it was, when committed. [3.] Every law that changes the punishment, and inflicts greater punishment, than the law annexed to the crime, when committed. [4.] Every law that alters the legal rules of evidence, and receives less, or different testimony, than the law required at the time of the commission of the offense, in order to convict the offender."
See full brief at http://voiceofdetroit.net/wp-content/uploads/Cortez-Davis-appellate-brief.pdf .
In the Brown v. Board of Education era, the federal government responded to the Southern states' intransigence by sending troops to force the admittance of Black children to their schools. Where are today's troops to liberate prisoners in Michigan who were also children when they were sentenced to die in prison, before they actually die in prison?
Below, Attorney Deborah LaBelle, who argued the Hill v. Snyder case at the Sixth Circuit, discussed the plight of children in the U.S., including juvenile lifers, at a forum held at Marygrove College Dec. 8, before the Sixth Circuit Court decision. On the panel were Johnny Alexander, a parolable lifer sentenced at age 18, and three juvenile lifers, David Walton, Bobby Hines and Edward Sanders, who have finally been paroled after serving 42 years each. Also commenting were Rosie Lewis and Kim Craighead, respectively the mother and wife of two juvenile lifers among the Michigan 247, Charles Lewis and Michael Calvin.
LaBelle said she and the ACLU are pursuing individual class action lawsuits against the prosecutors who have most egregiously violated the U.S. Supreme Court rulings, among other alternate actions.
Below, Edward Sanders, incarcerated at age 17 for a crime in which he was not the shooter, told the audience he was held until his release in November, 2017 in part because he would not "snitch" to police on the actual shooter. All four freed JLWOPer's spoke, but unfortunately, downloads to YouTube of the other three talks were unsuccessful.
Rosie Lewis (with great niece Ava at her right) and Kim Craighead speak out for Charles Lewis and Michael Calvin, part of the Michigan 247 still languishing in prison without sentences.
Related stories:
http://voiceofdetroit.net/2017/12/13/20-yrs-for-walter-scotts-killer-cop-life-death-in-prison-sentences-up-15x-for-others/
http://voiceofdetroit.net/2017/11/30/contrast-between-all-juvenile-lifers-and-gregory-darren-green/
http://voiceofdetroit.net/2017/11/29/prisoners-push-for-success-while-reforming-themselves-and-others-at-thumb-cf/
http://voiceofdetroit.net/2017/11/25/wayne-co-pros-kym-worthys-appt-of-valerie-newman-to-conviction-integrity-unit-called-sham/
http://voiceofdetroit.net/2017/10/17/judge-denies-bond-in-charles-lewis-juvenile-lifer-case-despite-lost-court-record-innocence/
http://voiceofdetroit.net/2017/09/15/cases-seek-absolute-ban-on-life-without-parole-sentences-for-youth-from-u-s-supreme-court/
http://voiceofdetroit.net/2017/09/12/is-it-possible-to-restore-the-judicial-system-in-detroit-with-corrupt-officials-in-office/
http://voiceofdetroit.net/2017/06/23/juvenile-lifers-ex-offenders-advocates-begin-new-chapter-in-battle-for-justice-june-18/
http://voiceofdetroit.net/2017/08/08/juvenile-lifer-re-sentencings-drag-on-in-michigan-nation-as-states-snub-u-s-supreme-court/
http://voiceofdetroit.net/2017/07/15/the-troubled-resentencing-of-americas-juvenile-lifers-the-nation/
http://voiceofdetroit.net/2017/02/20/charles-lewis-must-be-freed-due-to-loss-of-court-file-innocence-sado-withdraws-from-case/
http://voiceofdetroit.net/2017/02/12/rogue-justice-free-another-innocent-detroiter-charles-lewis-now-hearing-wed-feb-15-9-am/
'ROGUE JUSTICE!' FREE ANOTHER INNOCENT DETROITER, CHARLES LEWIS, NOW! HEARING WED. FEB. 15 @ 9 AM.
http://voiceofdetroit.net/2017/01/20/judge-deborah-thomas-charles-lewis-should-have-been-acquitted-sentence-vacated-in-1976-murder/
http://voiceofdetroit.net/2017/01/12/wayne-co-juvenile-lifers-lives-at-stake-only-two-paroled-charles-lewis-hearing-thurs-feb-9-2017/
http://voiceofdetroit.net/2016/10/26/free-charles-lewis-mich-juvenile-lifers-re-sentenced-to-die-in-prison-rally-fri-oct-28/
http://voiceofdetroit.net/2016/10/13/support-for-charles-lewis-mich-juvenile-lifers-strong-at-hearing-oct-11-bring-them-home-now/
http://voiceofdetroit.net/2016/10/07/stop-new-death-penalty-for-mich-juvenile-lifers-rally-tues-oct-11-for-charles-lewis-others/
http://voiceofdetroit.net/2016/09/10/new-hope-for-michigan-juvenile-lifer-charles-lewis-as-others-await-long-delayed-justice/
http://voiceofdetroit.net/2016/09/04/free-charles-lewis-wayne-co-juvenile-lifers-dying-in-prison-rally-at-hearing-tues-sept-6/
http://voiceofdetroit.net/2016/08/02/michigan-files-for-jlwop-for-80-of-juvenile-lifers-fed-court-wants-all-parole-eligible/
http://voiceofdetroit.net/2016/07/26/worthy-others-want-large-portion-of-juvenile-lifers-to-die-in-prison-despite-ussc-rulings/
http://voiceofdetroit.net/2016/05/24/free-charles-lewis-innocent-juvenile-lifer-who-has-spent-41-years-in-state-prisons/
http://voiceofdetroit.net/2016/04/30/why-is-juvenile-lifer-charles-lewis-still-in-prison-16-yrs-after-his-case-was-dismissed/
http://voiceofdetroit.net/2012/10/28/michigans-juvenile-lifers-want-state-to-comply-with-u-s-supreme-court-ruling/
http://voiceofdetroit.net/2012/08/16/michigan-challenges-u-s-supreme-court-ruling-on-juvenile-life-without-parole/
http://voiceofdetroit.net/2012/07/02/us-supreme-courts-juvenile-lifer-decision-brings-hope-to-thousands/
http://voiceofdetroit.net/2012/07/02/nations-high-court-ends-mandatory-life-without-parole-sentences-for-youth/
#FREEMICHIGANJUVENILELIFERSNOW, #FREETHEMICHIGAN247 #ENDMASSINCARCERATION, #ENDSCHOOLTOPRISONPIPELINE