By Diane Bukowski
April 27, 2012 
DETROIT – A large crowd including Detroit Department of Transportation (DDOT) bus mechanics and drivers, and city and union leaders, saluted Leamon Wilson, president of AFSCME Local 312 for 20 years, as a "warrior" and "hero" at his funeral April 15, at Kadesh Missionary Baptist Church. 
Kathy Woodyard said President Wilson carried on his family's legacy. 
"Leamon's grandfather was a coal miner in bloody Harlan County Kentucky, and his father broke the color barrier in the U.S. Marine Corps, receiving a Congressional Medal of Honor," Woodyard said. "He stood and fought for people who couldn't fight for themselves, and he has instilled in us a commitment to community and responsibility." 
Leamon's wife Gail i(nee McCullers) is an attorney who met her husband when she represented Local 312's members. They have one son, Leamon E. Wilson, who is starting college this year after winning an AFSCME Council 25 scholarship by penning a moving tribute to his father and the union struggle.
Click on What AFSCME has meant to our family By Leamon E Wilson for clear text. 
President Wilson passed April 8 at the age of 55, after years of struggle for his mechanics, and to maintain self-determination for Detroiters and control and adequate funding of DDOT. His efforts and those of other city and union leaders stalled the creation of a suburban-controlled "regional authority" for decades, saving the livelihoods of many DDOT workers and limiting service cuts son's essay. 
Retired Local 312 bus mechanic Anthony Brown said he hired in the same day as President Wilson in 1980.
"Before 90 days, he told our fellow members that they were planning to privatize DDOT," Brown said. "I watched Leamon as he read law books and got any local, state and federal material he could get his hands on, preparing himself to take a position on the grievance committee. There are many soldiers who go to battle, but what you really want is a warrior like Leamon. If you worked for DDOT in the last 20 years, you owe your jobs to this man. I got suspended for 30 days pending discharge five times, and he saved my job, my life, my marriage and my home." 
After the city's unilateral imposition of "City Employment Terms" under the 2012 PA 4 "consent agreement," Wilson protected his membership by filing suit under the federal Urban Mass Transportation Act, which requires governments receiving federal transportation funds to honor collective bargaining agreements and otherwise protect workers. 
One Local 312 officer told VOD, "Leamon would file suit at the drop of a hat." For that purpose, he retained militant attorney George Washington for his local, rather than depending on more conservative firms utilized by AFSCME Council 25. 
Elder Carl Graham, now a D-DOT driver, said, "If you were a steward, he made you look extremely well, because you could tell management you would call him. He lived and breathed Local 312, and we will keep his legacy going forth. WE WILL NOT GIVE UP EASILY." 
Many other members related similar personal stories. City Councilwomen JoAnn Watson and Brenda Jones, AFSCME International Vice-President Larry Roehrig, AFSCME Presidents June Nickelberry of D-DOT Local 214, also President of the City of Detroit Presidents' Council, and John Riehl of DWSD Local 207, among others, also gave heartfelt tributes and presented resolutions in honor of their fallen comrade. 
"I wouldn't be in office without Leamon Wilson," Councilwoman Watson said. "He helped me. He stayed on after everyone else had left council meetings on privatization contracts to continue the battle. He fought like Joshua. He was strong and courageous, trying to bring his people to the promised land." 
She said later that Leamon E. Wilson worked in her office as well.
Attorney George Washington recalled that President Wilson always thanked him when they won a legal victory, but Washington said that President Wilson was really responsible for those victories. 
"He was a brilliant and capable man. way more so than people with fancy degrees and making way more money while they run down Detroit," Washington said. "He was a man who represented everything great about the city. Although we can never replace him, we have got to go on with the battle, that's what he would have wanted us to do." 
Despite the heroic battle waged by Leamon and others, Michigan Gov. Rick Snyder signed Public Act 387 into law during the state legislature's infamous 2012 lame duck session. The Act created a Southeast Michigan Regional Transit Authority (RTA) with a 10-member board, only one appointed from Detroit, although DDOT is the largest bus system in the region. All federal funds and other grants will now flow through the authority. Click on RTA mcl-Act-387-of-2012 for full text of RTA Act.
The majority of D-DOT's funding, about $80 million, comes from the federal government. 
One Local 312 member told VOD that in the last months of President Wilson's life, all he could talk about was the battle to stop the RTA. He had retired from his city job, but continued as Local 312 President, planning to leave only after his term expired. President Wilson kept his failing health and eyesight from the view of everyone, particularly management, as he continued the battle. VOD contacted him numerous times over the last year for comments and documents related to its stories on D-DOT and the dismantling of Detroit, and he never failed to provide what was needed.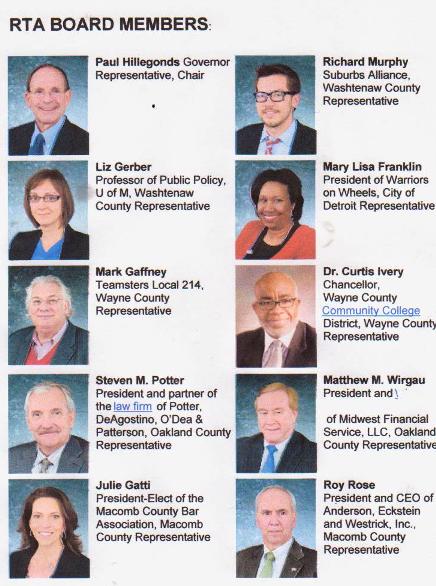 Shortly after President Wilson's death, the Southeast Michigan Council of Governments (SEMCOG) voted April 26 to transfer $7 million in federal funding from DDOT to the Suburban Mobility Transportation Authority (SMART), although DDOT has three times as many riders as SMART. The deal was part of a proposed permanent change of the federal funding formula for the region.
Originally, Detroit got 65 percent and the outlying areas received 35 percent based on the larger ridership and size of D-DOT. Now, the RTA is proposing the change the formula to 51 percent for the suburbs and 49 percent for Detroit.
Earlier, 30 D-DOT buses were also given to SMART.
At the RTA's first meeting, they voted to hire the Miller-Canfield law firm to represent them, the same firm whose attorney Michael McGee co-authored the original "Dictator Act" PA 4 and advised Bing and the Detroit City Council on the disastrous consent agreement. Such anti-Detroit actions are likely to be repeated many times over under the new RTA, ironically vindicating President Wilson's life's work
Many "liberals" supported the RTA. The Huffington Post celebrated its first meeting. Other supporters included Transportation Riders United (TRU), MOSES, and even some members of Occupy Detroit. Sponsors of the bills which led to the RTA included Democratic state legislators Sens. Bert Johnson (D-Detroit) and Rebecca Warren (D-Ann Arbor), and Reps. Fred Durhal (D-Detroit), Thomas Stallworth (D-Detroit), and Phil Cavanagh (D-Redford), among others. 
Before one City Council session, a TRU member loudly blamed D-DOT bus mechanics for the disastrous bus service cuts enacted by Mayor Dave Bing in 2011 and 2012, and heard VOD's equally loud approbation in response.  President Wilson strongly spoke out on this matter at another City Council public hearing, shown in video below.
President Wilson and his mechanics have long complained to city management about cutbacks in their workforce, costly outsourcing of repair work to out-of-state agencies, and the disastrous route cuts that took place after Bing outsourced management of D-DOT. President Wilson helped VOD expose Bill Nojay, who filled the position of Deputy Director under the outsourced management, for violating the Hatch Act when he ran for office in New York State. Nojay is a rabid right-winger who ran a racist talk show from his home town in New York. 
When Nojay left Detroit under the pressure in August, 2012, President Wilson exulted, "That racist is gone!"
The federal Office of the Special Counsel recently refused to find Nojay, Bing, or former Detroit COO Chris Brown guilty under that Act after VOD filed charges based largely on documentation President Wilson supplied.  However, Brown, who was everywhere running the city's business previously and widely hated by city workers and residents, suddenly dropped from view after the exposes, another victory attributable to President Wilson. 
Keith Davis, a cousin of President Wilson's, is also Vice-President of UAW Local 2334, representing City of Detroit Sanitary Chemists. 
"We collaborated on many endeavors with Locals 312 and 207," Davis said. "A union is the sum of all its parts. Management always seems to want to blame the workers for its screw-ups. But he was a warrior, and now we must fight for him. No guts, no glory." 
Ronald Carter said, "I knew Leamon for 20 years, and we always talked politics. We talked about how every year the so-called movers and shakers would go up to Mackinac Island and party, the wolves that put profits before the people. They kill everything, take everything, and give nothing. They come to us with their hands closed. But we are the fighters, and we will follow in Leamon's footsteps."
Later, Local 312 grievance committee person Jon Miller told VOD that Local 312 has a militant history, beginning with its founding in 1942. He said he and President Wilson interviewed former AFSCME Council 77 President Lloyd Simpson before his death. Simpson told them that he was the first Black mechanic to hire into the local, and white workers walked out when he was moved to the engine rebuild floor.
"But later, two white workers came to him and asked him to run for steward," Miller said. "In 1946, Local 312 members voted to affiliate with the United Public Workers of America (UPWA), which was later driven out of the AFL-CIO during the red scare."
AFSCME Local 26, representing DPW workers, had similar roots, originating in the UPWA. The AFSCME International was instrumental in ousting the UPWA. Later, AFSCME Council 77, representing only Detroit locals, was subsumed into Michigan AFSCME Council 25, amid much opposition including that of former AFSCME Local 457 President Hazel Edwards, a heroic leader who fought against the privatization of Detroit's only public hospital, Detroit General.
________________________________________________________________
________________________________________________________________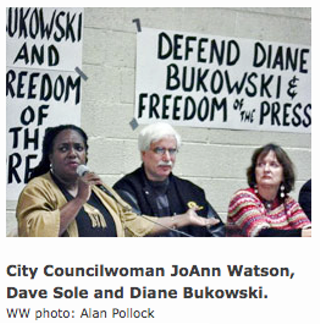 From Diane: I will always remember my dear friend Leamon Wilson and his support for me as I battled false charges related to the murderous State Police chase which resulted in the deaths of James Willingham and Jeffrey Frazier on the day Pres. Barack Obama was elected, Nov. 4, 2008.
Here, Councilwoman JoAnn Watson, UAW Local 2334 Pres. Dave Sole, and myself at defense rally in the AFSCME Local 312 hall. President Leamon Wilson opened his hall to us and spent hours at my trial waiting to testify as a character witness. I deeply mourn his passing, as I mourned the passing of James Willingham, Jeffery Frazier, and the continued assault on the people of Detroit.
LONG LIVE LEAMON WILSON, PRESIDENT OF AFSCME LOCAL 312, AND A WARRIOR FOR THE PEOPLE!
Related article which has links to all recent VOD articles involving Warrior President Leamon Wilson of AFSCME Local 312, as well as clear version of Leamon E. Wilson's tribute to his beloved father.
http://voiceofdetroit.net/2013/04/09/beloved-afscme-union-leader-leamon-wilson-dies-at-55-arrangements-below/
Also see the following which detail some of the actions President Wilson took on behalf of his members and the residents of Detroit over the years. In addition to these, under his leadership, Local 312 was at the forefront of struggles for affirmative action and other progressive causes.
AFSCME Locals 214 and 312 v DARTA
AFSCME Mechanics Cite Lack of Parts to Repair Air Conditioning On Detroit City Buses