1st Degree Murder Conviction overturned in 2018 after exposure of racist remarks by one juror, Facebook postings by others, during trial
Court, media never addressed issue of predominantly white juries in Macomb County
Wilson says he feared facing another biased jury on re-trial, after change of venue not provided
BY RICARDO FERRELL, VOD FIELD EDITOR
With VOD Editor Diane Bukowski
July 1, 2023
MT. CLEMENS, MI – Terry Wilson, a 30 year-old Clinton Township man held in the Macomb County Jail four years awaiting a new trial, entered a guilty plea June 1 to a reduced charge of second-degree murder, in the 2013 death of his childhood friend William Clark during a crowded gathering in a township park.
Macomb County Judge Jennifer Faunce overturned Wilson's 2014 conviction of first-degree murder in 2018, after the discovery on appeal of flagrant racism in jury deliberations, including one juror's use of the "n" word. However, neither she nor most media addressed the issue of Wilson's nearly all-white jury, a common occurrence in that county.
Wilson says he accepted the plea because he feared facing another such jury, after unsuccessfully asking for a change of venue from Macomb County.
Wilson's attorneys Todd Perkins and Mark Clements told  him they expect him to be re-sentenced Aug. 1 to a term of 20-40 years, and two years for a firearm charge, with credit for the 10 years he served since May 2013, under a "Cobbs agreement."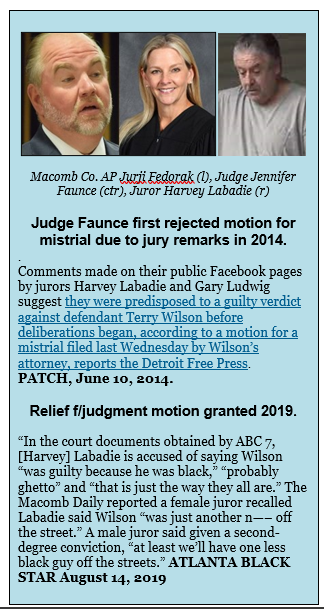 In an interview with VOD's field editor, Wilson expressed relief that this hopefully will conclude this part of an ordeal that's dragged on for too long.
"Everyone knows I didn't intend to kill Willie," Wilson said. "I reacted in self-defense because I honestly felt my life was in danger. That day in the park, when Willie and his brothers approached me, it turned out that they weren't at the party to celebrate my little cousin's birthday, they were there looking to start trouble."
Wilson has always admitted he fired one shot, but says he should have been allowed to argue self-defense, or offered a charge of manslaughter.
But Macomb County Asst. Prosecutor Jurji Fedorak told the jury at the first trial that Wilson "wanted to show how big of a man he is in his neighborhood," among other biased remarks, and insisted on the first-degree murder charge.
Fedorak has continued to handle Lewis' case despite being replaced  as First Chair in Faunce's court by another AP, Ronald Laszczak.
"This judicial system has failed my son and blatantly condoned a racist juror who called my son the N-word to form a biased and racially driven verdict solely because Terry's skin color is different than his," reacted  LaShanda Kelley, Lewis' mother. "A young Black man literally doesn't stand a chance out here in racist Macomb County. I am almost ashamed to call this county my home."
She went on, "We have to ask the citizens of Macomb County, when is enough, enough? What will it take to end the practice of strategically empaneling an all-white jury and giving them the green light to find Black defendants guilty because they don't equal up to their status privilege?"

ADDITIONAL COMMENTS BY RICARDO FERRELL:
Voice of Detroit has covered several Macomb County cases, and found historically that racism is a key factor in why many juries are majority white, while the defendant on trial is Black. Realistically speaking, most jury trials in Macomb County, end with black defendants being found guilty because they've been judged by their race and not the facts of the case.
This fact is particularly true in the case of the subject of this article. Terry Lamont Wilson, faced the uncertainty of receiving a fair and impartial trial, when he was found guilty in 2014 by an all-white Macomb County Jury, and had to endure being called a "n_____" by jury foreman Harvey Labadie. when confronted by Channel 7 Action News reporter Kim Russell at his home, he denied calling Wilson the N-word, and claimed never to have used the racist word in his lifetime, and that he's a Democrat. But his fellow jurors testified under oath to hearing him make the degrading and racist comments inside the jury room during deliberations.
No wonder why Wilson, after four years sitting in the Macomb County jail, decided to accept and agree to a guilty plea to the lesser charge of second-degree murder. Without a change of venue, Wilson didn't stand a chance out there in racist Macomb County, MI. He was doomed from the start, especially once former Macomb County Prosecutor Eric Smith received the request from the Clinton Township Police Department to arrest and charge Wilson with an open count of murder.
That marked the beginning of a never-ending saga of Wilson being treated in a racist way, by the police, the prosecutor, and the judge who was border-line complicit by showing favor to Jurii Fedorak, as he pushed a First Degree Premeditated Murder conviction despite there never being such a crime committed by Wilson. In many instances, plea bargaining is used to bully defendants into accepting a plea and discourage them from going to trial. Wilson didn't want to take the risk of being found guilty by another all-white jury who may not be as vocal as Labadie was during the first trial.
LIFER TERRY WILSON FACES NEW TRIAL IN HISTORICALLY RACIST MACOMB COUNTY; CHANGE OF VENUE NEEDED | VOICE OF DETROIT: The city's independent newspaper, unbossed and unbought
MICH. LIFER TERRY WILSON STILL FIGHTS FOR JUSTICE, BATTLING RACISM IN MACOMB CO./ RE-TRIAL FEB. 2023 | VOICE OF DETROIT: The city's independent newspaper, unbossed and unbought
WRONGFULLY CONVICTED: TERRY LAMONT WILSON RECOUNTS SELF-DEFENSE CLAIM; JURY TRIAL FEB. 7 | VOICE OF DETROIT: The city's independent newspaper, unbossed and unbought
*********************************************************************************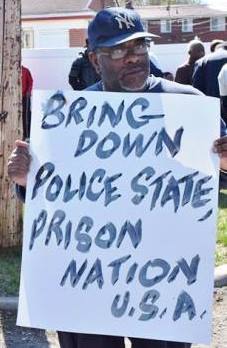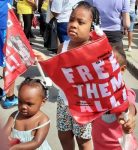 Voice of Detroit is a pro bono newspaper, now devoting itself entirely to stories related to our PRISON NATION and POLICE STATE. Funds needed now to pay quarterly web hosting fee of $460.00, due in August, 2023. VOD will disappear from the web if fee not paid.
VOD's editors and reporters, most of whom live on fixed incomes or are incarcerated, are not paid for their work. Ongoing costs include quarterly web charges of $460.00, P.O. box fee of $180/yr. and other costs including utility and internet bills, costs for research including court records and internet fees, office supplies, gas, etc.
Please DONATE TO VOD at:
 Cash App at $MDianeBukowski (313) 825-6126
************************************************************************************