UPDATE: GWEN MINGO WAS UNJUSTLY EVICTED FROM

HER HOME ON TUES. NOV. 27. SHE IS IN DESPERATE NEED

OF FUNDS AT THIS POINT. TO DONATE, GO TO:
Heroic leader of battle to save Brush Park from wealthy white developers now faced with possible eviction from her own home at 269 Watson
Original mortgagor was Washington Mutual; Madison Capital, LLC, the plaintiff, now Chase subsidiary, claims Mingo delinquent
Developers including Emre Uralli, part of cartel which is trying to seize Bert's Market Place fraudently, are harassing Mingo as well
Mingo's credit insurance paid off mortgage in 2006
Pack 36th District Court hearing in front of Judge Pennie Millender Tues. Nov. 20 at 8:30 AM
Fundraiser Mon. Nov. 19 6pm at the Arc on Hancock and Woodward
By Diane Bukowski
November 18, 2018
By Diane Bukowski
November 18, 2018
DETROIT – Gwendolyn Mingo, the fearless warrior who for years led a coalition of Black home and business owners in Brush Park against a massive takeover by banks and white developers, is asking supporters to pack her court hearing Tues. Nov. 20, 8:30 am in front of 36th District Court Judge Pennie Millender.
She is fighting Madison Capital, LLC's attempt to evict her from the historic Brush Park home at 269 Watson which she has owned since 1996. They are using a fraudulent sheriff's deed claiming she is behind on her mortgage payments. Madison Capital Funding, LLC is a national finance company with $9.1 billion in assets.
"The mortgage was paid in 2006 when my husband passed," Mingo said at an April 14, 2018 hearing in front of Millender. "We had what you call credit life insurance which paid the whole mortgage to Washington Mutual. I have documents that have never been seen by any judge or ruled upon. The U.S. Constitution provides that no citizen shall be deprived of life, liberty or property without due process."
(See filing by Mingo at http://voiceofdetroit.net/wp-content/uploads/Gwen-Mingo-documents.compressed.pdf .)
She is being represented by Attorney Darwyn Fair, who on Nov 19 filed his appearance and these motions: to dismiss the case for lack of jurisdiction; to adjourn and reschedule the Nov. 20 hearing; or in the alternative adjourn the matter until the Michigan Court of Appeals has heard the case.
It is questionable why Judge Millender is even holding this hearing, since Mingo's appeal of rulings on the case by Judge Millender and Wayne County Circuit Court Judge Patricia Fresard is still open in the state Court of Appeals according to their records.
Among the vultures circling overhead is Emre Uralli, one of a gang of developers who are fraudulently trying to seize Bert's Marketplace in Eastern Market from long-time Detroit businessman Bert Dearing.
Uralli, who mis-identified himself as Emre Heinz, repeatedly threw racist, sexist insults at Mingo during a recorded phone conversation, in which he falsely claimed HE bought Mingo's home and that Mingo was living in HIS house rent-free. Uralli may have been a front for Detroit czar Dan Gilbert when he bought the Detroit News and Free Press buildings before flipping them to Gilbert at a huge profit. He has done the same with other buildings in downtown Detroit including the David Stott Building.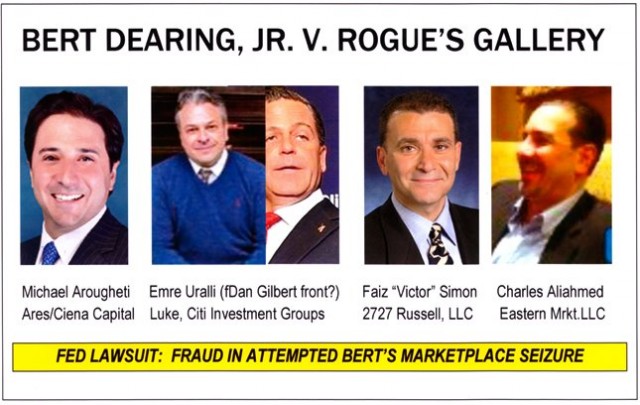 "You lying devil woman, you're going down real quick," Uralli told her, dropping his usual sophisticated demeanor. "You need to apologize to me right now. You're a low-life, low-.class individual taking advantage of the system. You're a very bad person, Sunshine. You have Alzheimer's, dementia, possibly—you need to be hospitalized."
Uralli claimed to BE the Madison Capital Group, LLC, but he is nowhere listed on that company's Michigan filing, or under the name of any other company using the Madison name. He is not listed in the Wayne County Register of Deeds with respect to Mingo's home. As he did in the attempted takeover of Bert's Marketplace, as well as his purchases of building he later sold to Dan Gilbert, he appears to be acting as a front man who uses a variety of tactics to seize land and property, including phony threats.
Millender first ruled in favor of Mingo during an April 14 hearing, reading Mingo's documentary proofs into the record.
"It does seem there are documents that she paid the mortgage so I don't think I have any jurisdiction over this matter," Judge Millender said at the time. "You guys have to do a quiet title action. I am looking at two documents, one reads 'the mortgage is paid off, the mortgagee no longer has an interest in your home,' issued Jan. 29, 2008. There's something in here from Chase that reads $0 is due on all charges."
Millender added later, "I've had a couple of cases where the Wayne County Treasurer sold properties they didn't even own."
But Millender reversed herself at a supplemental hearing April 5. Mingo vigorously appealed that ruling pro se in front of Wayne County Circuit Court Judge Patricia Fresard, in front of a packed courtroom on Sept. 14. Fresard earlier had seized Mingo's case from Judge Robert Ziolkowski, who Mingo says was about to rule in her favor. Fresard ruled against Mingo.
But Mingo appealed Fresard's ruling to the Court of Appeals pro se, and that appeal is still open.
"For years I fought the illegal displacement of the residents of Brush Park," Mingo said, referring to the time she was head of the Brush Park Citizens District Council, when she led a group of residents in filing suit against the takeover. Previously, Brush Park had been plagued with fires likely set by developers with interest in the property, and court actions to remove the mostly Black residents.
It is estimated that over 800 mostly Black residents living in both homes and apartment buildings there were driven out during that period. City officials and developers used tactics ranging from de-funding of the Citizens District Councils, mass evictions, arson, asbestos contamination, arrests (Mingo herself faced ongoing harassment by the police), and likely even murders.

The concerted attack on Mingo is clearly connected to Mayor Mike Duggan and Dan Gilbert's $70 million plan, announced in 2015, to re-develop 8.4 acres of Detroit's 100-acre Brush Park neighborhood. Mingo's home stands in the way of the ongoing gentrification and "white-out" of choice Detroit neighborhoods.
Developers said they would rehab four historic mansions and build 337 units of housing for sale and rent, as well as retail and green space. They announced that home mortgages will be available through Gilbert's Quicken Loans, currently being sued by the federal government for fraudulent lending practices.
Only 20 percent of the housing would be set aside for "low-income" residents, with a household income of $21,060, 80 percent of the city's average median income. Detroit families have a 39 percent poverty rate, with children at 59 percent. Only families with 4 or more members could meet even that income rate.
Duggan earlier announced a $50 million redevelopment of the former Brewster Wheeler Recreation Center in Brush Park, with a restaurant, 150 residential units, and retail stores. That project has been awarded to restaurateur Curt Catallo of Clarkston, Michigan, and Keith Crain of Crain Communications, who has dozens of prestigious addresses ranging from Bloomfield Hills, MI to Vero Beach, FL.
The city also plans to redevelop the 18 acres of land where the former Brewster Douglass housing projects stood, for a total of 30 acres of land. The last of the Douglass high rises were demolished in 2014, completing the goals of President Bill Clinton's "HOPE VI" plan which has razed low-income housing across the U.S.
DOCUMENTS:
Full statement by Gwen Mingo on her case at http://voiceofdetroit.net/wp-content/uploads/Gwen-request-for-help.pdf
http://voiceofdetroit.net/wp-content/uploads/Emre-Uralli-PERSONAL-AND-CONFIDENTIAL-BERT.pdf
http://voiceofdetroit.net/wp-content/uploads/BERTS-MARKET-PLACE-Press-Release_09.21.15.pdf
Related stories:
VICTORY FOR GWEN MINGO: JUDGE PENNIE MILLENDER HALTS EVICTION, RECOGNIZES HOME OWNERSHIP
http://voiceofdetroit.net/2018/02/27/black-history-month-forum-honors-civil-rights-champion-gwen-mingo-forced-out-of-her-home/
http://voiceofdetroit.net/2014/08/20/is-detroits-financial-crisis-caused-by-bank-fraud-and-court-cover-ups-gwen-mingo-court-hearing-fri-aug-22-9-am/
http://voiceofdetroit.net/2010/09/29/detroit-works-project-violate-state-law/
http://voiceofdetroit.net/2015/07/25/downtown-rally-protests-great-black-out-of-detroit-by-white-profiteers-politicians/
http://voiceofdetroit.net/2015/09/30/federal-lawsuit-alleging-fraud-unclean-hands-forestalls-seizure-of-berts-marketplace/
http://voiceofdetroit.net/2015/05/14/duggan-gilbert-target-brush-park-after-murder-arson-evictions-drove-black-residents-out/
BRUSH PARK HISTORIC AREA — CAN WE TRUST THOSE WHO WRECKED IT TO RESTORE IT?
Brush Park articles 1995 to 2004 Michigan Citizen Ron Seigel
On Emre Uralli:
http://detroit.curbed.com/tags/emre-uralli
http://www.crainsdetroit.com/article/20130915/NEWS/309159961/cashing-in-onbuilding-market-pending-deals-show-investor-demand
http://www.crainsdetroit.com/article/20131016/NEWS/131019845/group-from-china-revealed-as-buyer-of-stott-free-press-buildings
http://www.crainsdetroit.com/article/20150722/BLOG016/150729976
http://archive.freep.com/article/20140627/BUSINESS06/306270125/Gilbert-buys-media-partnership-bulding
DONATE TO VOICE OF DETROIT TO KEEP OUR STORIES COMING:
Please note: this is a separate donation page from the GoFundMe page for Gwen Mingo, which is linked at the top of this story. Hit that link if you want to donate directly to Gwen.
Voice of Detroit is published pro bono. You don't have to pay to access our stories. But there are substantial out of pocket costs associated with its publication. Currently we are in desperate straits because the editor has been forced to move due to the sale of her apt. building to greedy developers, so any donation amount is much appreciated. Donate by clicking https://www.gofundme.com/VOD-readers-up.