Crain's Communications celebrates massive cuts to city retirees effective March 1 by honoring Detroit EM Kevyn Orr and Bankruptcy Judge Steven Rhodes as "Newsmakers of the Year" at Motor City Casino Sound Board. (Perhaps Rhodes, shown at right, will bring his rock band "The Indubitable Equivalents".) Call DAREA for more info at 313-649-7018.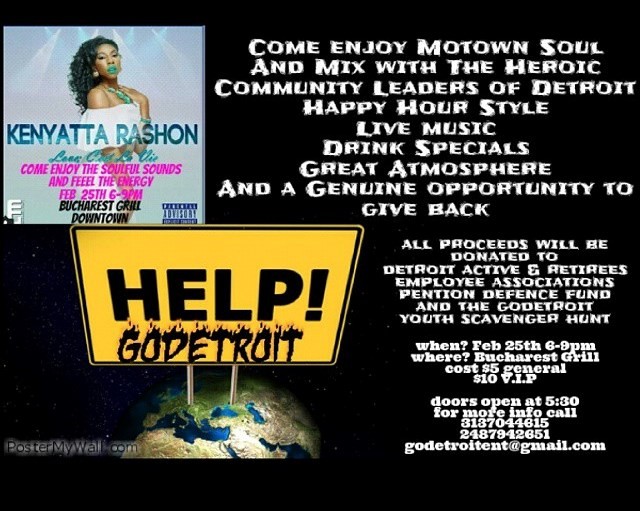 Jones Day (a/k/a Detroit) has filed 291 pp. motion to dismiss DAREA appeal of city bankruptcy.
The Detroit Active and Retired Employees Association (DAREA) and GODetroit are sponsoring the fundraiser above, at a downtown restaurant owned by Jerry Bellanger, a vocal opponent of Mike Illitch's 60 percent publicly-funded re-development plans for a new Red Wings stadium.
This fund-raiser, and other contributions to DAREA for legal expenses, are currently vital because the City of Detroit (a/k/a Jones Day) has just filed a 291-pp. Motion to Dismiss DAREA's appeal of the phony, fraudulent Detroit bankruptcy, being heard in U.S. District Judge Bernard Friedman's court. This bankruptcy affects not only retirees, but also represents the theft of the city's most prime assets, including the Detroit Water and Sewerage Department, which used to be avenues for good, well-paying union jobs with benefits for Detroit's youth.
More to come on the city's motion to dismiss and DAREA's planned response in the Voice of Detroit shortly. Please support DAREA AND GODetroit!
DAREA PETITION:
Sign the petition to halt changes to pensions and other benefits, to  U.S. Justice Department, at http://petitions.moveon.org/sign/selective-enforcement?source=s.icn.em.mt&r_by=9645222.
FUNDRAISING:
To donate to DAREA's LEGAL DEFENSE FUND, click on  http://www.gofundme.com/pensiondefensefund. Or checks can be made payable to the Detroit Active and Retired Employees Association (DAREA), at P.O. Box 3724, Highland Park, Michigan 48203.
General membership meetings Mondays, 11 AM, at Nandi's Knowledge Café, 12511 Woodward, Highland Park, 48203, alternate with Wednesday meetings at 5:30 PM, at St. Joseph's and St. Matthew's Church, Woodward and Holbrook. To receive notices of meetings, updates on the appeal and events information please provide your email address and phone numbers via email at Detroit2700plus@gmail.com or call DAREA at 313-649-7018.
Read DAREA's position statement at DAREA Call.
RELATED:
http://www.crainsdetroit.com/article/20150208/NEWS/302089991/2014-newsmaker-of-the-year-luncheon
https://www.facebook.com/go.detroit.3?fref=ts
http://voiceofdetroit.net/2015/02/03/retirees-carry-on-the-battle-for-detroit-appealing-bankruptcy-to-higher-court/
http://voiceofdetroit.net/2015/01/23/detroit-workers-retirees-filing-briefs-in-8-appeals-of-citys-bankruptcy-plan/
http://voiceofdetroit.net/2015/01/12/detroit-retirees-announce-federal-appeal-of-bankruptcy-call-for-massive-support/