In video above, Searcy speaks from home at June 4 rally for the wrongfully convicted at Frank Murphy Hall in downtown Detroit, 0rganized by Operation Liberation,  founded by Searcy and Darrell Ewing. In video, exoneree Larry Smith (l) and Searcy's wife Tyra Searcy (r) hold portrait.
"The truth has come out, and it is on Searcy's side." Atty. Michael Dezsi
 Appeals Court said Judge Timothy Kenny "abused discretion" by calling hit man's confession 'unbelievable;' cited withheld ballistics evidence
Prison is 'hard enough when you're guilty, but it's twice as hard when you're innocent," Vincent Smothers' confession at 2018 hearing
Searcy remains home after April release on appeal bond granted by newly-assigned Judge Thomas Hathaway 
Wayne Co. Prosecutor's Office: "We will be re-trying this case." 
Justice delayed: hundreds of Wayne County's other wrongfully convicted still suffer behind bars 
By Diane Bukowski 
July 20, 2021
DETROIT—"I'll be glad when this is all over and done with s0 I can finally live my life," Thelonious 'Shawn' Searcy told VOD July 6, as his 17-year battle for freedom from a wrongful murder conviction appeared headed to a successful finish.
In a single sentence that day, the Michigan Supreme Court denied the Wayne County Prosecutor's last-ditch appeal of a Feb. 11 Court of Appeals ruling. The COA vacated Searcy's conviction for the murder of Jamal Segars and wounding of his passenger outside Detroit City Airport in Sept. 2004.
"DENIED," the court said tersely, "because we are not persuaded that the question presented should be reviewed by this Court."
See http://voiceofdetroit.net/wp-content/uploads/MSC-162829-PEOPLE-OF-MI-V-THELONIOUS-DESHANE-EAR-SEARCY2-Order-07_06_2021.pdf,
"The truth has come out, and it is on Searcy's side," attorney Michael Dezsi told VOD.  "The Michigan Supreme Court has declined to take up the case and is allowing the Michigan Court of Appeals decision to stand: that Searcy is entitled to a new trial after new evidence surfaced that exonerates him of the crime."
He explained, "The Michigan Supreme Court made the right decision as there were no grounds to challenge the Court of Appeals decision finding that Searcy is entitled to a new trial.   Searcy is looking forward to being fully and finally exonerated after being wrongfully locked up for 17 years.  If the Wayne County prosecutor doesn't dismiss the charges against him, we are certain that a jury will quickly acquit him of these charges given that someone else has confessed to the crime, and the police withheld key bullet evidence that establishes that Searcy didn't shoot the victim." See full COA ruling at:
http://voiceofdetroit.net/wp-content/uploads/COA-2Thelonious-Searcy-20210211.pdf
At a 2018 evidentiary hearing on the case, admitted hit man Vincent Smothers confessed in detail t0 the Sept. 2004 murder of Jamal Segars and the wounding of his passenger near Detroit City Airport.  Smothers earlier confessed to the four Runyon Street murders in 2007, for which Detroit police and prosecutors framed 14-year-old Davontae Sanford. Sanford was released in 2015 after his case became known world-wide.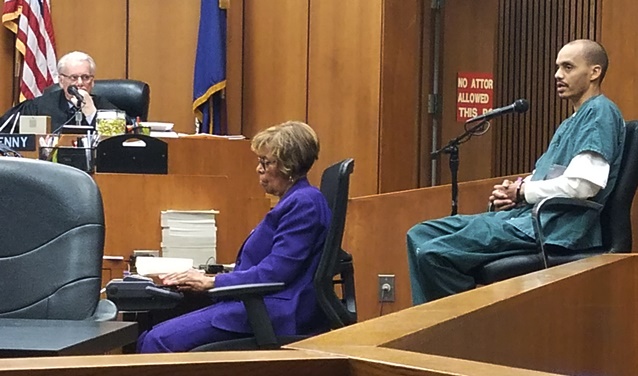 Vincent Smothers (r) testifies in front of Judge Timothy Kenny (l)  March 19, 2018. Kenny ruled on the hearing six months later, just prior to becoming Chief Judge. Judge Thomas Hathaway is currently in charge of the case.
In their opinion, the appeals panel called Wayne Co. 3rd Circuit Court Judge Timothy Kenny's ruling after the hearing that Smothers' confession was unbelievable an "abuse of discretion," because such a determination is reserved for a jury. The panel reviewed Smothers' testimony, given against the advice of his attorney, at length. Defense attorneys say such a ruling against a judge is rare.
The appeals court also cited Asst. Prosecutor Patrick Muscat's suppression of key ballistics evidence during Searcy's trial, aided by Judge Kenny's rulings. Kenny led the jury to believe that bullets from a .45 caliber gun were the only evidence in question.
"Although the jury disregarded the many witnesses who provided alibi testimony on behalf of Searcy at trial, if the jury was aware that the bullet that was found in the murder victim was from a .40-caliber gun and that Smothers was taking responsibility for the crimes, they may have put more stock in Searcy's alibi defense," the panel said. "In sum, when considering the trial evidence in light of the other evidence that would be presented at retrial, we conclude that Searcy has a reasonably likely chance of acquittal. See MCR 6.508(D)(3)(b)(i)(A). Therefore, the trial court abused its discretion by denying Searcy's motion for relief from judgment with respect to Searcy's claim of new evidence relating to Smothers."
Multiple witnesses testified at trial that Searcy was attending a barbecue event at the time of the Segars murder.
VOD contacted Wayne County Prosecutor Kym Worthy's office for comment on the July 6 state Supreme Court ruling.
Maria Miller, press representative for Worthy, replied, "Here is my only comment. WCPO will be re-trying this case."
Working from home, Searcy co-organized a rally by and for the wrongfully convicted outside Worthy's office in the Frank Murphy Hall of Justice on June 4. Hundreds turned out for the event.  DETROIT: FAMILIES OF WRONGFULLY CONVICTED TELL PROS. KYM WORTHY, POLICE, JUDGES–'FREE THEM ALL' | VOICE OF DETROIT: The city's independent newspaper, unbossed and unbought
After the rally, Worthy told media outlets that she would organize a town hall meeting on wrongful convictions, to hear stories from the families at the rally and others with such complaints. VOD contacted her office for this story. They said the meeting will be announced this summer.
Prosecutor Worthy appealed the Feb. 11 COA ruling on Searcy's case to the Michigan Supreme Court April 5. (Previously, the MSC sent the case back to the COA on an earlier appeal, instructing them to address extensive issues of fact.)
Wayne Co. 3rd Judicial Circuit Court Judge Thomas Hathaway firmly granted Searcy an appeal bond at a hearing March 1, specifying home confinement while prosecutors decide whether to retry him.  He specified no cash bond, but later amended that to include a cash bond of $50,000 ($5,000 to bail bondsman), at AP Thomas Chambers' insistence. Searcy's family paid the bond immediately, and he was released
Judge Hathaway ordered Searcy's release either on the day the Wayne County Prosecutor appealed the COA ruling again to the Michigan Supreme Court, or by April 4, the last day the prosecution could appeal, noting the prosecutor's history of repeated appeals. That way, whether they appealed or not, Searcy would finally be free, at least for the time being. See:
Detroit man freed pending possible murder retrial seeks 'normalcy' (detroitnews.com) and Murder convict to be on home confinement pending new trial request (detroitnews.com)
Searcy and Darrell Ewing, currently at the Wayne County Jail pending a decision from Prosecutor Worthy on whether to release or re-try him, founded Operation Liberation with the aid of their families in 2016.
Operation Liberation sponsored the June 4 rally at the Frank Murphy Hall in downtown Detroit which drew a crowd of hundreds who called for freedom for their loved ones, including his own brother Derrico Searcy, who is Ewing's co-defendant.
For Mothers Day May 9, Searcy put together an extended family celebration at his home to honor the women in the family's lives, including Searcy's grandmother Edna Richardson.
Mrs. Richardson has worked for his freedom since police invaded her home in 2004 to wrongfully arrest him for the murder of Jamal Segars, terrorizing Searcy's wife and children, who were visiting, as well. She has held volumes of his legal documents for safekeeping as he began studying the law, obtained his homicide file, spoken with reporters, and leant other support through the years.
Before his release, Searcy had completed a paralegal course with nearly straight A's for him. He himself filed the pro se motion for relief from judgment and actual innocence which eventually led to his release.
Over 21,000 people have signed Change.Org's petition calling for Searcy's immediate release. It is at Petition · FREE WRONGFULLY CONVICTED THELONIOUS SHAWN SEARCY!!!! · Change.org
He is also featured nationally on Thelonious Searcy (actualinnocentprisoners.com).
Searcy's evidentiary hearing in 2018 garnered extensive mainstream media coverage, particularly due to the testimony of Vincent Smothers, the admitted hitman who also confessed earlier to the crimes for which 14-year-old Davontae Sanford was charged in 2009.
Prosecutor Worthy to this day does not admit that Sanford, released in 2015 on a dismissal without prejudice, is actually innocent. A national article called her and two other prosecutors across the U.S. "Innocence Deniers." See Innocence deniers: Prosecutors who have refused to admit wrongful convictions. (slate.com). Deadline Detroit | Lengel: Slate Magazine Slams Prosecutor Kym Worthy As an 'Innocence Denier'.
Bel0w is private investigator Scott Lewis' interview of Vincent Smothers detailing the murder of Jamal Segars and his role as the shooter.
**********************************************************************************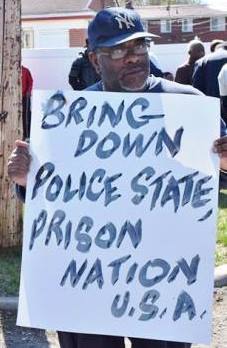 Voice of Detroit is a pro bono newspaper, now devoting itself entirely to stories related to our PRISON NATION and POLICE STATE.
VOD's editors and reporters, most of whom live on fixed incomes or are incarcerated, are not paid for their work. Ongoing costs include quarterly web charges of $435,00, P.O. box fee of $180/yr. and costs for research including court records and internet fees, office supplies, gas, etc.
Please DONATE TO VOD at:
**********************************************************************************
Below:  Searcy's court documents and VOD STORIES ON THELONIOUS SEARCY'S WRONGFUL CONVICTION IN 2005, EVIDENTIARY HEARING 2017-18, IN CHRONOLOGICAL ORDER:
RELATED DOCUMENTS:
Atty. Michael Dezsi's Brief on Remand to Court of Appeals:
http://voiceofdetroit.net/wp-content/uploads/TSSearcy.COA_.3.27.2020.pdf
Michigan Supreme Court's remand of Searcy case to Court of Appeals:
http://voiceofdetroit.net/wp-content/uploads/Thelonious-Searcy-MSC-remand-to-COA-3-18-20.pdf
Michigan Court of Appeals denial of Searcy application for leave to appeal:
http://voiceofdetroit.net/wp-content/uploads/TSearcy-COA-denial.pdf
Judge Timothy Kenny's order denying Searcy motion for relief from judgment Dec. 3, 2018:
http://voiceofdetroit.net/wp-content/uploads/Searcy-Thelonious-Opinion-Order-12-03-18-compressed-1.pdf
Searcy's pro se motion for new trial, filed July 22, 2016:
http://voiceofdetroit.net/wp-content/uploads/TS-motion-for-new-trial-7-22-16.compressed-2.pdf
FALSE DETROIT CONVICTION: VINCENT SMOTHERS SAYS HE, NOT THELONIOUS SEARCY, KILLED JAMAL SEGARS IN 2004 | VOICE OF DETROIT: The city's independent newspaper, unbossed and unbought 
IS EXONERATION NEAR FOR THELONIOUS SEARCY, SERVING LIFE FOR MURDER VINCENT SMOTHERS CONFESSED TO? | VOICE OF DETROIT: The city's independent newspaper, unbossed and unbought 
SEARCY WINS EVIDENTIARY HEARING; SMOTHERS EXPECTED TO TESTIFY HE WAS THE KILLER IN 2004 CASE | VOICE OF DETROIT: The city's independent newspaper, unbossed and unbought 
RALLY TO FREE DETROIT'S WRONGFULLY CONVICTED, OUST KYM WORTHY SAT. OCT. 21 2-6 PM | VOICE OF DETROIT: The city's independent newspaper, unbossed and unbought  
PACK COURT TO STOP WRONGFUL CONVICTION OF THELONIOUS SEARCY MON. MARCH 19, 9 AM; JUDGE KENNY | VOICE OF DETROIT: The city's independent newspaper, unbossed and unbought 
VINCENT SMOTHERS TAKES STAND TO EXONERATE THELONIOUS SEARCY IN 2004 DETROIT MURDER | VOICE OF DETROIT: The city's independent newspaper, unbossed and unbought 
SMOTHERS' CO-DEFENDANT MARZELL BLACK BACKS CONFESSION TO SEGARS MURDER, AT SEARCY HEARING | VOICE OF DETROIT: The city's independent newspaper, unbossed and unbought 
TESTIMONY AT 2 MARCH HEARINGS SHOWED SEARCY LIKELY INNOCENT; NEXT HEARING DELAYED TO MAY 9 | VOICE OF DETROIT: The city's independent newspaper, unbossed and unbought 
FAVORABLE SIGNIFICANT EVIDENCE SURFACES AT SEARCY HEARING ON INNOCENCE CLAIM | VOICE OF DETROIT: The city's independent newspaper, unbossed and unbought 
TRIAL EVIDENCE VS. THELONIOUS SEARCY IN 2004 CITY AIRPORT MURDER DISCREDITED AT MAY 15 HEARING | VOICE OF DETROIT: The city's independent newspaper, unbossed and unbought 
PROSECUTORS, COPS, TECHS LIED, FALSIFIED EVIDENCE VS. THELONIOUS SEARCY, ATTY. SAYS IN FINAL HEARING | VOICE OF DETROIT: The city's independent newspaper, unbossed and unbought 
JUDGE KENNY STRIKES DOWN THELONIOUS SEARCY BID FOR FREEDOM ON 'ACTUAL INNOCENCE' OF 2004 MURDER | VOICE OF DETROIT: The city's independent newspaper, unbossed and unbought 
THELONIOUS SEARCY TARGETS WAYNE CO. PROS. PATRICK MUSCAT IN ATTY. GRIEVANCE COMMISSION COMPLAINT | VOICE OF DETROIT: The city's independent newspaper, unbossed and unbought
SUPREME CT. GRANTS REHEARING TO THELONIOUS SEARCY: HITMAN CONFESSED; JUDGE, AP LIED TO JURY | VOICE OF DETROIT: The city's independent newspaper, unbossed and unbought
MICHIGAN PRISONERS NEED COVID-19 VACCINES NOW, SAY ADVOCATES; A.M.A., OTHERS DEMAND 1st-TIER PRIORITY | VOICE OF DETROIT: The city's independent newspaper, unbossed and unbought
APPEALS COURT TO HEAR SEARCY CASE FEB. 4: HITMAN CONFESSED TO MURDER, LIES TOLD ABOUT FATAL BULLETS | VOICE OF DETROIT: The city's independent newspaper, unbossed and unbought
THELONIOUS 'SHAWN' SEARCY WINS NEW TRIAL; MICH. APPEALS COURT CITES HITMAN'S CONFESSION, BALLISTICS | VOICE OF DETROIT: The city's independent newspaper, unbossed and unbought