"Is anyone investigating how these cases went so wrong?" asks Channel 7 as Dennis Atkins becomes the 31st Wayne County Exoneree since 2018, after conviction in 2005 based solely on hearsay testimony
Exonerees Ramon Ward, Larry Smith file federal lawsuits targeting Wayne County, multiple Asst. County Prosecutors, Detroit police officers by name
Cite "unlawful arrest, detention, sexual assault, use of fabricated evidence, concealment of exculpatory evidence, malicious prosecution" et alia.
"Defendant County's policy and/or custom of the WCPO obtaining false statements and false testimony for use against criminal defendants                                                                                            may continue to this day."
The day after this story was posted, the Detroit News published: "DETROIT FACES ONSLAUGHT OF LAWSUITS FOR WRONGFUL CONVICTIONS" which covers 17 exonerees' wrongful conviction lawsuits vs. the City of Detroit. Read it on VOD's download of the article at: http://voiceofdetroit.net/wp-content/uploads/Detroit-faces-onslaught-of-lawsuits-for-wrongful-convictions.pdf


DONATE TO VOD   https://www.gofundme.com/donate-to-vod
By Diane Bukowski
April 12, 2022
DETROIT —"Is anyone investigating how these cases went so wrong?" Channel 7 anchor Dave Lewallen asked Feb. 4, leading into a story on the 31st exoneration reported by Wayne County's Conviction Integrity Unit (CIU), that of Dennis Atkins. (See video at head of story.)
Atkins was convicted at age 22 of the murder of Billie Rutledge, on June 4, 2005 on Omira Street on Detroit's east-side.  EMS techs were loading him on a stretcher into their vehicle, Wayne County Prosecutor Kym Worthy said in a release.
"His convictions were based upon the [hearsay] testimony of his ex-girlfriend, her brother, and her brother's girlfriend," Worthy explained   " . . .The Conviction Integrity Unit review of the case has revealed that Billie Rutledge was likely killed because he was a potential witness in a homicide case. No eyewitness or physical evidence linked Mr. Atkins to Mr. Rutledge's death." She reported Atkins passed a polygraph test arranged by the CIU in July, 2021.
See: http://voiceofdetroit.net/wp-content/uploads/Wayne-County-Prosecutors-Office-CIU-Dismisses-Charges-Against-Dennis-Atkins.pdf
But Worthy did not explain why her office took Atkins to trial in 2005 based solely on hearsay testimony, or why it failed to investigate other suspects in the case at the time before sending him to prison for the next 17 years.
Contemporaneous media coverage shows that the WCPO and the DPD were likely aware of the evidence on the other related homicide case before charging Atkins.
The National Registry of Exonerations just reported, "Rutledge's 15-year-old brother Lemuel told the news media that he believed Rutledge was killed because he knew information about the March 11, 2005 murder of Shadad "Tommy" Yousif, who was killed in his auto repair business located two blocks away at the corner of Seven Mile and Omira. Rutledge worked in Yousif's business and rumors had circulated that he was the driver for the gunman who killed Yousif."
The NRE further detailed a complex maze of killings surrounding Yousif's death, related to an insurance fraud scheme in which Yousif and his employees were allegedly involved. It identified likely suspects in those killings, some of whom were later killed themselves.
See:   http://voiceofdetroit.net/wp- content/uploads/Dennis-Atkins-National-Registry-of-Exonerations
The media report the NRE referred to, an article in the Detroit Free Press, was published June 7, 2005, three days after the murder.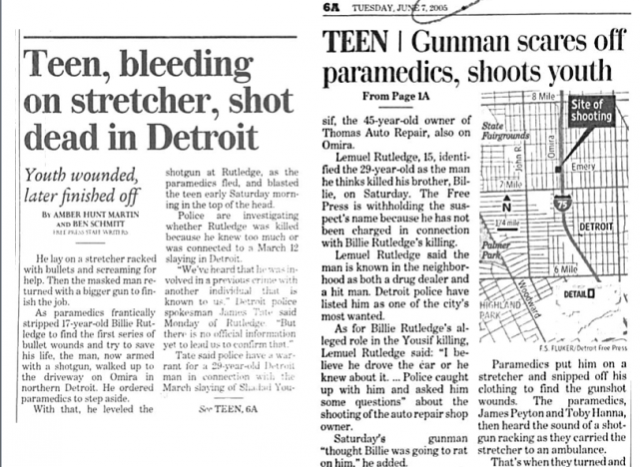 "Police are investigating whether Rutledge was killed because he knew too much or was connected to a March 12 slaying in Detroit," the Free Press reported. It quoted DPD spokesman James Tate's comment, "We've heard that [Rutledge] was involved in a previous crime with another individual that is known to us."
Christine Kowal was the Assistant Prosecutor in the Atkins case. A Court of Appeals opinion affirming Atkins' conviction identified DPD's Sgt. Ernest Wilson as the Officer who tried to find a key defense witness in the case, and claimed he was not able to do so. Based on his testimony, the COA denied the defendant's claim that the Prosecutor had not exercised due diligence in finding the witness. See: http://voiceofdetroit.net/wp-content/uploads/Dennis-Atkins-COA- 20070510_C268461_46_268461.OPN_.pdf
Before Atkins' conviction, Wilson played major roles in the wrongful convictions of exonerees Mubarez Ahmed and Marvin Cotton in separate cases in 2001.
As Officer in Charge (OIC) in the Ahmed case, he blatantly coerced a witness during a line-up, showing her Ahmed's photo before the event and directing her to pick him out, along with other transgressions. In the Marvin Cotton case, he responded to the scene of the crime and participated in Cotton's interrogation. Jail-house snitch Ellis Frazier, Jr. was recruited to say he heard Cotton confess to the killing involved, but recanted that statement years after Cotton's conviction.
A federal lawsuit citing police misconduct was filed against Wilson by Nathaneal Taylor resulted in an undisclosed settlement amount in 2014. In 2019, Wilson was sued over the illegal eviction of a mother and daughter in Detroit.
Exonerees Sue Wayne County, Prosecutors, Cops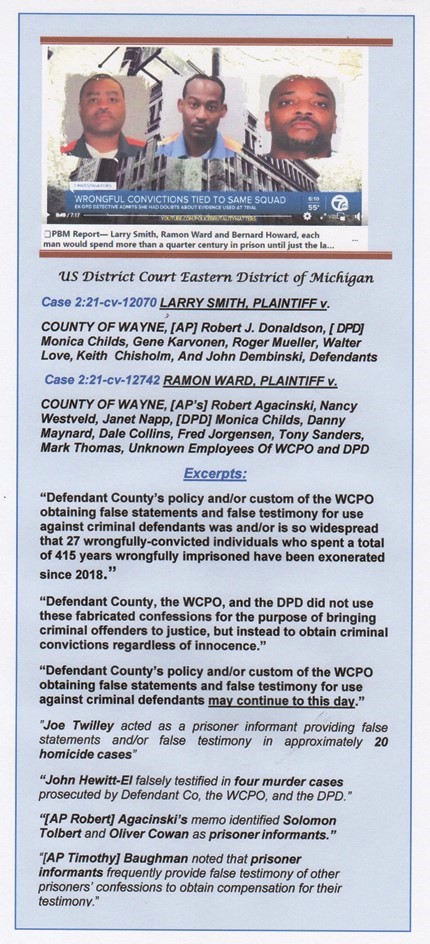 Two eye-opening federal lawsuits filed against Wayne County, its assistant prosecutors, and Detroit police officers might help answer the question raised by Channel 7 reporters above: "How did these cases go so wrong?"
The lawsuits, filed in Sept.  and Nov. 2021, by Wayne County exonerees Ramon Ward and Larry Smith, name multiple assistant prosecutors and police officers the plaintiffs allege stole decades of their lives from them and their families.
Ward spent 27 years, and Smith spent 26 years in prison. The convictions of both men were based primarily on the testimony of so-called "jail-house snitches."
RAMON WARD:
The Smietanka Law Group of Grandville, Michigan, and the Law Office of Jarrett Adams PLLC of Milwaukee, Chicago, and New York City filed Ward's lawsuit on Nov. 24, 2021. Significantly, neither are based in Wayne County or southeast Michigan.
Mainstream media coverage of Wayne Co. exonerations generally steers clear of naming prosecutors.
Detroit's two major newspapers and all of its main TV outlets endorsed Kym Worthy for re-election in 202o, as did all Democratic politicians locally and state-wide. She has been in office since 2004.
Worthy was re-elected in 2020 after vigorous opposition from Attorney Victoria Burton-Harris, who garnered nearly 40 percent of the vote. Support for Burton-Harris came from progressive forces locally and nationally, who alleged Worthy's office supports policies of mass incarceration and does not charge police who are guilty of murdering civilians without cause, among other allegations.
Ward's lawsuit is proceeding in front of U.S. District Court for the Eastern District of Michigan Judge Paul Borman, and currently is in the discovery process until Dec. 20, 2022, with final dispositive motions due by Feb. 28, 2023. No potential jury trial date has yet been set.
PROSECUTORS NAMED IN WARD'S LAWSUIT
The complaint in Ward's lawsuit includes allegations against Wayne County prosecutors/defendants Robert Agacinski, Nancy Westveld, and Janet Napp, and non-defendant AP's Thomas Beadle, Rosemary Gordon, William Peterson, and James Heaphy.
The four defendant AP's argued the case against Ward at trial and during multiple pre-trial and post-conviction hearings including four times at the Michigan Court of Appeals, twice at the Michigan Supreme Court, and three times during motions for relief from judgment (MFRJ) hearings.
At trial and at the MFRJ's, they introduced prosecution witnesses, including the infamous jail-house snitches Joe Twilley and Oliver Cowan, took their falsified testimony, and defended them during cross-examination.
Because of the "policy and/or custom of the WCPO obtaining false statements and false testimony for use against criminal defendants," the lawsuit alleges that the AP's were likely aware that these witnesses were indeed giving false statements and testimony.
The lawsuit alleges that as the chief prosecutor, Agacinski even read Oliver Cowan's perjured testimony from the pre-examination into the record, because Cowan had died in the interim and could not testify himself.
Agacinski exposed the "ring of snitches" in a Feb. 8, 1995 memorandum to Richard Padzieski, WCPO Chief of Operations,  a memo which later got wide media coverage. He noted in the memo that snitches had been involved in a case he had just tried, likely Ward's. http://voiceofdetroit.net/wp-content/uploads/Agacinski-snitches-memo.pdf
However, the lawsuit alleges that on Feb. 16, 1995, Agacinski appeared for the Prosecutor's Office at Ramon Ward's sentencing hearing, where he stood silent as Ward, only 18 years old, was sentenced to death in prison, despite Agacinski's knowledge that the key evidence in the case was fabricated.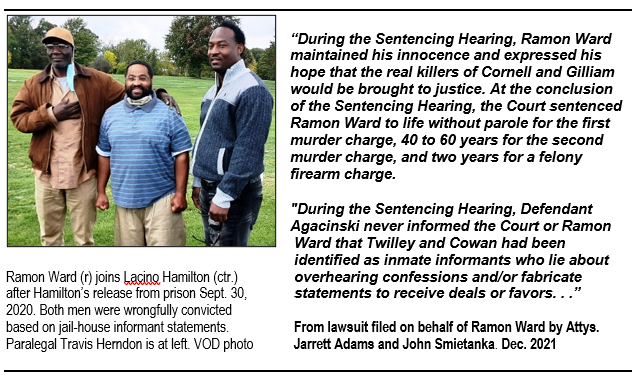 The lawsuit also describes complicit behavior by other AP's not cited as defendants. They include Thomas Beadle, Rosemary Gordon, William Peterson, and James Heaphy.
VOD asked the WCPO whether the named assistant prosecutors are still employed there, but was told to file a Freedom of Information Act request. The WCPO earlier declined to comment on the merits of the two lawsuits saying they are subject to pending litigation.
DETROIT POLICE OFFICERS NAMED IN WARD LAWSUIT
Allegations include beatings, sexual assault by jail-house snitch Cowan
Informant Joe Twilley, Jr. testified for prosecution in "at least 20 cases."
Ward's lawsuit names as Detroit Police Department defendants Officers Monica Childs, Dale Collins, Fred Jorgensen, and Tony Sanders.
The names of Dale Collins and Monica Childs appear in multiple cases of wrongful convictions. In Ward's case, Collins was the Officer-in-Charge.
The lawsuit says that, prior to charging Ward, Collins and P.O. Danny Maynard took statements from witnesses who identified two other suspects, one of whom later turned out to be the actual killer of victims, Denise Sharon Cornell and J0an Gilliam. Then Monica Childs interrogated him a first time, denying him a lawyer. He refused to talk t0 her and provided a signed statement saying he had not killed the women.
Shockingly, the lawsuit alleges that during that first interrogation, Collins and DPD Lieutenant William Rice beat Ward bel0w the neck with a phone book.
Afterwards, DPD officers placed Ward in a cell on the 9th floor of headquarters at 1300 Beaubien. Informants Joe Twilley, Jr. and Oliver Cowan were there as well. Allegedly, Cowan assaulted him physically and sexually while holding a blade to his neck, after he refused to talk to informant Joe Twilley, Jr.
Childs then interrogated him a second time, and claimed he first confessed to the murders, but then denied them. Ward said he never confessed to the murders. The other DPD officers were involved in supporting roles.
According to court records, Collins also testified on behalf of informant Joe Twilley, Jr. during a secret motion for relief from judgment re-sentencing hearing July 27, 1994 in front of Recorders Court Judge John Shamo.
The hearing resulted in a reduction of Twilley's sentence of 12-25 years to "a few years," and resulted in Twilley's immediate release.
AP Rosemary Gordon represented the WCPO.  Collins told the court that Twilley had helped obtain convictions in 20 homicide cases. Judge Shamo noted that DPD Sgt. William Rice testified earlier in another secret hearing for an informant, and effusively praised Collins as an honest police officer. Gordon told the court that AP Thomas Beadle also supported relief for Twilley.
See full transcript at:  http://voiceofdetroit.net/wp-content/uploads/Dale-Collins-Snitch-Twiley.Resentencing.pdf 
Full lawsuit at http://voiceofdetroit.net/wp-content/uploads/Ramon-Ward2-COM-Federal-Complaint-112421.pdf
LARRY SMITH LAWSUIT    
Attorney Jarrett Adams filed exoneree Larry Smith's first federal complaint on September 3, 2021, and later filed an amended complaint on January 27, 2022, against the defendants, Wayne County, Asst. Prosecutor Robert J. Donaldson, and DPD officers Monica Childs, Gene Karvonen, Roger Mueller, Walter Love, and John Dembinski.
It is proceeding in U.S. District Court for the Eastern District of Michigan in front of U.S. District Court Judge David Lawson, with Dispositive Motion Cut-off set for Jan. 20, 2023, Final Pretrial Conference set for August 30, 2023, and Jury Trial for Sept. 12, 2023.
Adams is himself an exoneree who was wrongfully convicted at the age of 17, and sentenced to 28 years. He studied law during the 10 years he served, filed multiple appeals, and was finally exonerated with the assistance of the Wisconsin Innocence Project. He now runs law offices in Milwaukee, Chicago and New York.
The lawsuit notes that Smith turned himself in at DPD Headquarters on 1300 Beaubien, after learning police were looking for him as they investigated the murder of Kenneth Hayes, 20, on March 24, 1994. Defendant Monica Childs interviewed him, and claimed in her progress notes that he told her witnesses could not identify him because "he was wearing a hood." Smith denied he said that or any admission in the case.
It says that prior to trial, Defendant AP Robert J. Donaldson asked Childs numerous times for her notes, which she finally produced three months prior to trial in Nov. 1994, saying they were in another case file. It then alleges that Edward Chico Allen, housed in the DPD lock-up, was recruited to falsely testify that Smith had confessed to him.
"Defendant Donaldson and/or Defendant Childs promised Allen leniency in his [capital] criminal case if he falsely testified that Smith bragged about shooting Hayes," the complaint says. It says the Prosecutor and police continued to house Allen at the lock-up rather than the Wayne County Jail, and plied him with food, alcohol, drugs, and the ability to go out to have sex. It alleges that Childs took Allen, still housed in the lock-up, to a hotel to have a "sexual relationship" after Smith's conviction in November.
In 2003, Allen signed a notarized affidavit recanting all his testimony against Smith and provided it to Smith and his attorneys, which Atty. Mary Owens attached to his habeas corpus appeal.
Nonetheless, the WCPO continued to fight Smith's appeals in federal court as they did in state court, all the while knowing he was convicted based on false testimony and evidence. So his appeals there were denied as well.
The lawsuit also alleges that faulty and negligent testing and preservation of evidence by the Detroit Crime Lab, which was shut down in 2008 because of those issues, resulted in false ballistics results in Smith's case, which were highlighted by AP Donaldson as key to his guilt during trial testimony.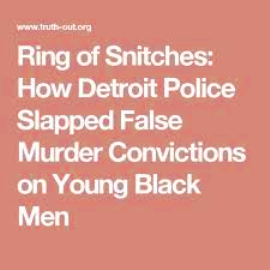 In a May, 2017 Detroit Metro Times article, journalist Ryan Felton exposed the rampant use of jailhouse informants (snitches) by DPD/WCPO. He reported that Edward Allen told a private investigator that Detroit police filed over 100 murder cases as a result of such testimony.
The investigator also reported that Allen said, "The police would also supply police witnesses with the discovery packets and allow them to read up on the case so that eventually testimony would match the government's allegations."
See full lawsuit at http://voiceofdetroit.net/wp-content/uploads/Larry-Smith-COM-Amended-Federal-Complaint-012722.pdf.
BOTH LAWSUITS FILED FOR RAMON WARD AND LARRY SMITH ASK FOR:
"Compensatory damages, costs, and attorneys' fees against each Defendant, along with punitive damages against each of the individual Defendants, injunctive and equitable relief against Defendant, County of Wayne, as well as any other relief the Court deems appropriate."
FIRE/CHARGE WCPO, DPD CRIMINALS!
As exoneree Lacino Hamilton infers in the comment at the beginning of this story, true justice for Ward and Smith, along with likely thousands of people from Wayne County who are wasting their lives away in MDOC prisons, will not come until the corrupt systems in the Wayne County Prosecutor's Office and the Detroit Police Department are torn down and re-created for the benefit of the people.
Not one Assistant Prosecutor or Police Officer named as defendants in the Ward and Smith lawsuits has been disciplined, fired, or charged by Wayne County Prosecutor Kym Worthy and her office for the offenses cited in the Ward and Smith lawsuits, or in the cases of the rest of the 31 exonerees Wayne County boasts.
Exposed in the glare of the searchlight these lawsuits have provided, the official actions may include perjury, suborning perjury, obstruction of justice, and numerous other crimes.
PROSECUTORIAL IMMUNITY NOT ABSOLUTE
Many believe that prosecutors have absolute immunity, but the U.S. Supreme Court have substantially restricted that privilege through the years, most recently in Thompson v. Clark 596 U.S. (2022). There, the current U.S. Supreme Court ruled 6-3, uniting conservatives with the liberal minority, that: "To demonstrate a favorable termination of criminal prosecution for purposes of a section 1983 Fourth Amendment malicious prosecution claim, a plaintiff need not show that the criminal prosecution ended with some affirmative indication of innocence but need only show that his prosecution ended without a conviction." Thompson v. Clark :: 596 U.S. ___ (2022) :: Justia US Supreme Court Center.
The issue is addressed more broadly by the USDOJ Office of Justice Programs:   PROSECUTORIAL IMMUNITY NO LONGER ABSOLUTE | Office of Justice Programs (ojp.gov)
"The U.S. Supreme Court's decision in Buckley v. Fitzsimmons, 113 S.Ct. 2606 (1993), points to a growing recognition of the difficulty of maintaining absolute prosecutorial immunity when the system imprisons the wrong person for the wrong reason, i.e., when exculpatory evidence has been concealed or incriminating evidence has been fabricated. When prosecutors abandon traditional advocacy roles to participate pretrial or precharge in police investigative work in collateral law enforcement administration on a day-to-day, case-by-case basis, they may enjoy only qualified immunity for that conduct. This article discusses in some detail the Court's opinions in Buckley and Imbler v. Pachtman, 424 U.S. 409 (1976) and briefly covers the Court's opinions in other related cases."
In the Channel 7 story at the head of this article, Reporter Kimberley Craig says she called the U.S. Attorney's office, but was told they do not comment on whether investigations at their level have been opened.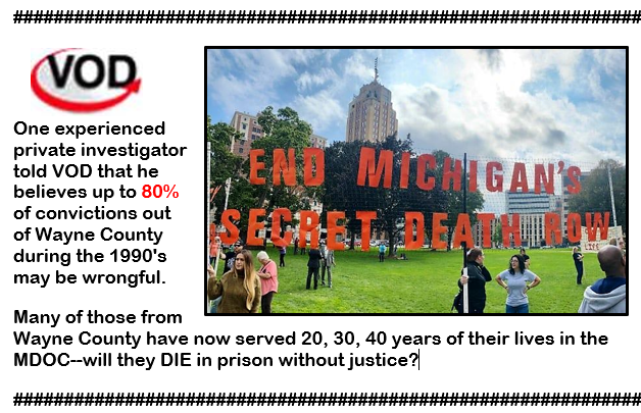 *********************************************************************************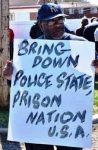 VOD's staff lives either on limited fixed incomes or is incarcerated. We are not paid; we publish the newspaper pro bono. Help keep us afloat by chipping in so stories on this Prison Nation and Police State, and related matters, coming! Any amount is appreciated.
                                      

 

DONATE TO VOD 
(Contact editor for details on other ways to send funds, at 313-825-6126 or diane_bukowski@hotmail.com.)
**********************************************************************************
Related stories:
UNLAWFUL, UNJUST! RALLY THURSDAY MAR. 17 TO FREE WRONGLY HELD PRISONERS; OPEN VISITS, COURTS, FILES | VOICE OF DETROIT: The city's independent newspaper, unbossed and unbought
DETROIT: FAMILIES OF WRONGFULLY CONVICTED TELL PROS. KYM WORTHY, POLICE, JUDGES–'FREE THEM ALL' | VOICE OF DETROIT: The city's independent newspaper, unbossed and unbought
MICH. CANNABIS FREEDOM COALITION HELPED FREE MICHAEL THOMPSON, WORKING TO FREE MANY MORE | VOICE OF DETROIT: The city's independent newspaper, unbossed and unbought
LIFER PAUL DAVIS: FRAMED BY DETROIT COPS, APA WHO SENT CHILDREN TO CPS, JAIL TO GET FALSE TESTIMONY | VOICE OF DETROIT: The city's independent newspaper, unbossed and unbought
LIFER GARY BRAYBOY, FRAMED BY DETROIT SQUAD 7 COPS INVOLVED IN EXONEREE CASES, IN COURT MON. JAN. 24 | VOICE OF DETROIT: The city's independent newspaper, unbossed and unbought
MICHAEL HICKS, WRONGLY CONVICTED OF 1993 BATTLE CREEK MURDER, USING 'SNITCH,' FIGHTS FOR FREEDOM | VOICE OF DETROIT: The city's independent newspaper, unbossed and unbought
JUDGE DENIES BRADY MOTIONS ON KILLER'S CONFESSION AT EWING-SEARCY HEARING, MAY RECONSIDER MARCH 9 | VOICE OF DETROIT: The city's independent newspaper, unbossed and unbought
JUVENILE LIFER/ACTIVIST EFREN PAREDES, JR. FIGHTS TO OVERTURN SEPT. 10 RE-SENTENCING TO DEATH IN PRISON | VOICE OF DETROIT: The city's independent newspaper, unbossed and unbought
'END MICHIGAN'S SECRET DEATH ROW'–HUNDREDS DEMAND END TO LWOP, OTHER REFORMS AT STATE CAPITOL | VOICE OF DETROIT: The city's independent newspaper, unbossed and unbought
WRONGFULLY CONVICTED AND UNLAWFULLY IMPRISONED: MICHIGAN RANKS 2ND IN U.S. WITH EXONERATIONS | VOICE OF DETROIT: The city's independent newspaper, unbossed and unbought 
AIYANA JONES' DAD RE-SENTENCED TO 10-20 YRS; MEDIA FOCUSES ON VICTIMS, NOT MILITARIZATION OF POLICE | VOICE OF DETROIT: The city's independent newspaper, unbossed and unbought 
MICH. SUPREME COURT NIXES WORTHY'S APPEAL OF STRONG COA RULING IN THELONIOUS SEARCY CASE | VOICE OF DETROIT: The city's independent newspaper, unbossed and unbought 
MICHIGAN LIFER RICKY RIMMER-BEY: CONVICTED DRUG DEALER COP JAMES HARRIS FRAMED ME FOR MURDER | VOICE OF DETROIT: The city's independent newspaper, unbossed and unbought 
TIME TO FREE CARL HUBBARD; AP GONZALES JAILED KEY PROS. WITNESS AFTER HE RECANTED AT TRIAL | VOICE OF DETROIT: The city's independent newspaper, unbossed and unbought
EXPOSED!! RACIST FRAME-UP OF DAVID SHELTON BY OAKLAND COUNTY IN 1993 RAPE CASE | VOICE OF DETROIT: The city's independent newspaper, unbossed and unbought
ADVOCATES DENOUNCE GOV. WHITMER'S DENIAL OF CLEMENCY TO INNOCENT MICH. LIFER TEMUJIN KENSU | VOICE OF DETROIT: The city's independent newspaper, unbossed and unbought
MICH. LIFERS VARGAS & MARCO JOHNSON FIGHT 30-YR. FRAME-UP; CITE INKSTER COP FROM 2 EXONEREES' CASE | VOICE OF DETROIT: The city's independent newspaper, unbossed and unbought
STOP NEW WAVE OF COVID-19 DUE TO DELTA VARIANT IN MICHIGAN PRISONS–FREE EFREN PAREDES JR. | VOICE OF DETROIT: The city's independent newspaper, unbossed and unbought
GLEN VARY FIGHTS 2004 FLINT MURDER CONVICTION INVOLVING POLICE MISCONDUCT, WITNESS COERCION | VOICE OF DETROIT: The city's independent newspaper, unbossed and unbought