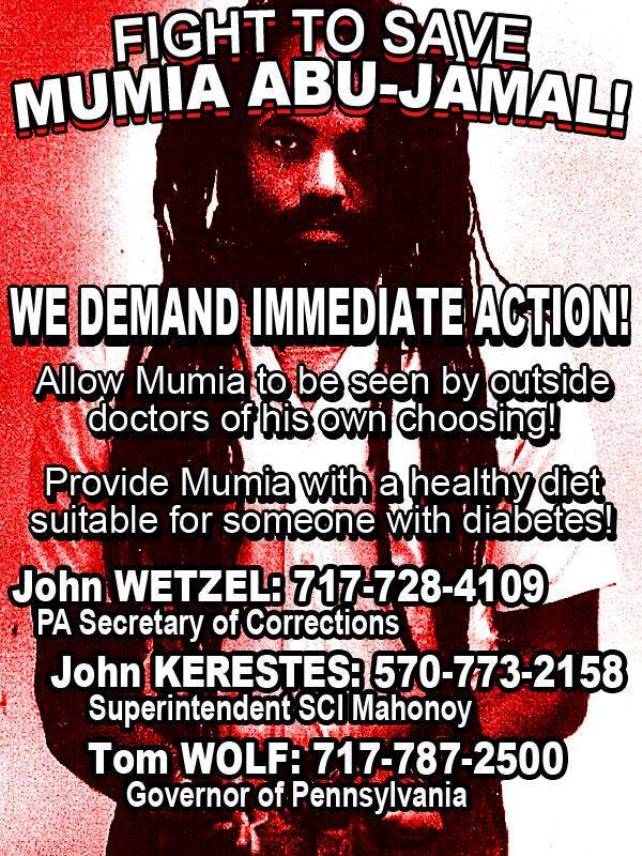 NATIONAL DAY OF ACTION FOR MUMIA
Detroit–Friday, Apr. 10, 4 – 5 PM
Spirit of Detroit Statue/Woodward at Jefferson
Sign the petition & share widely:
http://www.change.org/p/john-e-wetzel-pa-secretary-of-corrections-tom-wolf-pa-governor-stop-the-medical-execution-of-mumia-abu-jamal-by-neglect-and-malpractice-3
Stand up for Mumia Abu-Jamal's life with us for an informational demonstration on Friday at the Spirit of Detroit statue downtown in solidarity with worldwide actions in support of Mumia.
Political prisoner Mumia Abu Jamal, former Black Panther and outspoken opponent against police brutality, is being tortured with medical neglect by the PA Department of Corrections and Fraternal Order of Police. The mass movement has saved his life before when he faced execution by the state – and we will do it again!
This 'Voice of the Voiceless' has been a long time inspiration for our movement against racist oppression. This is why the forces of reaction want to kill him behind the prison walls. Let's do everything that we can to save our brother Mumia's life.